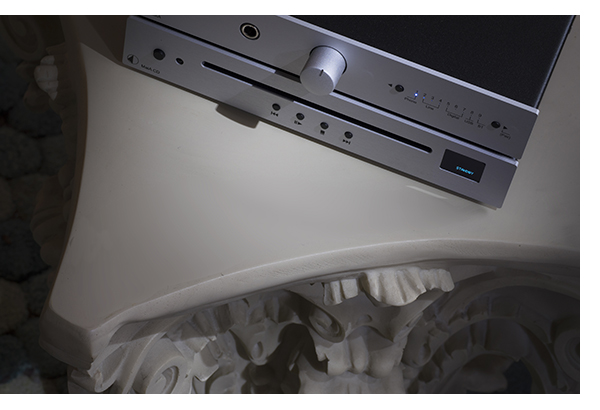 Many people only know Pro-Ject for their line of high-value turntables, (and we've got one of those for you here…) but they produce an entire line of electronics and loudspeakers, along with some very stylish accessories.
Company principal Heinz Lichtenegger puts it perfectly when he says, "I like to make fun components that everyone can afford." Add stylish to that list of boxes to tick – all Pro-Ject products share a very cool design aesthetic as well.
We've been living with an entire Pro-Ject system, consisting of their VT-E turntable ($349), the MaiA CD Player ($399), MaiA Integrated Amplifier ($499), along with the matching Speaker Box 5 mini monitors ($299). For this review, Rob and I concentrate on the components, with a review of the Speaker Box 5 speakers to be published online very soon.
Every Pro-Ject product we've used has always been high on performance and simplicity with a minimal footprint. It's an understatement that Lichtnegger has outdone himself on this recent crop of products! If you are pinched for space, yet crave great sound, this trio is for you. We were all shocked at just how small the MaiA components are.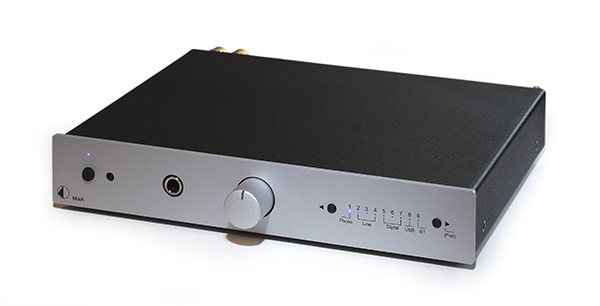 MaiA Integrated Amplifier: A Marvel of Compact Efficiency
Like the other products in Pro-Ject's "Box" product like, the MaiA integrated amplifier is designed to pack much functionality into the smallest possible package. Wow did they succeed! Without its wall-wart power supply, the amplifier weighs in at a scant 4 lbs. (1850g). At 8.11 inches (206mm) wide by 1.4 inches (36mm) tall by 6.14 inches (156mm) deep, the MaiA is deceivingly minimalistic. Straightforward and effective controls on the front panel facilitate adjustment of the volume, plus your choice of source components. While nondescript on the outside, things get a lot more interesting when exploring MaiA's capabilities.
The ins and outs
Any way you choose to connect a music source to this amplifier, there is an input to handle it. In addition to three stereo line inputs, options include USB, Bluetooth, digital optical, and RCA-type digital coaxial. As they say on infomercials, "but wait… there's more." An onboard MM phono stage as well as a headphone amplifier with a ¼" input is also included.
Five-way binding posts facilitate connection to loudspeakers using a variety of cable options. However, bananas are an ideal candidate, as these binding posts are relatively close together. With such a small chassis, there is little room for all the connections on the rear panel, so it is nearly impossible to connect spades in such a tiny space without touching each other inadvertently.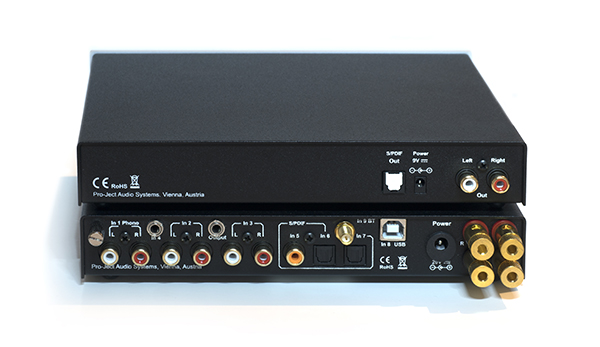 The only other connection required is the power cord, supplied by the included wall wart power supply. I suspect there was not enough room left in this small chassis to fit a full-sized 115v power cord socket, much less an internal power supply.
Lots inside
All those inputs lead to some remarkable circuitry within. The internal DAC does not decode DSD files, but it does a solid job with digital files up to a sample rate of 24bit/192kHz – plenty for CD and SACD input or streaming your favorite online music service.
The MaiAs Class D amplification circuitry delivers 25 watts into an eight-ohm speaker load, or 37 watts into four ohms. While featuring a much lower power rating than my usual reference amplifier, the MaiA had no problem driving GamuT RS3i speakers. Back at the TONE studio, we substituted a broad range of different speakers and found the power amplifier section both robust and conservatively rated.
Sonically satisfying
For our testing, we paired the MaiA integrated with the matching CD player in the same product line, as well as other sources on hand. No matter what musical genre you enjoy, the MaiA delivers excellent sound with ample detail. Sonically, the amp is very neutral, a touch to the forgiving side. It provides a high level of realism while avoiding uncomfortable and edgy stridency that emerges from some budget-conscious pieces of gear I have experienced over the years. Bass goes deep and punchy considering its modest power rating. Higher frequencies appear effortlessly, and retain the shimmer and glow desired from favorite recordings.
Soundstaging represents another important strength. The perceived performance expresses with large scale breadth and depth, extending forward of the speakers when a recording dictates it and filling the room with music without any apparent strain. Do not expect this amp to drive massive full range speakers with oomph given its power rating, but as long as you stick to speakers in the 90db/1watt range, it's all good. Stand mounted speakers, though, are likely to find a very welcome ally. Simply put, it is a great amp. An audio fan cannot expect the world for the MaiA's price point of about $500 USD, but you easily get a large continent or two!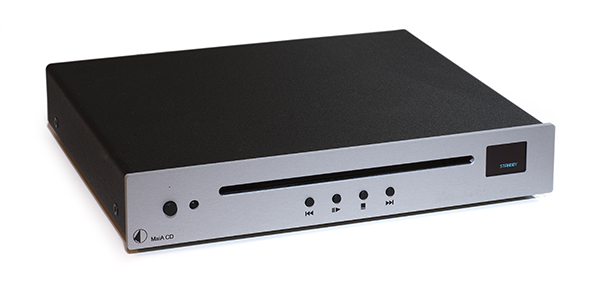 The MaiA CD: Diminutive Digital
The MaiA CD player matches the integrated amplifier in size and performance, with its front-loading CD slot taking up three-quarters of the player's width. Without its wall-wart power supply, the CD player weighs in at 2.77 lbs. (1260g). I have owned power cords which weigh more than this player!
Under the hood resides solid engineering and technology. Built around a Burr-Brown (Texas Instruments) DAC chip, this player is meant exclusively for CDs.The DAC handles all files at 24bit/96khz with 8x oversampling, bringing a lot of life to your CD collection. Those wanting to use the MaiA CD player as a transport only can do so via the Toslink output. Utilized in this mode via a 25 foot AudioQuest Toslink cable, we found the MaiA player to provide an interesting solution to those still wanting to play compact discs occasionally. The MaiA player is an excellent transport, via the Audio Research DAC 9, also reviewed in this issue. Even the fussiest audiophile can take advantage of a MaiA player, to play the redbook discs in their collection.
On the right side, the front panel offers a little digital display, the size of a postage stamp, noting track number and play time. On the left is the power button as well as a tiny IR receiver for the remote control. Beneath the disc slot is the expected buttons for track advance, reverse, pause/play and stop/eject. The small remote allows the owner to make these adjustments, plus others. The control allows track or album repeat, random play, and selection of a specific song by typing in the track number. The only remaining choice is black or silver casework. Both are very attractive.
The rear of the player is even more minimalistic. A single pair of RCA analog outs make connections to any amplifier straightforward. If you already have preferred interconnects at home with audiophile grade terminations, be aware there is little space between the terminals. Hose-like interconnects will not fit, so choose accordingly. We've had excellent result with the Audience or Cardas cables in this respect, and Pro-Ject even offers a line of their own.
In addition to the compact form factor, this player is a top musical performer. More expensive dedicated CD players can offer more refinement and a greater level of micro-detail retrieval. For the price asked, this mini-marvel will not leave its owner longing for more. Voiced slightly to the warmer side of neutral with robust detail, the MaiA player is very "anti-digital" in its rendition. Soundstaging is excellent with a soundfield that projects left and right beyond the speaker boundaries, and each musical element has a good degree of separation in the perceived distance behind the speakers.
Playing MoFi's remaster of Beck's Sea Change, proves immersive. Vocals lock in place up front with ambient cues layered across the soundstage. Bass notes have substantial heft, and highs offer gentle sparkle. Even loudspeakers many times the price of this CD player will find themselves complemented by this marvelous partner. Switching the program between acoustic, solo vocal and even densely packed rock recordings all satisfy.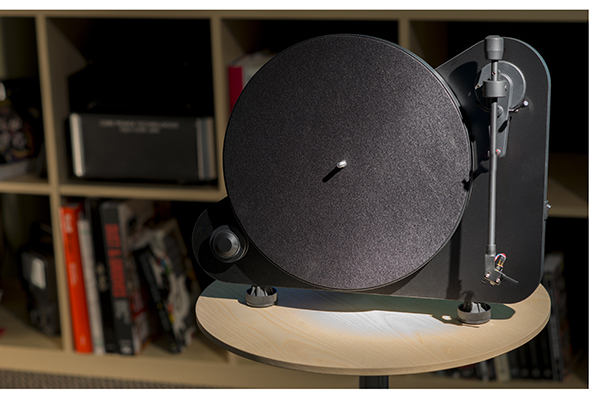 Vertical Integration – The Pro-Ject VT-E
Up till now, the vertical record players we've seen have been little more than mere toys. Leave it to Pro-Ject to come up with a vertical that offers serious performance. As at home on a shelf or table, the VT-E combines Pro-Ject performance in a vertical format with a pre-installed Ortofon OM5 cartridge. You can even wall mount it, and they are available in red, white and black. At $349 each, I'd even consider buying six of them to make wall art! Should you not be integrating the VT-E with an amplifier containing a phono preamplifier, consider the VT-L, which has a built in phonostage and can be connected to a line input.
Everything is set up from the factory, so the only decision is whether to shelf or wall mount. Those that are challenged for space need only about 16 inches of wall space and a little bit of counter space underneath to put a complete Pro-Ject system! Though I admit I love the idea of a VT-L on a pedestal in the middle of the room with a pair of long interconnects to the rest of the system. Again, Pro-Ject is as much art as science. You can even order one in right or left-hand operation. Very diplomatic!
Skeptical as I was about the concept of a vertical table, the VT-E works perfectly. Most of my listening was done with the table wall mounted, so it proved immune to room induced vibrations. Sonically, it reminds me a lot of the Debut Carbon table. Tracking through some favorite current and classics, the Pro-Ject/Ortofon combination is more than capable. Of course, the synergy between it and the MaiA integrated is fantastic, and the aesthetic works well.
For the beginning vinyl enthusiast, the VT-E should prove a worthy companion, providing a musically rewarding experience and a real conversation piece to boot. And because it comes from the factory completely set up, it's as no fuss as LP playback can be.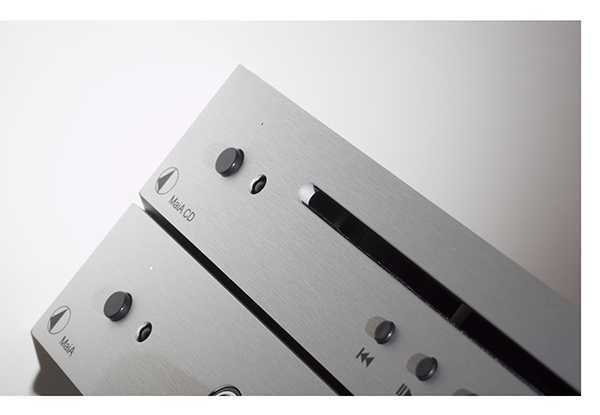 Summing up
Considering everything inside these tiny components, you might expect compromise, but none have been made regarding sonics. The Pro-Ject MaiA Integrated Amplifier and CD Player both combine excellent audio performance and functionality in a pair of very tiny boxes. We are pressed to think of anything offering this level of performance near this price.
Should you have more space, or just want bigger, more powerful components, the MaiA series will probably always have a place in a second room or desktop system. Our publisher is even thinking about a set for his garage system!
Both the Pro-Ject MaiA Integrated Amp and CD Player more than earns a much-deserved TONEAudio Exceptional Value Award. These would be outstanding components if they were in full sized boxes. Considering they offer it in such compact enclosures is certainly a bonus. Now you have no excuse not to have a great sound system anywhere.
Pro-Ject MaiA Integrated Amplifier. ($499)
Pro-Ject MaiA CD Player ($399)
Pro-Ject VT-E Turntable ($349)
www.box-designs.com (factory)
www.sumikoaudio.net (US importer)
www.pro-jectusa.com.  (for more details)