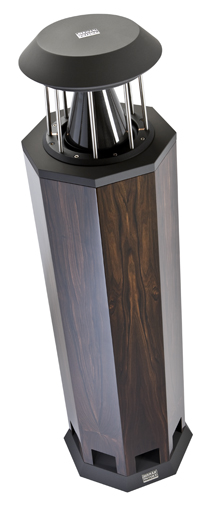 Over the years there has been more than one attempt at an omnidirectional speaker, but I can't ever really recall one that has worked well, until now. So often we are presented with the dilemma of wanting great sound, but not being able to make the necessary sacrifices to put a pair of speakers where they can provide it. Enter the HRS-120's. Reminiscent of the 70's in their standard wood finish, I assure you the sound is completely modern, though those old enough to remember the Ohm Walsh speaker systems will definitely see an outwardly familiar shape.  A hexagonal column that stands about 14 inches in diameter and about four feet tall.  On top of the HRS-120 is their trademark DDD driver, which uses a titanium element.  For more information about the DDD driver, click here:
http://www.german-physiks.com/technology/the-ddd-driver.html
The HRS-120 uses this driver from 240 Hz all the way up to 21,500 Hz, so it is free of the crossover notches that would be present in a standard 3-way loudspeaker.  Interestingly enough, my MartinLogan Summit speakers have an almost identical crossover frequency to the ESL panel, which contributes to that speaker's natural midrange as well.
While the wood finish is the least expensive in the model range at $27,405, it may not gain acceptance into the design aesthetic of your household.  Part of this will depend on room placement (more on that later).  Should you have the option to put them out in the room and display them like regular speakers, I would suggest upgrading to the more exotic finishes or the full carbon fiber finished model at $37,845, which also features a carbon fiber drive unit to match.
The HRS-120 is available with either a titanium coned DDD driver as reviewed here, or a carbon fibre coned DDD driver.     The HRS-120 fitted with the carbon fibre coned DDD driver shares the same high performance as its titanium coned sibling, but also offers some useful improvements.
The upper frequency limit is extended from 21,500Hz to 24,000Hz, providing more air to the sound.  The transient response is better, which gives an even more realistic rendering of drums and percussion.  The strength of the carbon fibre cone makes it almost impossible to damage the cone by driving it too hard and also enables it to withstand minor knocks making it more able to survive living with small children than other high-end drivers. The sensitivity is also marginally higher.
Setup
This is one speaker that really doesn't need a fully treated room to perform at its best, though I did have excellent luck in my main listening room, which is 16 x 24 and has a full complement of room treatments. Because of the omnidirectional nature of the speaker, should you purchase a pair I suggest working towards the best bass response you can in the room and then adjust the high frequency level with the supplied jumpers that have a -2, -4 and +2db setting.  Because of the room treatments in my main room, I had the best luck there at the +2db setting.
Final placement on my long wall was about 34 inches from the back and about 10 feet apart.  Just as you would with a conventional box or planar speaker, move the HRS apart a few inches at a time until the sound field collapses and then keep splitting the difference inching them back together until you have the widest coherent stereo image.  I found the HRS-120 very easy to set up, and though it took about 20 minutes to optimize, these speakers provided the best sound I've yet heard, just "throwing them in the room," with no attention paid to setup at all – they are the epitiome of user friendliness.  At 65 pounds each, they are relatively easy to move around.
In my 11 x 17 room which is notorious for bass suckout, and has limited speaker placement options, the HRS-120 came through brilliantly and other than the Meridian DSP7200's (which use active, digital room correction) offered up some of the most natural sound and solid bass I've experienced in this relatively difficult room.  So, for ease of setup and placement, the HRS-120's get a grade of A+.
Amplifier choices
My first experience with the HRS-120's was at CES, powered by the 25 watt, Class –A Vitus monoblocks, which was a fantastic experience.  The speakers exhibited a very open, dynamic sound, with solid, well damped bass.  While show sound is not always a great indicator of a products performance, my experience has always been that anything sounding great within the confines of the Venetian usually sounds even better in my room.  Because of their omnidirectional nature, I got a bit better imaging and depth here in my studio, but overall the HRS-120's turned in a very impressive sound at CES.
Even though the HRS-120's have a rated sensitivity of about 87db, they proved to be very easy to drive and even the First Watt F4, which is only rated at 25 watts per channel (class –A), had no problem driving the speakers to decent levels.  The McIntosh MC275 (75 watts/channel, vacuum tubes) was able to really rock the HRS-120's with no difficulties, and the highly resolving nature of these speakers easily revealed the differences in sonic character between the tubes and solid state amplifiers.
I did have the best luck, especially in my larger room with the additional power of the Conrad Johnson Premier 350.  With 350 watts per channel on tap, I could play anything I wanted at any level, without strain.  Should you be mating the HRS-120's with a fairly high power amplifier, proceed with caution because the DDD driver does not exhibit cone breakup the way a traditional dome tweeter does.  Much like a ceramic driver, the DDD driver is very linear, so I suspect if you were to get a bit carried away with the volume control, you might damage the speaker unknowingly.
The Sound
As I hinted at the beginning of the review, the omnidirectional abilities of these speakers really throws a huge sweet spot.  If you enjoy the transparency of a panel speaker, but have always craved a larger listening area, the HRS-120 may be exactly what you are looking for.  Even significantly off axis, these speakers still present a very coherent soundstage.
What you do sacrifice slightly, in exchange for the giant sweet spot is a bit of pinpoint imaging.  While a "different" sound than you would expect from a large pair of dynamic speakers, the HRS-120 has a somewhat more diffuse quality, not completely unlike a pair of Magnepans, but with more dynamic drive, due to the driver design.
No matter what music I played, the HRS-120 did a fantastic job.  Especially with the Premier 350, I could achieve realistic volume and dynamics with my favorite rock records (which I can't achieve with my Magnepans).  The 8 – inch woofer was solid down to about 35 Hz, so everything but hard core club and hip hop music had enough weight.
Jazz and vocal music lovers will be in absolute heaven with these speakers.  The instruments just seem to float in space, much as they do at a live performance.  My living room was transformed into a jazz club with the HRS-120's and thanks to their dispersion, even a room full of guests could enjoy the show.  Playing Jacqui Naylor's Live at the Plush Room was a treat and having heard Jacqui live numerous times, the HRS-120's offered up a highly realistic reproduction.
The airy presentation of the HRS-120's also really lent themselves to electronic music too.  Jean Michel Jarre's Zoolook, a longtime trippy favorite was absolutely haunting thanks to the huge soundfield these speakers presented.  The water droplets and back tracked vocals in "Diva" easily raised the hair on the back of my neck, especially with the lights dimmed!
Those loving string and vocal ensembles will appreciate the lack of crossover in the mid  to upper midrange region.  These speakers do an exceptional job with piano and violin, with vocals never sounding pushed or harsh.  If your taste in music is more in this vein and not quite as requiring of full scale dynamics, you may even prefer the HRS-120's with a tube amplifier, as the additional warmth makes for a very enjoyable presentation.  Those hooked on solo female vocals will appreciate the hyper –realism that some tubes bring to the equation.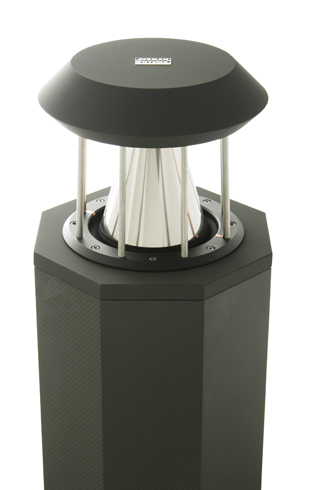 Conclusion
The German Physiks HRS-120 speakers, though unconventional in appearance and approach, offer a highly realistic musical experience.  While these are by no means a budget speaker system, they are exceptionally well built and offer performance that is in keeping with their asking price.  They require precious little floor space and thanks to the ease of setup, offer more versatility than a number of other high performance (and similarly priced) speakers.
If you are tired of speakers with a narrow sweet spot, that everyone in your listening room can enjoy as much as you do, put a pair of German Physiks speakers on your short list to audition.
The German Physiks HRS-120 speakers
MSRP:  $27,405 – $42,600 (depending on driver config. and finish)
Contact Information:   http://www.german-physiks.com
The US distributor for German Physiks is:
Laufer Teknik
360 Southbury Road
Roxbury, CT 06783
Contact:  Sam Laufer
Tel: 860-355-4484
Email: [email protected]
Peripherals
Analog Source                                    TW Acustic Raven TWO w/SME iV.Vi and 309 tonearms, Dynavector XV-1s and Lyra Skala cartridges
Digital Source                                    Naim CD555
Preamplifier                                    Conrad Johnson ACT2 series 2
Power Amplifier                        First Watt F4, McIntosh MC275, Conrad Johnson Premier 350
Cable                                                Cardas Golden Reference
Power                                                Running Springs Jaco