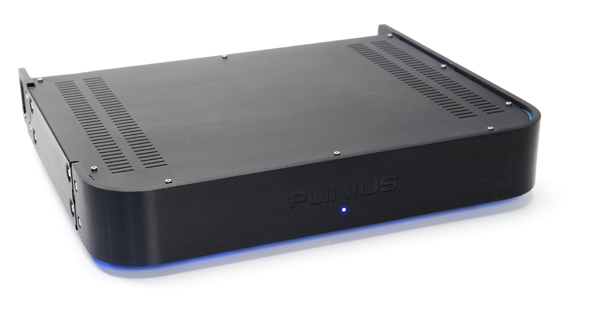 New Zealand firm Plinius has a long history of producing excellent sounding components that also please the eye. Founded in the mid-1980s, it has a legacy of cutting edge products with exotic names. The brand is now distributed in 35 countries, and it continues to bring new products to market. In every previous encounter with Plinius electronics, these ears have come away no less than highly impressed.  The brand today enjoys dedicated North American support and a solid dealer network.
With digital audio moving away from optical disc playback, nearly every company in the high end is scrambling to offer up solutions of every flavor. Those solutions range from USB DACs, music servers with onboard storage, network media players, and file players, as well as hybrids of all these approaches.   The task of standing out is a difficult one for digital source component designers due to the lack of any consensus as to the best approach, the myriad of variables, and the constantly changing landscape.
Enter the Tiki:
Plinius has entered the fray with its own spin on things.  It has introduced the Tiki network player, priced at $4775, in a purist approach.  It has decided to eliminate all unnecessary parts and so-called features that have the potential to harm sonics. This means there is no WiFi and no display. This is commonly known as a "headless" approach, with control exclusively via smart device.
On the back panel there is an Ethernet jack, a pair of RCA and XLR outputs, an IEC inlet, and a ground switch. That is it. No digital inputs or outputs. One could call this a "closed" approach. Admittedly, one can also be forgiven for being a bit skeptical at this design, but as you will see, based on performance of the Tiki, Plinius clearly is on to something.
The Tiki handles PCM up to 192 Khz, 24 bits and is compatible with FLAC, AIFF, WAV, and MP3. The unit is DLNA compliant and can be used with a variety of server software.  One can use a number of free and paid controller apps for Android, iPad, or iPhone. Plinius offers its own unique app called Arataki, which is available for sale at the iTunes store. More on that later.
The Tiki is ruggedly built, with clean lines and a beautiful half-inch thick curved front and side panel. The top panel is ventilated, so the unit still runs cool if left on 24/7. The Plinius logo is engraved on the front, and there is a single blue LED power indicator.  The Tiki is available in black or silver. The review sample was finished in a chic matte black.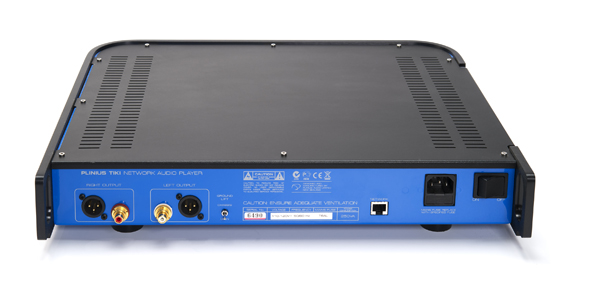 Plug 'n'…Play:
The Tiki takes all of five minutes to install. It is truly plug-and-play. Attach an Ethernet cable, analog interconnects, power up, and one is ready to stream music. I  have terabytes of music in FLAC format on drives attached to a 2011 Mac Mini. With MiniMServer and Twonky software installed, the well-organized library is accessible within seconds. A variety of apps is used with the Tiki for the review, including mConnect, Kinksy, and Plinius's own Arataki. Tap the artist folder you desire, then the album, and the file plays. The Tiki works with a NAS attached anywhere on your network running DLNA software as well.
To get right to the big question, the Tiki offers superb sound and may be one of the best digital source components auditioned in the reference system. It offers truly remarkable transparency and unveils new layers even on very familiar recordings. It is astonishing to hear more depth and recorded detail on classic Pentangle, Fairport Convention, and Steeleye Span albums, all well recorded.  Jacqui McShee's voice on Pentangle's classic Soloman's Seal was silken, and and Bert Janch's acoustic guitar was all wood and steel.
The Tiki provides wonderful soundstage width and depth, with a tonal balance that is as natural as we have experienced from even more expensive digital players. The Sun Dogs, the debut album by progressive revivalists Rose Windows on the Sub Pop label sounded epic. Their stunning blend of acoustic instruments, electric guitar, and orchestral sweep was well served by the Tiki. Bass was deep and taut, and dynamics were standard setting.
The Tiki shows its true potential with high resolution material. The 192 Khz, 24 bit files of various classic Blue Note jazz titles proved a revelation. Beautifully recorded and well-mastered albums from Art Blakey & The Jazz Messengers, Wayne Shorter, Freddie Hubbard, and Lee Morgan are a joy to experience via the Tiki, and the natural timbres of the horns, piano, drums, and acoustic bass were stunning. The Tiki managed to stay out of the way, and just let the natural flow and rhythm of the music take center stage.
At the other end of the spectrum, the 192 Khz studio discography of Texas blues rock legends ZZ Top positively explodes out of the speakers. The fuzzed out guitars, sleazy grooves, and funky bass lines are rendered with aplomb and show the Tiki is no one-trick pony. If the ultimate purpose of a source component is to connect the listener to the music, the Tiki hit the mark without a doubt.
Using the Arataki app to control the Tiki is snap. It is one of the more elegant control apps I have used, and the graphical interface is attractive. However, it is a work in progress.  With engineers still trying to keep with iOS updates and market demands, it is difficult to keep up. The Arataki will prove frustrating for those with large libraries as currently the only way to select music is by tapping an album cover. Other apps offer a folder structure which allows for quick, pinpoint access to particular albums or songs. As noted the Tiki can be controlled by a number of other apps.
The dead quiet backgrounds, flawless operation, quick file access, and headache-free set up make enjoying music priority one. The Tiki is firmware upgradeable, and that provides peace of mind to the purchaser in a changing digital landscape. The Tiki may just be an anti-tweaker's paradise.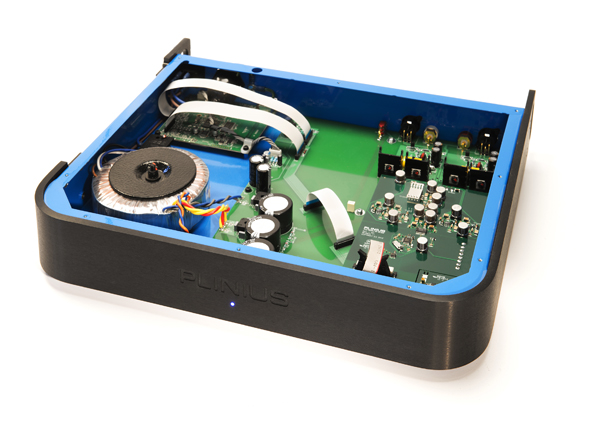 Conclusion
Plinius is banking on potential customers who are sophisticated enough to set up a home network, but who also have little patience for computer audio and its endless variables. Simply plugging in an Ethernet cable gets you halfway there. Of course, there will be audiophiles confused by the lack physical interface with the Tiki, but this is its strength. With no display, and no noise-generating WiFi and digital inputs to spoil things, the sonics shine brilliantly.
Plinius thinks the network approach is best since there is total isolation between the computer or NAS and the DAC, and it provides for multi-room capabilities with one library. No need to have a bank of hard drives and a laptop in your HiFi rack. The Tiki works exactly as advertised and sounds superb. If a "set it and forget it" digital source component floats your boat, your ship has has come in.
Plinius Tiki
MSRP: $4775
http://www.pliniusaudio.com/
PERIPHERALS
| | |
| --- | --- |
| Speakers | Thiel CS2.4    Genesis G7c |
| Amplifier | Audio Research VS 55    Rogue ST 100    Hans Audio 300B SE |
| Preamplifier | Channel Islands Audio PLC-1  Mk ii |
| DAC | Bryston BDA-1   Simaudio Neo 380D |
| SACD Player | Marantz SA-14S1 |
| Cables | Kimber    Transparent    DH Labs    KingRex    Acoustic Zen |
| Accessories | Audience adeptResponse    Shakti Stone    Symposium |