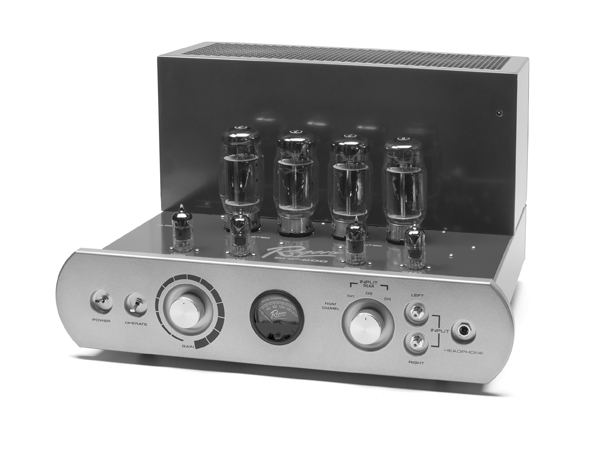 It's easy to build a tube amplifier, relatively speaking.  I did it in high school electronics class.  It played music and buzzed like hell, but it sounded fairly good compared to the JVC receiver my parents owned.  There was just something unmistakably yummy about the way acoustic instruments and vocals sounded through my old-school AR speakers that hooked me on tubes forever.
It's not so easy to build a great tube amplifier, though.  I've got no skills in that arena.  Many of today's tube-amplifier manufacturers follow one of two paths: rebuild a classic from the vintage era (1940s and 1950s) with good success, or embrace more modern technology and tubes to produce an amplifier with the best characteristics of legacy and current thinking.  Put the EHF-200 MK2 from Rogers High Fidelity squarely in the latter camp.
This amplifier takes full advantage of company principle Roger Gibboni's years of engineering expertise in the world of communications and radar technologies.  The amp combines solid circuit design and meticulous point-to-point wiring with high-quality current parts, like a massive 1100VA toroidal power transformer and beefy output transformers, to create an instant classic.  Gibboni says on the Rogers website that one of the company's goals was "to create an amplifier that your kids will fight over when you're gone."  And with a lifetime warranty, the EHF 200 MK2 should outlive you.
He has succeeded brilliantly, and if the beautiful casework doesn't convince you, then remove the bottom cover and gaze at the workmanship.  It's instantly obvious that this amplifier is built with a lot of TLC—and built to last more than one lifetime.  Only the highest-quality, tightest-tolerance parts lurk under the hood.  MSRP for the MK2 model, which includes preamplifier inputs and a variable-level output, is $14,000 even.  (The standard EHF-200 model does not have this flexibility and so it is priced slightly less at $11,500.)  The MK2 features three single-ended RCA inputs on the rear panel, along with another set on the front panel.
Spacey Indeed
The Radiohead classic "High and Dry" instantly reveals the spatial abilities of this amplifier.  Lead singer Thom Yorke is firmly anchored in the mix, with some strong guitar bits and a few layers of synthesizers perforating the mix in a highly obtuse but effective and three-dimensional way.
Springsteen's "4th of July, Asbury Park (Sandy)" comes through my vintage Acoustat 2+2s with a fervor that I've never experienced since having the speakers expertly rebuilt.  There's an unmistakable magic that has always existed between tubes and electrostatic panels that always seems to make the world stop for a while as you drink it in.  Thanks to the drive this amplifier possesses, triode mode rules the day, and so young Springsteen's voice is buoyant between the 8-foot-tall panels.  And thanks to the subwoofer outputs, driving a pair of powered subs is a cakewalk—a valuable feature often overlooked on many integrated amps.
Major Style Points
The EHF-200 oozes style, from the deep red color of the chassis to the cool blue power meter on the front panel.  And, of course, glowing vacuum tubes are always a hit with music lovers and audiophiles alike.  The amp comes with a billet remote that is a piece of sculpture, and Rogers also includes a microfiber towel with the company on it logo to keep your amplifier free of fingerprints and scratches.
From the amp's carbon fiber and rhodium speaker binding posts to the finely machined controls, it's clear that the amount of thought that went into this product is indeed high.  Its built-in headphone amplifier works symbiotically with the usual suspects in my headphone arsenal, which includes Grado, Sennheiser and Audeze phones.  Each Rogers amplifier even comes with a handwritten note from the person who assembled it, telling you to enjoy your purchase—a nice personal touch.
It's worth noting that there is a pair of RCA input jacks on the front panel, a reviewer's dream if there ever was one!  No more fishing behind the equipment rack to find the remaining input.  Active audio hobbyists who switch and compare gear on a regular basis will really appreciate this feature.
Every aspect of the EHF-200 operates with extreme silence, from the subtle clicking of the volume attenuator to the switching back and forth between triode and ultralinear modes.  Some amplifiers we've auditioned clunk fairly dramatically when changing modes, requiring the amplifier to be turned off every time, but the EHF has no such problem.  You will immediately notice more gain in ultralinear mode, but this reviewer finds the extra sweetness of triode operation to be worth the small increase in gain required for full output.  My reference dCS Vivaldi has 6 volts of output, so this was no problem at all.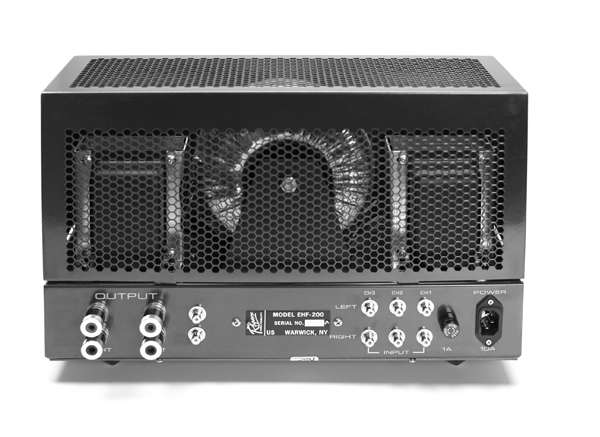 Major Performance, Too
Style without substance is meaningless—and when the pedal goes down, the EHF-200 MK2 fires up.  With a quartet of KT120 tubes, (two per channel), the EHF produces 117 watts per channel into 4 ohms in ultralinear mode and 80 per channel in triode mode; just flip a switch on the top panel to change modes.  The power tubes are all biased automatically, so there is no need to worry about adjustments or scouring the earth for matched quartets.  This should make the EHF as trouble free as a tube amplifier can get.
The applause in Cheap Trick's "Day Tripper" hints at the EHF's ability to reproduce a large soundstage.  This amplifier paints a musically accurate picture that still renders a hint of tubeyness.  The EHF's overall tonality reminds me of the much more expensive Octave Jubilee monoblocks that we recently reviewed.  The EHF is not as warm as a Conrad-Johnson amplifier, but it's not quite as reserved as my Audio Research REF 150.  And though the REF 150 has a bit more power (150 wpc versus 117 wpc), the EHF is a thousand bucks less for a full integrated.
Though the Acoustats have a sensitivity rating of only 82 dB per watt, the EHF has no trouble driving them to more than adequate levels, even in triode mode, which again is absolutely dreamy.  The rest of the speakers at my disposal are all considerably more efficient, so the EHF never runs out of steam, unless I play music so much louder than is reasonable and prudent.  And even then, it clips so gently that there is only a slight compression of the soundstage to warn you that you've gone too far—that is, if you aren't paying attention to the little blue meter on the front panel.
Wendy Lewis' lead vocal on the Bad Plus' For All I Care is positively goose-bump inducing, especially her detached rendition of the Bee Gees classic "How Deep is Your Love."  The EHF is a tonemeister, always straddling the line of perfection, never embellishing too much, yet it is always musical and engaging.  The subtle harmonics on both ends of the frequency spectrum from Charlie Hunter's eight-string guitar on his Bing, Bing, Bing! album bounce around the room in a spectacular manner, with decay that seems to go on forever—another hallmark of a great tube amplifier.
I move the EHF to room one and pair it with the 90-dB-per-watt KEF Blades, and it continues to dazzle with it's ability to generate serious low-end grunt.  Cranking the latest effort from Kanye West illustrates how well this amplifier not only generates serious LF information, but how much control it also exhibits.  Keeping the party rolling with Genghis Tron's Board Up the House disc adds layer after layer of highly distorted guitars to the driving beats, neither of which cause any difficulty for the EHF.
Tonality is beyond reproach, as hours of listening to audiophile classics will verify.  Those living on a steady diet of female vocalists and plucky acoustic guitar records will surely wet themselves over the EHF's presentation.  And those who like to rock (I salute you) will dig the dynamics that the EHF brings to the table.  Its robust power supply allows it to play louder than its size and specs would suggest.  Cranking up the live version of the Tubes' "I Was a Punk Before You" is exhilarating, as is Jeff Beck's album, Live at Ronnie Scott's.  There's just something about tube amplification that lends itself to raucous rock—and the EHF delivers in spades.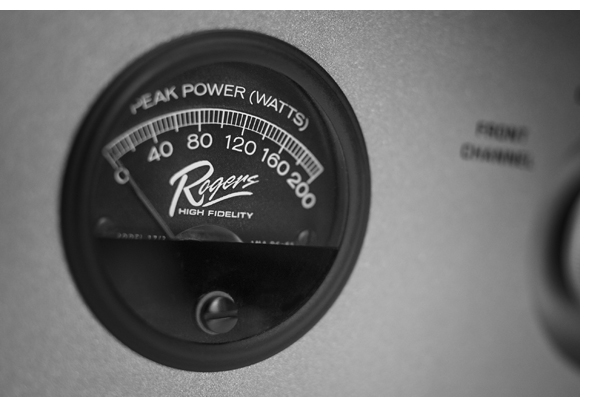 Tube Choices
Some will argue about the sonics of the KT120; yet, after living with this tube in a number of other amplifiers, I am in the love it camp.  The EHF works well with the KT120, offering more than enough delicacy to make the most devout tubeophile happy.  It offers better dynamic contrast and impact than the KT88/6550 is able to muster.  And we're only talking four power tubes here, so when it is time to re-tube, it won't cost a fortune.
With the 12AX7 in good supply, the sky is the limit for those feeling the need to tube roll.  The EF86 tube is NOS with no major substitutions, so if your taste doesn't go to the exotic, re-tubing the EHF will be painless.  After trying a handful of different 12AX7s at my disposal, sticking with the stock JJs proved a great place to hang my hat.  Stick with the stock tubes and enjoy, I say.  And stick with the packaged Quiet Cable power cord too – this would easily set you back a thousand bucks, for something equivalent from one of the majors.  I tried my favorites from Shunyata, Cardas and Audience with no improvement whatsoever, so use the one in the box with confidence.
An Elegant Solution
With so many people trying to simplify their lives, the Rogers EHF-200 MK2 is a refreshing solution.  Of course, $14K isn't exactly play money, but the sound quality delivered by this amp easily equals or betters most amp/preamp combinations that are similarly priced.  And remember, going with a combo solution will require at least one premium interconnect and a pair of power cords, so if you're playing at this level, plan on dropping at least a few extra thousand on wire just to be on par.
With the EHF-200 MK2, Rogers offers a world-class solution in one box.  Add your favorite digital and analog sources (should you be so inclined) and you've got a super system that fits on a single rack.
This is an amplifier we thoroughly enjoy.  If you've been looking for something a bit out of the ordinary and a bit more bespoke that offers the full-on tube experience, look no further.   The EHF-200 MK2 is fantastic.
Rogers EHF-200 MK2 Integrated Amplifier
MSRP:  $14,000
Peripherals
| | |
| --- | --- |
| Analog Source | SME 10 turntable    Sumiko Palo Santos cartridge    Aesthetix Rhea phonostage |
| Digital Source | dCS Vivaldi stack    Sooloos Control 15 |
| Speakers | Acoustat 2+2    KEF Blades    Dynaudio Confidence C1 II |
| Cable | Cardas Clear Light |
| Power | Running Springs Dmitri |