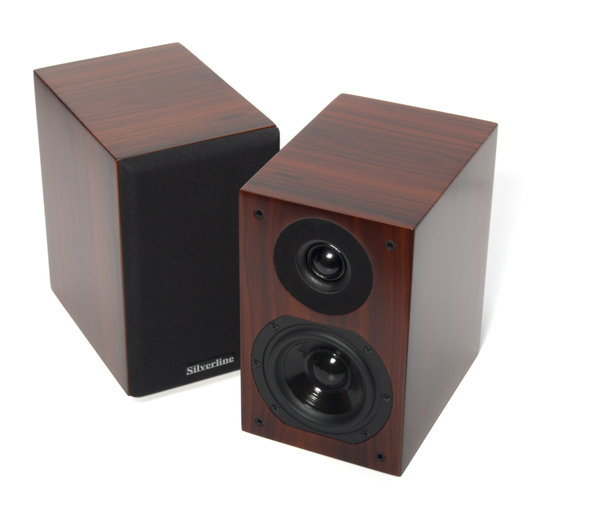 Mini-monitor speakers have long been audio's little darlins—easy to place, reasonably prices, aesthetically pleasing. As evidenced by an unofficial website (www.ls35a.com),  the Rogers LS3/5a BBC monitors still inspire cult reverence. Not that longstanding judgments against small speakers have gone away. Critics maintain that they get lost in larger listening rooms, suffer from limited bass extension, and don't generate enough air or image. Alan Yun apparently remains oblivious to such noise.  His company, Silverline Audio, a breeder of high-performance speakers, has given birth to the "runt" of the litter, the Minuet Supreme.
The Minuets Move In
Given the hernia-inducing weight of some high-end equipment, it was a welcome relief to receive a 15-pound carton that a mere mortal can easily hoist. While unpacking these little beauties, I was impressed with the handsome rosewood vinyl veneer, high-quality speaker terminals, and compact size (9″ x 5.5″ x 7.25″). On the surface, nothing seems unusual about the Minuets' design. These are 2-way rear-ported bass reflex transducers with nominal 8-ohm impedance and claimed frequency response of 60–28,000 Hz. A 1″ silk dome tweeter and 3.25″ paper-pulp cone mid/woofer, protected by a removable black grille, cross over at 3500 Hz. The cabinets seem well braced, and yield a dull "donk" when rapped.
Setting up the Minuets was a piece of cake. They settled solidly, aided by Blu-Tack on my spiked 28″ Target speaker stands, loaded with 60 pounds of lead shot. The Minuets can be bi-wired, which is how I  hooked them  up for this review. After a few days of serious break-in, the Minuets wound up 5 feet from the front wall, 6 feet from each side wall, and 10 feet from the comfy couch in my 15' x 21' x 8' listening room.  They were placed 8 feet apart, and angled about 30 degrees toward the listening position.  I did most of my listening with the grilles removed.  However, if you have curious children or pets, leave the grilles on; the small sonic differences are not worth risking any damage to the drivers. And sure, my front end electronics—Pass XP-20 preamp and XA-100.5 monoblocks—and associated interconnects, power cords, and speaker cables (Nordost Odin) were overkill. But I had to hear what the Minuets would do with my best stuff.
When first hearing a speaker, I want know how it reproduces small ensembles and solo instruments. Since small groups and soloists can actually fit into many listening rooms, playing such music remains my favorite assessment of the speaker's ability to recreate "reality." In handling Duke's "In a Sentimental Mood" from Mark Levinson's Live Recordings at Red Rose Music, the Minuets had Chico Freeman's sax and George Cables' piano sounding just as I imagined they would in an intimate lounge. Another test came courtesy of James Boyk playing Prokofiev's challenging Sixth Piano Sonata off 20th Century Masters, a track that boasts great dynamic range and percussive effects. No sweat for the Minuets; the piano was life-sized and appropriately brilliant.
Good recordings of vocal groups help evaluate a speaker's capacity to pick out individual players. I cranked up Ann Savoy and Her Sleepness Knights belting out "If Dreams Come True," where Savoy sings upfront and is backed by violin, guitar, piano and upright bass. The Minuets had no trouble keeping tabs on each instrument, particularly the dancing bass. I continued with a big-band Latin number, the self-titled cut from Pacquito d'Rivera's Tropicana Nights on Chesky Records, a 96kHz/24-bit download brimming with in-your-face dynamics and pace. The Minuets did the tricky salsa footwork without missing a step.
If I get lucky, a new component always leads to at least one magic moment. Aptly, the Minuets came through during the holiday season, when conveying the spaciousness of John Rutter's "Nativity Carol" as performed by the San Francisco Choral Artists on Star of Wonder. The song features the natural warmth of a mixed chorus pitted against a hearty pipe organ in a large hall; Silverline Audio's itsy-bitsy speakers never got lost reproducing the fantastic details.
Similarly demanding, Wagner's "Das Rheingold" opens with a sustained subterranean organ pedal and low strings. Despite its age, Georg Solti's 1958 Decca recording remains unsurpassed in its evocation of the primordial orchestral chords. I played the cut several times just to be sure that I wasn't becoming delusional about the extended clean bass that the mighty mites emitted. Nope: A personal reference for 30 years, Sheila Jordan's Sheila LP sounded as fresh and lifelike as ever, with Jordan's voice and the accompanying upright bass right there in my room.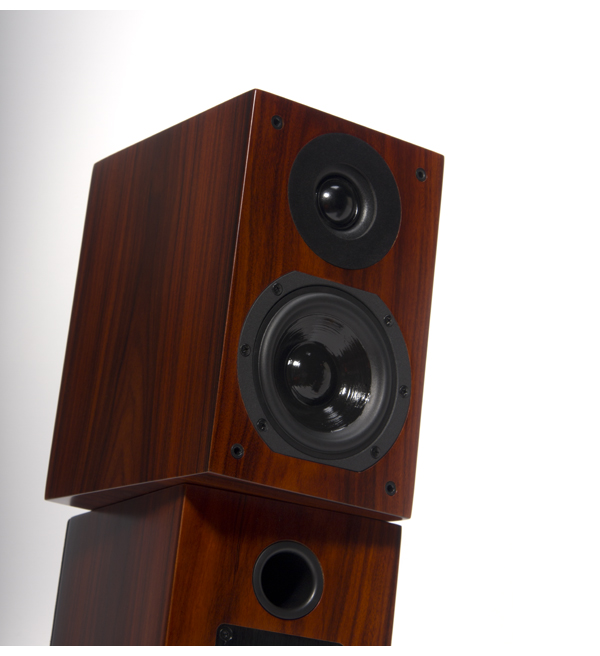 Maybe Size Doesn't Matter
Totem Acoustic's original Model 1s were the last mini-monitors to hold sway in my system. That was about 20 years ago. While I've always had a soft spot for the 1s, they never got me all the way up the stairway to audio heaven. The Totems handle upper and midrange quite well, but shortchange the bass extension and image size.
After living with the Minuets, I have good reason to rethink my opinion on mini-monitors. These little guys sound much larger than they have a right to sound. Voice reproduction, an important personal criterion for assessing a speaker, was warm and natural. High frequencies were extended in a good way, and not edgy or analytic, a compliment to Silverline Audio's choice of tweeter and crossover implementation. The Minuets' ample bass and astonishing height and depth of image came as huge surprises.
Of course, there are a few practical considerations that should be taken under advisement. The speakers can produce pretty big sound, but their sensitivity (88db) is lower than that of many larger speakers. Silverline recommends amplifiers ranging in power from 10–300 watts RMS. During the review, I substituted Pass amps with outputs of 30 to 150 watts per channel. Pushed to near- realistic levels, the Minuets sang best for their supper when fed by amps capable of at least 100 watts per side. Before purchase, try auditioning the speakers with your own amplifier to be sure it is juicy enough to properly drive them. And since the Minuets are light in weight, they require solid stands to provide critical isolation and stability.
The Minuets are not labeled "Supreme" for nothing. These proverbial little Davids weren't embarrassed by anything I threw at them. No, you won't get the huge soundstage made possible by big panels. But you will get fabulous sound in the critical octaves and a satisfying sense of space. For those interested in home theater applications, Silverline Audio makes a compatible center channel. Just add another pair of Minuets, season with a compact subwoofer, and sit back and enjoy. What a bargain.