Ed Meitner has a new DAC, the MA-1, and it's a doozy. Over the past 30-odd years, I've been lucky enough to meet a lot of high-end audio designers, but Meitner remains a special case. Our paths first crossed when I was working at a high-end store, Sound by Singer, in New York City. His mahogany-sheathed preamps and power amps were a good deal smaller than any other period electronics and sounded great with my Snell Type A speakers.
When I recently phoned him to catch up on old times and pepper him with questions about the MA-1, he was just as I remembered: A no-BS kind of guy. Most audio designers pay lip service to their love of music. He doesn't. Doing so would, in his words, "cloud the judgment," and, without hesitating, added, "Music is not my business. Sound is my business."
He's not lying. Meitner built an automated recording studio console in 1971 and designed 1-bit digital recording systems in the late 70s, a few years before the introduction of the CD. He also designed a fascinating velocity transducer speaker that rivaled the sound of the era's electrostatics. He was always working on something new and different, like his AT-2 turntable. The platter-less design only supported the label while the grooved portion "floated" in free air. The turntable claimed a uni-pivot arm, and the whole contraption rested on three massive cones. Most high-end engineers stick with one thing or another, but Meitner played with them all.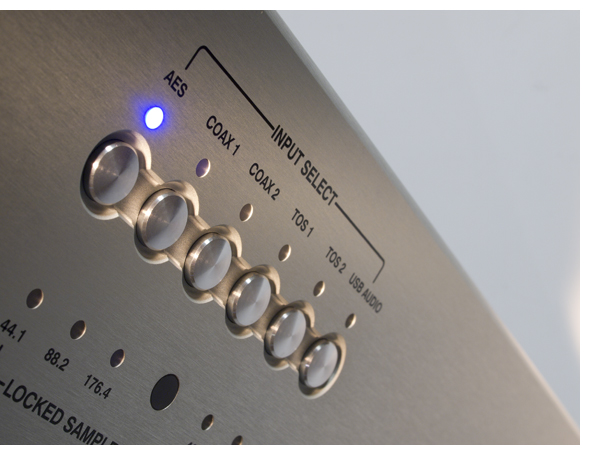 Discrete and Unique Features
The MA-1 is the first product from Meitner Audio, a new company running parallel to Meitner's EMM Labs, which continues to offer much more expensive components. EMM DACs all feature discrete converters fabricated from individual resistors, a remarkable feat given that most converters—including many competitors' more expensive models—use DAC chipsets.
Hence, I assumed the $7,000 MA-1 would be built around a chip. Nope. Meitner steers clear of chips in all his DACs. He designs his own discrete DACs for myriad reasons, not the least of which is not having to worry about whether the chip manufacturer will stop making the part or change the spec.
In addition, most chip-based DACs are current-output devices. Meitner's discrete 1-bit DACs are voltage-output affairs. He explains that when a DAC outputs current, you have to add a stage to convert current to voltage and add filters. The MA-1 needs no such converters or separate filters. Meitner designs the converter and filter in one, fully balanced stage. When you roll your own, you get exactly what you want.
The unit also features Meitner's MDAT technology, which is similar to that in an upsampling DAC. Still, the latter can't reproduce a music transient without digital pre- or post-"ringing." Meitner's MDAT doesn't ring. Maybe that's why his DACs reduce the digital nature of CD sound. Yes, the MA-1 possesses an unmistakable analog flavor. It's highly resolved, but relaxed.
While other, more expensive DACs, like the $17,489 MSB Technology Platinum Signature DAC IV (a discrete, chip-free DAC reviewed in these pages last year), are more transparent, the MA-1 makes for a loveable match with music. If the recording is harsh or grating, the MA-1 won't make it any less nasty. But when the recording is solid, you hear more of the good stuff.
Some credit for the presentation owes to the built-in Meitner Frequency Acquisition System, which instantly acquires the incoming signal, buffers it, and strips out jitter, whether or not the data stream is pure or anything but. From there, the signal runs through the Meitner Digital Audio Translator, which upsamples the zeros and ones to 5.6MHz—double the standard SACD sampling rate.
Visually, the MA-1's brushed aluminum panel looks clean and simple, with a row of six input selectors and LEDs that indicate sampling rates of 44.1, 48, 88.2, 96, 176.4, and 192-kHz at word lengths up to 24 bits through all six inputs. Around back, you'll find two Toslink optical, two RCA coax, one AES-EBU XLR, and one USB asynchronous digital input, along with RCA and XLR analog outputs. There's also a RS-232 port for those with fancy home-automation systems, and another USB port for future software upgrades. The Canadian-made MA-1 comes with a small, credit-card-style remote that only changes inputs.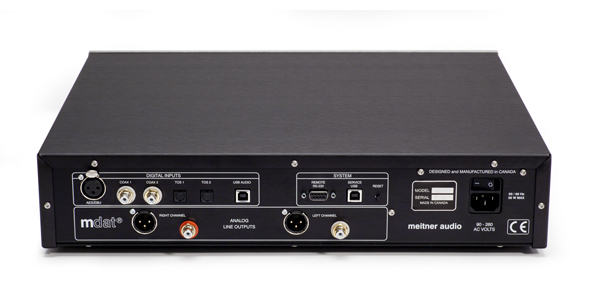 Easygoing, Analog Warmth
The MA-1 arrived when I was reviewing the Davone Ray speaker, and both had an easygoing character that doesn't shout "high-resolution"— or, in other terms, a presentation that sounds to me like live, non-amplified music. I did the bulk of listening with my reference Magnepan 3.7 speakers.
The analog warmth of older CDs, like Etta James' The Definitive Collection, comes through intact. In this sense, the MA-1 succeeds by doing less; it simply lets the music be. Yes, the richness in older recordings is hard to resist. It's part of the music's DNA, but not so easy to retrieve. The MA-1 does just that, however. I also compared the MA-1 with a $7,995 Bricasti M1 DAC. There's not a huge difference, but the Meitner is a wee bit more relaxed, detailed, and transparent.
Great digital gear sounds less digital, meaning there's less grain, glare, noise, and other assorted digital nasties. Vide: Kinks guitarist Dave Davies recorded a killer live solo show at New York City's Bottom Line club in 1997, and the resulting CD, Rock Bottom, is a delight. I've seen more than a hundred shows at that club, and this disc captures the place's vibe better than most. With the MA-1, I can close my eyes and feel it. What a trip! I always sat at the tables directly in front of the stage, and the MA-1 nails that close-up perspective.
The Rolling Stones' Tattoo You isn't their worst-sounding recording, but it's the band's last great album. It hangs together better on the MA-1 than I would have thought possible. Where the overdone reverb usually puts me off, with the MA-1, it seamlessly envelops the group and sounds natural.
Playing back high-resolution 176-kHz/24-bit classical and jazz selections from the Reference Recordings HRx Sampler 2011 DVD, the MA-1 dramatically opens the soundstage. Instruments reveal more full-bodied presence when compared to what's presented on CDs. Moreover, the DVD's dynamic scale and low-level detailing are more fully developed.
There's also more inner detail and nuance in the high-resolution version of Paul Simon's So Beautiful or So What, which makes going back to the CD a letdown. I also have newfound respect for my Pass Labs electronics and Magnepan 3.7 speakers: they're even better than I thought. Such revelations are signs of greatness in any component, and the MA-1 is no exception to this rule.
Meitner Audio
MSRP: $7,000
www.meitner.com
Peripherals
| | |
| --- | --- |
| Analog Source | VPI Classic turntable with a van den Hul Frog cartridge |
| Digital Sources | PS Audio PerfectWave Transport & DAC     Oppo BDP-95 Special Edition |
| Electronics | Pass XP-20 preamp    Simaudio 310LP phono preamp    Bel Canto REF500s   Pass Labs XA100.5     First Watt J2 power amps |
| Speakers | Davone Ray    Dynaudio C-1    Mangepan 3.7 |
| Cable | XLO Signature 3 interconnects     Audioquest Sky interconnects               Analysis Plus Silver Oval interconnects and speaker cables |