Today McIntosh announced the release of their new MC252 integrated amplifier, to a wide range of polarizing comments around the world.
With an MSRP of $3,500, this is a pretty kick ass little package. The approximately 12 x 18 inch footprint makes it about the size of a PrimaLuna amplifier, so it's not going to take up a ton of space wherever you end up placing it, and at only 28 pounds, nearly anyone can lift it into place – pretty cool for McIntosh.
A hybrid design, the MA252 uses four tubes in the input/driver segments and a solid state output stage, delivering 100 watts per channel into 8 ohms and 160 per channel into 4 ohms, so you'll have enough juice to drive most any speakers. A headphone amplifier is included and an MM phono section as well.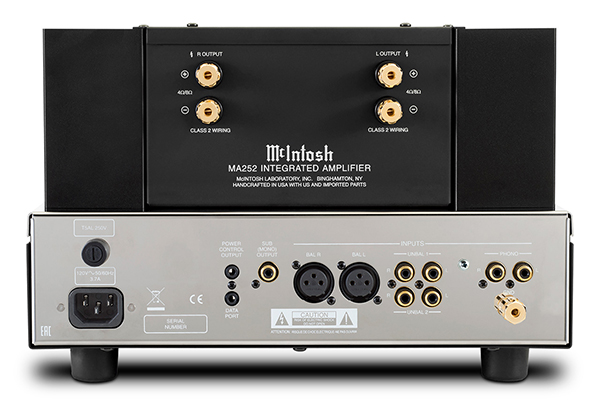 You can see by the rear view, that there is one balanced XLR input, two unbalanced RCA inputs and the phono, along with a single, mono output for a powered subwoofer. This should make it easy to make the MA252 the anchor for a great compact system.
Visually, the 252 pays homage to past classic McIntosh tube amplifiers, adding the current aesthetic of LED's underneath the tubes and a digital display to indicate function and volume level. You'll love it or hate it, but it's pure Mac, and built on the same assembly line in Binghamton, New York with all current day McIntosh components.
We look forward to a full review as soon as samples start shipping!