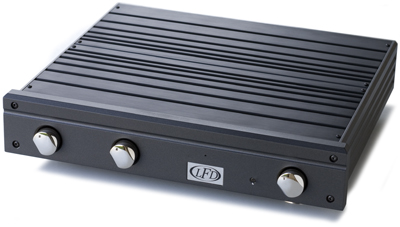 I had my first experience with LFD  in 1998 when I purchased their Mistral amplifier on the suggestion of my dealer, Gene Rubin, of Gene Rubin audio.  It was such a good amplifier, that even after upgrading my analog front end to five-figure territory, I was still very pleased with the Mistral.
Last year, Gene sent me the LFD Zero LE III, which was basically a Mistral with higher quality parts throughout.  At $2,495 it was an incredible bargain and even at the current price of $3,195 this is still one of my favorite integrated amplifiers.  I am still haunted by the high level of performance by that modest, minimalist amplifier and regret not buying the review sample.
The current offering from LFD, the NCSE (New Chassis, Special Edition) has taken their design even further using Vishay bulk-foil resistors, Shinkoh tantalum resistors, silver internal wiring and a very robust case that adds eight more pounds over the LE III. The faceplate is unusually thick for a British integrated and is similar to what you might see on a big American monoblock.
The four rubber feet from previous versions have now been upgraded to three isolation devices that consist of a viscoelastic foot that fits into a milled aluminum cup. Power output has taken a jump to 70 watts per channel, up from 60wpc in the LE II and 50wpc in the original Mistral.  Even with the power increase, the LFD runs cool to the touch, so it will easily fit in tight spaces without a problem.
Act now!
At $7,500, the NCSE is not inexpensive, but there is an introductory price of $6,000.  LFD had a similar pricing policy with their past models, so if you are intrigued, I suggest getting in at the beginning of the production cycle before the price goes up or something else wacky happens in the currency markets.
LFD is a low profile company that takes pride in hand assembling their amplifiers, but part of what makes the NCSE so special, is that designer Richard Bews assembles each unit personally.  Every aspect of the amplifier exudes craftsmanship with understated elegance. The compact size and dark grey casework will blend into your decor quite nicely.  If you need the approval of your audiophile buddies that own gargantuan amplifiers and huge heatsinks, the NCSE may not pass muster, but the minute you turn it on, I guarantee they will be impressed.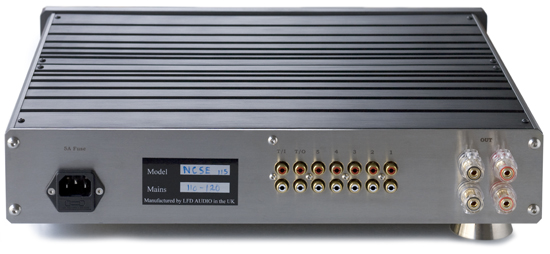 Items for the wish list
I only have two complaints with the NCSE; the lack of a remote control and the crowded rear panel.  I can certainly understand the purist approach taken by LFD, eliminating every bit of unnecessary circuitry from the main board, but an amplifier at this price point should provide a remote, even if a very basic one with volume and mute options.
The RCA jacks and speaker binding posts are very close on the rear panel, too close to use some premium cable with the amplifier, and this amplifier's performance is worthy of the best cable you can afford.  The speaker binding posts are so close together that many of the larger cables will be difficult if not impossible to use with spade lugs.  If you do not have a lot of room behind the LFD, sticking to banana plugs will be best.
The NCSE features five line level RCA inputs along with a tape monitor input and output.  As you can see from the front panel, there are no markings for the various inputs, so you will have to commit your sources to memory.  A phono stage is not available as an option, so an outboard phono stage will be necessary for LP lovers.  I found excellent synergy between my Lehmann Black Cube SE and the NCSE, using Audience Maestro interconnects.
On to the good stuff…
Anyone who has owned or used LFD gear knows that these criticisms are minor and those willing to forgo some functionality in search of performance won't find any of this an issue.  As with past LFD amplifiers, the NCSE required about three days of continuous play to settle into its character and sound its best.  Initially, I found the presentation slightly laid back, but with a very wide-open soundstage that spread out behind the boundaries of my room.  Once adjusted to this new perspective, I was reveling in the detail, noticing the sizes and shapes of the presentation in my favorite records.
The NCSE was a fantastic match with the Harbeth Monitor 40.1's (which you can also get from Gene Rubin), doing what only the best gear does – offering ever bit of nuance your recordings have to give without sounding analytical or harsh. Many have called the LFD amplifiers "tube-like" and I think the NCSE comes even closer to that description than its predecessors.
After hearing "Prophecies" used in the film Watchmen, I had a hankering to go home and listen to my Nonesuch pressing of Koyaanisqatsi. Even though it had been a while since I last listened to this LP, I was immediately struck by the fact that I could make out individual voices in the choir and follow each person all the way through certain passages. While listening to folk-singer Sarazin Blake's newly repackaged 2007 CD, The Air Your Lungs Forced Out, I was treated to a wealth of information that was downright surprising, relishing the way Blake's guitar amp would make the snare drum rattle and buzz on certain notes or the way the four musicians would move and shift their positions slightly throughout each tune.
When auditioning the LE III, I was always impressed with the quality of low bass information present, but the NCSE offered more extension and slightly more warmth. On the new MFSL LP pressing of Linda Ronstadt's Prisoner in Disguise, Kenny Edwards' bass sounded unusually rich and full without being boomy or over-extended. Low frequency information continued to be tactile and textured throughout a variety of recordings, with just a little more pluck, a little more flesh-against-string and a little more interaction with room boundaries clearly evident.

Into the sunset…
Boxing the NCSE back up at the end of the review, I'm reminded of the ongoing conversation I've had with fellow audiophiles about the "Golden Years" system, the one that you retire with after you are finished keeping up with the Joneses and playing the upgrade game. This is an amplifier that I could live with forever.  If sound quality is your priority and you can forgo the remote control, I highly suggest the LFD NCSE.
The LFD NCSE integrated amplifier
MSRP:  $7,500 (introductory price, $6,000)
Where to purchase in the US:
Fidelis AV (the US importer)  www.fidelisav.com
Gene Rubin Audio   www.generubinaudio.com