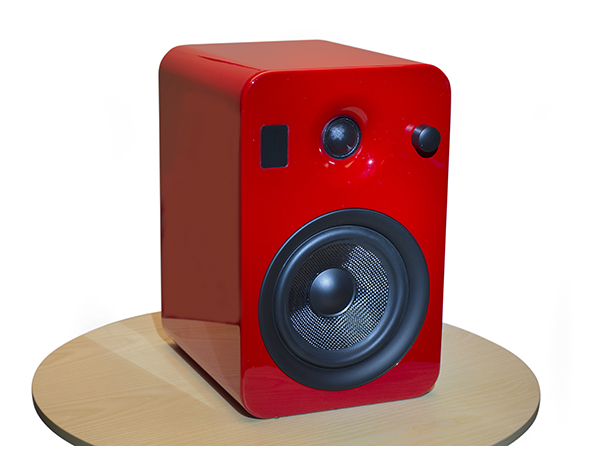 A relative newcomer to the audio industry, U.S.-based Kanto opened its doors in January of 2007. After working for larger consumer electronics companies for many years, Kanto's founders put their design discipline to work developing new products to meet their goal of delivering high-quality products at very reasonable prices. Kanto's latest speaker product conceived in Canada, the Yumi powered speaker, is building a fan base of its own. After putting the Yumis through their paces, I count myself among Kanto's recent fans.
In The Eye of the Beholder
Kanto speakers are available in a variety of colors to blend in with any home décor or provide a nice contrasting hue. A prospective owner has the choice of matte black, gray and white finishes. However, I'd highly recommend choosing from one of the beautifully executed gloss finish options including black, white, gray, blue, purple, or red.
Kanto deviates from the standard boxy speaker shape, giving the Yumi's a modern twist. While the front and back of the speakers are flat as you would expect, all the speaker's side edges are curved. Rather than having defined sides it's more like the speaker has a "flow" around it.
Tweeting and woofing are handled by a one-inch silk dome, and a five-inch Kevlar driver, respectively. Despite the small dimensions, these drivers prove themselves serious workhorses. To encourage better bass response, each speaker has a two-inch bass port. With the ability to output frequencies ranging from 60Hz to 20 KHz, the Yumi's cover the majority of the human hearing spectrum. For those craving full range bass down to 20 Hz, the Yumi's do include one subwoofer output on the rear.
Lots Under the Hood
Within the modern exterior lies the real magic of the Yumis. In Kanto's design implementation, one of the two speakers is both the brains and brawn of the pair. It houses the control knob, source switching circuits, and the amplifier. Only this speaker must be attached to a power outlet using a standard electrical cord. Each of these elements requires some additional explanation.
The dual-purpose knob on the front not only controls volume but by pushing in the knob and rotating it, the Yumi toggles through various input options. Owners have a choice of connections for music sources including RCA, 3.5mm, Bluetooth, and optical.
Opposite the knob is a small LED that indicates the speaker's state and source.  White, blue and amber colors – flashing or solid –  show various states of sources and power readiness. In addition to the various inputs, and a power switch on the rear of the speaker, a built-in USB charger is a convenient addition, making it easy to charge a mobile phone or another audio device while using that device to stream music.
Yumi's are powered by a 30-Watt Class AB amplifier. Putting that much juice in a little speaker enclosure is a bit like packing a turbo charged V8 engine in a Volkswagen Bug… and it's awesome! While I admire greatly the energy efficiency and sound quality of modern Class D amp designs used in many powered speakers today, there's still something about the older-school amplifier circuitry that usually generates, to my ears, a more musically engaging and lifelike experience. The Class AB implementation in the Yumi is no exception. When in standby mode, the Yumi amp sips only half a watt, keeping the circuitry warm and ready for use. While the owner can manually put the Yumi's into standby mode via the remote, the speakers will do it automatically if no source material is detected for a period.
External dimensions of the speakers are a scant 6.9" W x 8.1" D x 10.6" H (17.4 x 20.5 x 27 cm). The Yumi speaker pair weighs in at about 23 pounds. Of course, the passive speaker makes up only 8.8 pounds (4 Kg) of that heft since the heavy amplifier, power supply, and other technology is packed inside the other speaker enclosure.
All in the Wrist
As if all this isn't stellar enough, the Yumis come with a plastic remote that fits comfortably in the palm of your hand, allowing the owner to control many functions from the comfort of a favorite listening seat. Volume, mute, and source selection are complemented with the ability to control bass and treble. A reset button snaps the sound back to neutral when frequency emphasis isn't desired. When using a Bluetooth connection, additional buttons control the ability to play, pause, or select the previous or next song.
Sending music from a phone via Bluetooth is incredibly easy, however, in my experience a fair amount of fidelity gets lost with compressed music despite the Yumi's implementation of the aptX codec created to give Bluetooth better sonics. Using the analog RCA inputs to pipe in music from my reference rig, the Yumis take flight. In every perceivable way, music comes though with a sonic improvement over of the wireless connection. It may be silly to feed the Yumi's a signal from sources priced much more expensively than the Yumi's themselves, however, these speakers demonstrate their ability to take great source material and deliver it to the listener in a musically satisfying and very engaging way.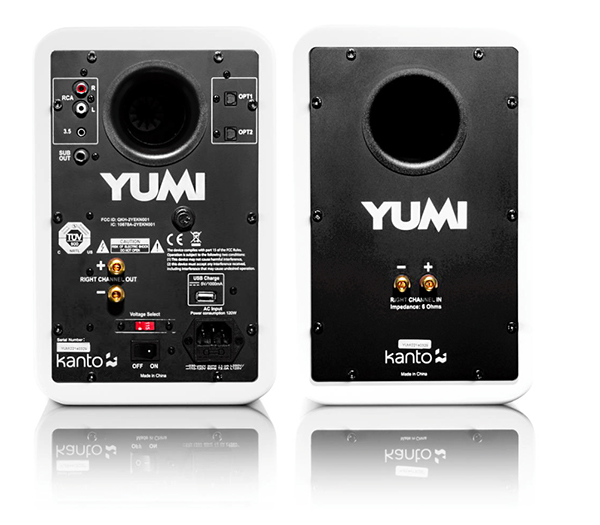 Shocking Sound
These powers speakers deliver impressive sound. Though the Yumi, tracks like "Rotten Apple" by Alice in Chains have a surprising level of texture, emotion and depth which I would normally associate with  larger speakers and more powerful upstream equipment. Similarly, vocal tracks like Cat Power's "Silver Stallion" reveal the emotion of the performance.
There's a relaxed naturalness to the Yumis voice. It's easy to settle into long listening sessions with various music types like electronica, vocals, pop, classical and jazz, never feeling like huge compromises are made. All of the tracks auditioned are delivered with nuance and delicacy beyond the Yumi's price point. At the same time, there's a quick-paced liveliness when the music dictates it. These speakers are not one-trick ponies, but chameleons that do well with whatever musical information is thrown at them.
The bass these little babies put out defies expectation. Even a few feet from the rear wall without any bass loading, there's a good amount of lower frequency heft, and adding a little more is no problem thanks to the tone control options. With any small enclosure, though, there are bass limitations. Those craving heavy and tactile low frequency information can utilize the Yumi's subwoofer output to augment the monitors.
From a soundstaging perspective, the speakers offer additional surprises. They somehow manage to throw a huge, three dimensional soundstage with ease, as you might expect from a great pair of mini monitors. Musical elements exceed the left and right boundaries of the speaker bodies and there's a perceived depth of musical cues projected well above and behind the speakers.
The Yumi speakers deserve many accolades. But yes, they do have limitations. Are these tiny speakers going to reproduce spacious orchestral works with the impact, powerful swells and crescendos of a full range floor-standing speaker? Of course not. It's important to frame perspective here. Let's just say these Kanto speakers pour forth music, across the frequencies they are capable of reproducing, with ease, grace, and potency.
Given the speaker size and $449 price tag, I can't criticize something that does so much so well. Some compromises must be decided deliberately by designers in order to satisfy size requirements, manufacturing costs, and future consumer sales. Kanto's team made took a lot of care to avoid glaring errors that can make modestly priced speakers sound or feel cheap, impeding listening enjoyment. For potential owners living in a small apartment, or who want a set of speakers in a bedroom or den, the Yumis easily offer enough oomph to fill a room with spacious sound. Heck, they did a mighty good job filling my main listening space.
Get 'Em While They're Hot!
Right out the gate, these speakers command attention and deliver big, thrilling sound that seems impossible from such an unassuming enclosure. It's a pleasure to test a product that provides so much quality for a modest price. Over the course of my time with the Yumis, my enthusiasm for them only grows. At the end of the review period, I could not bear to pack up and return these mini marvels, and purchased the demo pair. For all they offer at their price point, we award the Kanto Yumi Speakers a 2016 Exceptional Value Award.
Kanto Yumi Powered Speakers
MSRP: $449
PERIPHERALS
Analog Source: SME Model 10 with SME V and Model 10 tonearms. Dynavector 17D3 and Denon DL-103R cartridges
Digital Sources: Mac Mini, Roon Music Service, dCS Debussy
Preamplification: Coffman Labs G1-B
Cables: Jena Labs
Power: Torus AVR 15 Plus, RSA Mongoose power cords
Accessories: ASC tube traps, Mapleshade Samson audio racks, Coffman Labs Equipment Footers, AudioQuest Jitterbug, Atomic Audio Labs Mac Mini stand