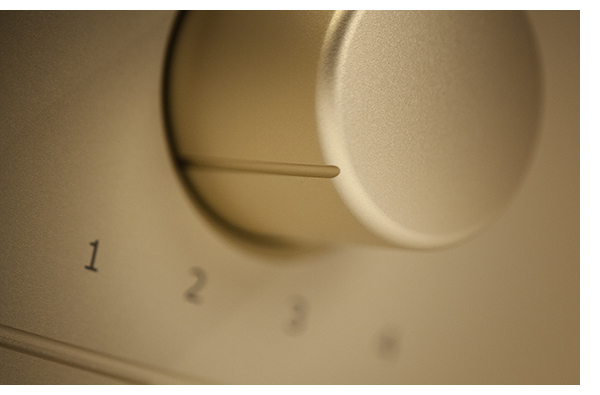 Living with a hifi component for a long period of time is either a wonderful or dreadful thing. Features that seemed annoying at first can really be problematic after a time and magic that wasn't always apparent at first really shines after about a thousand albums.
When you truly commit to a component, it's almost like a long term relationship with a person; you either grow together or you grow apart. You need look no further than the recent court docket of divorce decrees or Audiogon to see who's become tired of their spouse or their preamplifier.
Happily, after three years of using Robert Koda's K-10 preamplifier, I still feel as if I'm on a honeymoon. After listening day in and day out, sometimes from sunrise to sunset and beyond, it remains one of, if not the finest preamplifiers I've had the privilege to own for a number of reasons.
The gold faceplate is reminiscent of Conrad-Johnson gear, but the one affixed to the K-10 is finished to a much higher standard. The only other gear I've seen with this level of quality in the machine work is Burmester. This extends to the control feel as well, there is a vault like solidity and security to using the K-10, and because it lacks a remote control, you will be using these fine controls regularly.
The understated aesthetics and lack of remote control may not be to the liking of those preferring more bling, but it will thrill the purist. Aesthetics aside, the sonic purist will be instantly transported as so many of my friends and acquaintences have been when listening to the K-10. This preamplifer does an incredible job of getting out of the way to just let you enjoy music. It doesn't sound like a solid state or a tube preamplifier. It has no sound at all, and music merely unfolds, with an effortlessness that few components at any price can deliver in this manner. Acoustic instruments retain tone and timbre in a way that the right recordings will convince you that you are seated in front of the real thing and not a stereo system – if this is your idea of the absolute sound, look no further.
(http://www.tonepublications.com/review/robert-koda-takumi-k-10-preamplifier/)
In my initial review of the K-10 (above), I said there was no limit as to how far you could peek into a recording with this preamplifier, and this has only gotten better with time. Now that I have listened to thousands of tracks through it, I continue to be amazed at the resolution, effortlessness and complete lack of sonic signature that it provides. Music simply unfolds from the K-10, and now that Mr. Koda has built a K-15 model, I can't even imagine at how he could have improved upon this design. Maybe one will make it our way for a comparison someday? Every time I swap a different preamplifier in the place of the K-10, I find myself missing it, and that is the highest compliment I can pay any component.
As one who loves the physical look and feel of the K-10 as much as its sonic attributes, I put this preamplifier in the same league of classic creations like the Eames Lounge chair or a Porsche 911 – it is beautiful to listen to and beautiful to behold. Its subtle, understated elegance is something I never tire of and contributes a sense of peacefulness to my listening sessions.
However, the K-10 does have a few minor idiocyncracies that a potential owner does need to be aware of. The K-10s 6db of gain may not be enough for a few system configurations utilizing  low output moving coil phono cartridges or a modest gain phonostage,. With the high output of most DAC's, (usually 4V) gain should never be a problem in an all digital system. When pushing the limits, I still would like a bit finer range of adjustment at the higher end of the volume scale, but again never enough to be annoyed.
For some, the lack of a remote will be an issue. Honestly, I thought it would drive me crazy, but forgoing the remote brings me back full circle to the beginning of my high end audio experience, when they did not exist! Let's face it, most of us can use the exercise to get up and adjust the volume anyway! But most of all, the lack of a motorized or digital volume control makes for a quieter, more pure signal, I feel it forces you to focus more intently on the loudness level of the listening session instead of fidgeting with the volume control. Set it, relax and get into the music I say!
Three years later, the Robert Koda K-10 preamplifier still gets my vote for one of the world's finest audio creations. I'm guessing three years from now I'll still feel the same way. This one is a bit off the beaten path, but if you are looking for the ultimate audio Zen experience, in a preamplifier that makes a major statement by not making a statement, this is your final destination. Unless of course, you pony up for a K-15!