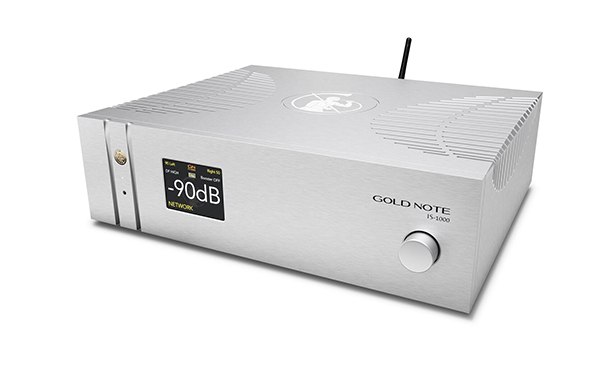 Gold Note is introducing IS-1000, an innovative all-in-one source designed to deliver high quality audio combining analogue and digital technology, available at a MSRP of 4200,00€ (5000,00$) worldwide through Gold Note retailers in October 2017.
IS-1000 is an advanced fully integrated amplifier that redefines the way music playback is experienced, seamlessly merging a Preamplifier, a Power Amplifier, a Phono Stage, a DAC and a Streamer in a unique and complete source.
Gold Note IS-1000 is a Roon Ready device, fully compatible with multi-room systems and with a quick plug & play installation: simply connect IS-1000 to the network (Wi-Fi or Ethernet) and to the speakers, then explore the endless possibilities of music, streaming from Tidal & MQA via Tidal, Qobuz, Spotify & Spotify Connect and Deezer with Roon or the Gold Note dedicated App [available for iOS and Android] or browsing your collection of digital music stored on NAS, HDD and USB sticks – including DSD64 format.
The new Class A/B amplifier with 125W @ 8Ω per channel (and 250W @ 4Ω) per channel developed exclusively for IS-1000 guarantees vivid dynamics, the pure sound and finest detail while also offering a wide range of digital and analogue inputs (including A/V and Phono MM/MC) to assure total control and the freedom to upgrade, expand or connect more devices to the IS-1000.
With the knowledge and the experience developed in over 20 years of research across the whole spectrum of audio reproduction and recording, Gold Note is finally able to offer an all-in-one solution powered by technology and audio grade components to achieve audiophile sound.
"Imagine a complete High-End stereo system enclosed in a beautiful aluminum chassis carved in bold Italian style: this is the best way to describe IS-1000." explained Maurizio Aterini, founder of Gold Note.
Maurizio also stated: "The refined innovations made for IS-1000 come directly from the experience made with our flagship models, like the preamplifier P-1000 and the power amplifier PA-1175, which inspired us to create a new all-in-one source that would integrate the analogue components of a high quality amplifier and phono stage with the digital technologies of a streamer and a DAC in order to deliver outstanding performances while minimizing the effort and the gear needed: we have designed IS-1000 to achieve the best audio quality and to offer a huge number of features in. And if you are in love with vinyl (like me) connect your turntable directly to IS-1000 and spin the record, you'll find that we have put great care into the phono stage."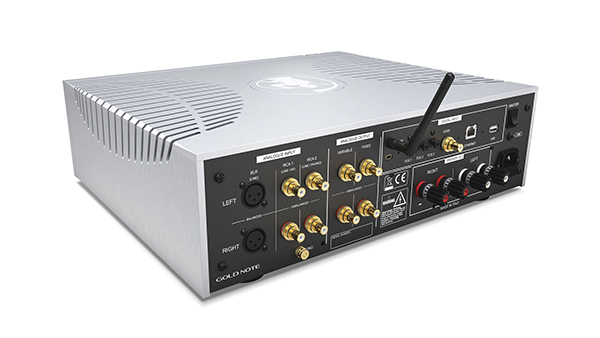 IS-1000 features 6 digital inputs (PCM up to 24/192):
– 3 optical (TOS)
– 1 Coaxial (COAX)
– 1 USB type A (DSD 64 native and via DoP)
– 1 LAN & Wi-Fi (DSD 64 native and via DoP)
3 analogue inputs:
– 1 XLR balanced
– 2 RCA (Line or A/V processor or Phono MM/MC)
Featuring also 1 RCA variable and 1 RCA fixed outputs to use IS-1000 as a Streamer/DAC or as a Preamp or with active speakers.
MORE INFORMATION ON:
www.goldnote.it/is-1000
IS-1000 FEATURES:
– Full connectivity: Roon Ready, Tidal & MQA via Tidal, Qobuz, Spotify & Spotify Connect, Deezer, Airplay and V-Tuner for internet radio
– Controlled via iOS and Android App
– Gold Note Class A/B Integrated amplifier with 125W @ 8Ω per channel (and 250W @ 4Ω), 100% designed and manufactured in Italy
– 3 analogue inputs: 1 balanced XLR, 2 RCA both convertible (1 Line or Phono MM/MC & 1 Line or AV-In)
– 6 digital inputs (PCM up to 24/192): 3 Optical-TOS, 1 Coax, 1 USB A (DSD 64 native and via DoP), 1 LAN & Wi-Fi (DSD 64 native and via DoP)
– 2 Analogue RCA outputs: 1 Fixed, 1 Variable to use IS-1000 as a source, as a preamp or with active speakers
– DSD 64 native files and via DoP
– Display & SKF for easy access and control
– Improved chassis in solid brushed aluminium designed by Arch. Stefano Bonifazi
About Gold Note: Gold Note (www.goldnote.it) has become one of the leading Italian manufacturers in the Hi-End audio, now with more than 20 years of experience in engineering and designing a complete line of electronics, analog equipment and loudspeakers. Founded in Firenze, Italy, where every product is still hand-built from scratch with high quality materials, its creations are a statement of Italian craftsmanship and innovation appreciated in more than 25 countries worldwide.
Address: Via della Gora, 6 Montespertoli (Firenze) Italy 50025
Phone/Fax number: +39 0571 675005 / +39 0571 675013
E-mail: [email protected]