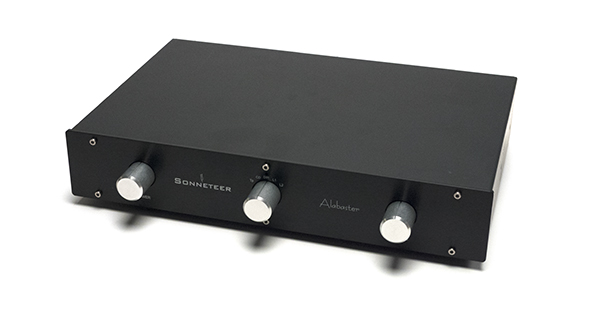 Sonneteer is a new name to many, admittedly including me. In the 1980s, college friends Haider Bahrani and Remo Casadei discovered their shared passion for live music and audio recording. After years envisioning products for their own use, and leaning on their backgrounds in electrical engineering, the two solidified their collaboration in 1994 with the founding of UK-based Sonneteer.
Why name the company Sonneteer you ask? In addition to his design skills, Bahrani enjoyed poetry. The name serves as an homage to those sonnet writers who inspired him. As such, their Alabaster Integrated Amplifier received its moniker from 16th-century poet William Alabaster[1] [2] .
Appearance
The Alabaster integrated amp sports a traditional and understated appearance. Our review sample with a black anodized aluminum facade does little to hint at the electronic prowess within. The front panel offers a purist complement of controls, with three knobs managing input source selection, adjust volume, and power. That is it. While the Alabaster may not win any beauty awards for modern elegance, the build quality is solid; with controls and switches that feel substantial when operated. For a very reasonable price around $2,400, this integrated earns a high score for price-performance. Looks are always a plus, but of course, that kind of facelift would drive up production cost. I applaud Sonneteer's tradeoff, focusing on sound quality over flashy looks.
Weighing 26.5lbs. with dimensions of 12" deep x 17" wide x 3.5" high [3] only [4] hints at the hefty transformer coils, steel bracing, and circuitry within. The unit pushes 55 watts into eight ohms, and roughly double that into four ohms. With a new website on the way, the manual will now be downloadable.
With all respect intended to the straightforward design, the Alabaster has one major functional limitation – the lack of a remote control. Those like me who listen to a variety of artists or songs in a single sitting recognize that music is not always rendered at the same volume without software intervention. Depending on your audio setup, and your tolerance for volume swings between songs, this reality can lead to several tedious trips to the volume knob for small adjustments. [5] As the North American importer is quick to point out, "The Alabaster is good for upping the step count on your Fitbit."[6] [7]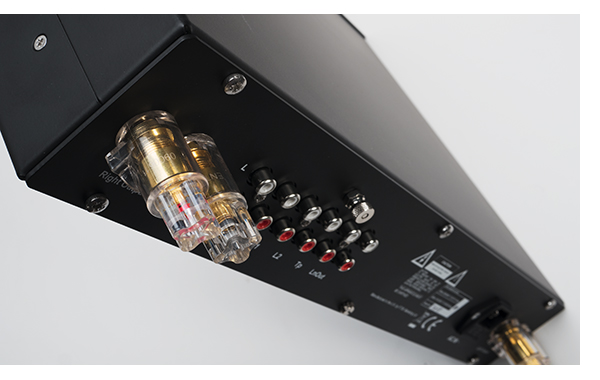 The ins and outs
The rear panel features a utilitarian look similar to the faceplate. Speaker binding posts at the far left and right of the unit body sandwich in between them a series of five single-ended stereo inputs, plus a set of RCA line outputs. Among the line inputs, the Alabaster comes standard with one MM phono input, giving the owner extra flexibility. Those seeking balanced connections are out of luck, but those with a single ended system will find this Sonneteer a perfect companion for the rest of its brethren residing on the audio rack.
The speaker binding posts meet European safety standards, the plastic shield covers each post ensures stray cables cannot connect inadvertently. Safety is a good thing, and these posts make connections to banana terminations or bare wire easy. Connecting spades requires sliding the cable termination into the shield from the underside. Due to the shield, there is no way to thread spades in from the top, so the Alabaster must sit against the back edge of the audio rack so that spade-terminated cables can dangle downward. If your speaker cables prove problematic in this regard, high-quality banana adapters may prove a saving grace.
The Alabaster's straightforward connection options make setup very easy, and in a matter of a few minutes, this silver-tongued poet finds itself prepared to speak. When powered on, a small blue LED over the input selector comes to life indicating readiness. As a solid-state design, the Alabaster deserves several days of break-in to achieve the musicality it is designed to deliver.
Sound
Some characterize a "British" component sound as one that is voiced to prioritize warmth over stark transparency, politeness over detail, and relaxation over speed. Yes, those elements do serve well as broad brushstroke descriptors for the sonic signature this amplifier. Music portrayal is forgiving, perhaps akin to that heard several rows back in an auditorium where cymbal crashes and brass instrument blasts lose their bite as part of the bigger musical picture. At the same time, clinging to those generalizations would not do the Alabaster justice. These audible characteristics do make the Alabaster a joy to settle into for long, fatigue-free listening sessions. However, the sum of its sound is not bound to those overly-simplified descriptors. For example, listening to Bill Laswell and Jah Wobble's dub-inspired collaboration Radioaxiom, the Alabaster reproduces low bass notes with solidity, musicality and drive which create the illusion of control by a more powerful amplifier. Those 100 watts never pull punches when needed.
Through the Sonneteer, the soundstage is substantial, organizing musical elements accurately from left-to-right across the soundstage. The front-to-back layering of musical elements is good, but when a complex array of vocals and instruments litter the soundstage, the Sonneteer tends to compress that picture a bit in comparison with some high-end gear I have experienced. The nitpick is minor, however, since the Alabaster does so much so well.
The complex harmonics of cymbal crashes or triangle strikes, like those captured on Ben Harper's Burn to Shine, preserve most of the impact, reverberation and decay a listener should hear. Similarly, vocals offer the emotion of the performance without uncomfortable stridency or sibilance. For instance, Adele's "Rolling in the Deep" reveals itself through the Alabaster with the powerful crescendos one wants to experience from her recordings, but without the wince factor that accompanies it on some overly-revealing gear.
While the Alabaster cannot be expected to deliver the sound of separate components many times its price, it certainly offers an incredible amount of musical satisfaction. Higher-end components can exceed the Alabaster's ability with a broader and better-layered soundstage[8] , a greater sense of realism, and more detailed presentation, especially at the higher end of the frequency spectrum. However, when compared more fairly to components in its price range, the Alabaster's accomplishments are stellar indeed. The Sonneteer is a component any music lover will be proud to own. The team at Sonneteer deserves some serious accolades for making an amplifier that sounds this good, at a dollar figure accessible to many who prioritize the joy of music in their lives.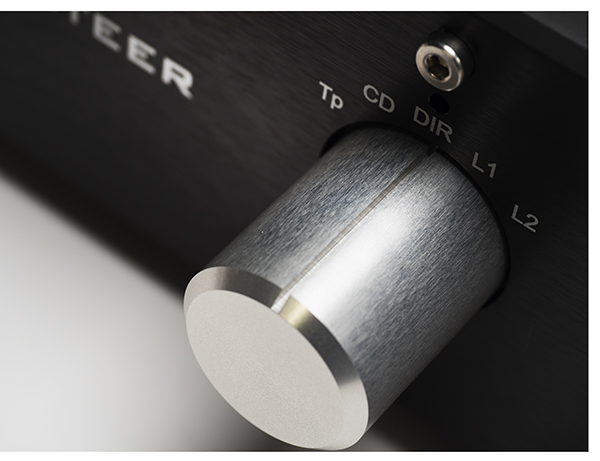 Conclusions
Simply put, the Sonneteer Alabaster is a price-performance wonder. For its very reasonable cost under $2,500 USD, it delivers excellent sound. The Alabaster might not unseat single purpose amps and preamps several times its price, may not be ideal for those who prefer a highly-detailed component which exposes every nuance in a recording. However, the Alabaster's sound is beguiling, and this integrated amp is piece of gear to be enjoyed for many years to come. The warmth of its sonic character will help it mate well with many sources. If a prospective buyer does not require bells and whistles like a built-in DAC, networking connectivity, variable outputs for a subwoofer, or a remote control, this may be the integrated amplifier he or she has been seeking. I recommend it wholeheartedly, and it handily deserves a 2017 TONEAudio Exceptional Value Award.[9]
Sonneteer has a substantial dealer network in Europe, and has a growing number of North American dealers. If the Alabaster piques your interest, be sure to visit your Sonneteer dealer to hear it for yourself. For what it is designed to do, it performs those tasks extremely well. Sonically, it is a flat-out bargain for its modest price tag. Were William Alabaster alive today, I think he would enthusiastically approve of his namesake.
Additional listening: Jeff Dorgay
I couldn't agree with Rob more that the Alabaster deserves an Exceptional Value Award. This integrated reminds me so much on one level of my reference, the PrimaLuna HP – it's pure sound quality with basic functionality. With simple yet understated casework, all the value goes into the circuit and for the true music lover, this is a sonic treat.
Where something like the Simaudio ACE offers more functionality, the Alabaster offers a higher level of sonic prowess; if you can get by with 55 watts per channel and have the need for an excellent MM phono stage, it's one of the best (if not the best) choice you can make.
Staying mostly in the British groove, with a slight detour to France and a trip across the pond to the US, I used the Alabaster with four different sets of speakers. Listening began with the lovely Graham LS5/9s, moved on to the Focal Sopra no.3s in my main system (which cost nearly ten times the Alabaster's MSRP) and the vintage Klipsch LaScalas written about in this issue before settling back in on the Quad 2812s in room two. All delivered cracking performances.
What I'm the most excited about is the quality of the MM phonostage. Utilizing the new Gold Note Machiavelli high output MC (again, more expensive than the Alabaster) the level of refinement here is astounding, with a level of resolution I wasn't prepared for.
In the context of some fairly expensive speakers, and using the PS Audio DirectStream DAC and memory player as a source, digital files were just as engaging as analog, and I suspect that a lot of Alabaster users will pair this $2,395 integrated with modest speakers and sources, never really knowing just how damn good this amplifier truly is. If it had thicker, more elaborately machined casework and a fancy remote, they could easliy ask $6k for this baby and you'd still be getting a bargain. So if you are a true music lover that is ever so slightly frugal, the Sonetteer Alabaster is your slice of heaven.
It's certainly one of my favorites. You must hear one to believe it.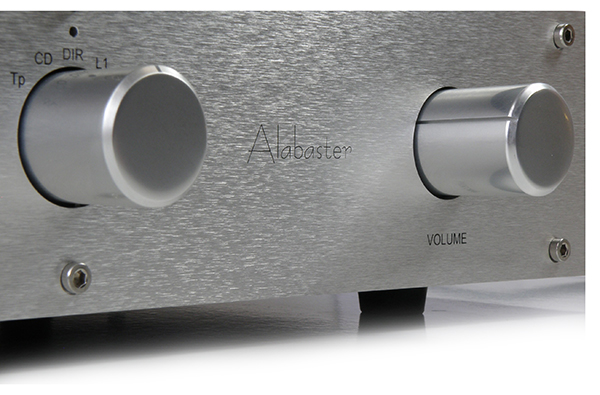 Sonneteer Alabaster Integrated Amplifier
Approximately $2,399 USD
Arcadia Audio Marketing
[email protected]
416-994-5571
PERIPHERALS
Digital Sources: Mac Mini, Roon Music Service, dCS Debussy, SimAudio 780D, Oppo Sonica DAC
Amplification: Burmester 911 mk3
Preamplification: Coffman Labs G1-B
Speakers: GamuT RS3, JL Audio Dominion Subwoofers
Cables: Jena Labs
Power: Torus AVR 15 Plus, RSA Mongoose power cords
Accessories: ASC tube traps, Mapleshade Samson audio racks, Coffman Labs Equipment Footers, AudioQuest Jitterbug, Atomic Audio Labs Mac Mini stand