Perhaps the most important thing you need to know about Simaudio is that the entire company has only one person in its service department; he's not terribly busy – and that's a good thing.
When I compare Sim's service guy, Mark Catalfamo, to the famous Maytag repairman, he laughs and points out that two thirds of the "repair" work executed on his test bench is just to confirm the performance of various review units that have been returned from around the world.
"We need to be sure that everything is still up to spec," he says, "and that there has been no physical damage."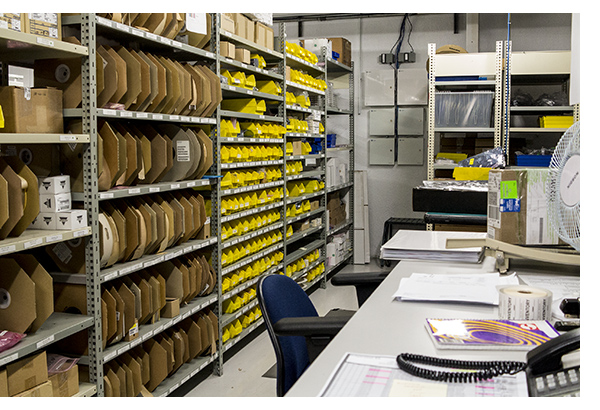 This confirms that breakdowns with Simaudio gear is a rarity, precisely the reason the company offers a 10-year warranty on all of its products.  You don't stay in business for thirty-plus years if you're mired in constant repair issues.  Yet, should the need for service ever occur, the company has a substantial parts inventory on hand.
"We don't have metal casework parts for all of our oldest models anymore," says Costa Koulisakis, the company's VP of Sales and Marketing.  "But we do have electrical parts—resistors, capacitors, transistors, etcetera—on hand to repair or refurbish practically everything we've ever made."
This is something to strongly consider when making a purchase decision.  As additional evidenced, a cursory look at the secondary market reveals few Simaudio components for sale—and when you do find a pre-owned Sim unit, it commands a high price.  We at TONE have a number of Simaudio products in service as staff-member reference components, not to mention friends and family members who have enjoyed long, trouble-free relationships with their gear.  Koulisakis goes on to note that his customers are the same way.  "We tend to get customers for life," he says.  "When they buy an amplifier, the old one is often moved to another room for a second system."
Proudly Made in Canada
Simaudio has been in business since 1980 and has been running under the guidance of its current CEO, Jean Poulin, since 1993.  He is responsible for the company's growth in recent years, having expanded the Sim product line, made major circuitry upgrades and upgraded the casework to the world-class design those components now enjoy.  All of this, he says, has regrettably kept him too busy to play his piano located upstairs at the company's headquarters, just to the left of the main listening room.  "Once the move is complete I am hoping to find a bit more time to play," Poulin says with a smile.
Every day, Poulin hangs his hat on the fact that, as more and more of the audio industry's manufacturing heads to China, every aspect of Simaudio products is realized in Canada, either in the company's factory or within a very tight radius.  The company has just moved into its current facility, which is just over 45,000 square feet and home to 42 employees.  It is more than just a factory, however:  In addition to all of the component-production facilities, it includes two state-of-the-art listening rooms and a performance space.  Sim has made great effort to keep the building as green as possible, going so far as to grow strawberries on the roof!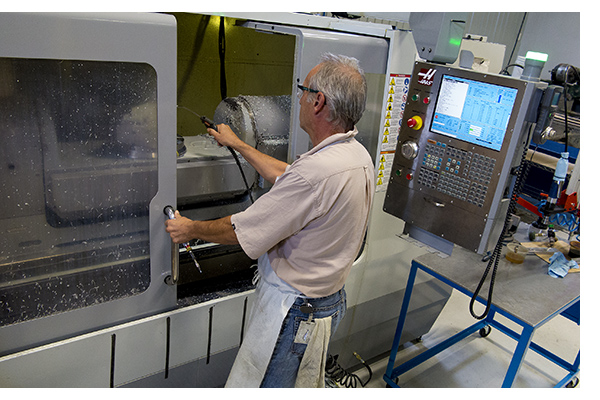 As far as audio parts go, the original extrusions that become product faceplates and heat sinks are produced near the Sim factory, but machined to their final forms at the company's five-axis Haas CNC work center.  Going through the machine shop reveals a second, four-axis machine nearby.  Boards are stuffed only a few blocks away from the Sim facility, with all testing completed on Sim's factory floor.  The company even takes an artisan approach with its front and rear product panels, which are silk-screened one at a time in an area of the shop dedicated to this process.  And to bust a common audiophile myth, the exquisite casework of a Simaudio product does not constitute a majority of its final price, thanks to having it everything produced in-house.
The design team at Simaudio feels that this high-quality casework adds to the finished product in more ways than one.  The billet-aluminum enclosures minimize vibration, which results in better performance, but there remains a stringent eye on quality and pride of ownership.  Simaudio uses 6063-T5 aluminum, which is not as hard as 6061-T6 aircraft-grade aluminum, but that is superior in appearance, since it can be more finely finished.
Koulisakis is quick to point out that, while the T6 aluminum has a higher tensile strength than the T5 they use, it is actually detrimental to the sound, because the extra stiffness makes it ring much more.  "The T5 aluminum is very stable and provides a surface that is easy to machine, anodize and brush, " he says, also noting that any Simaudio piece you buy today will maintain its attractive look, without any fading or discoloration.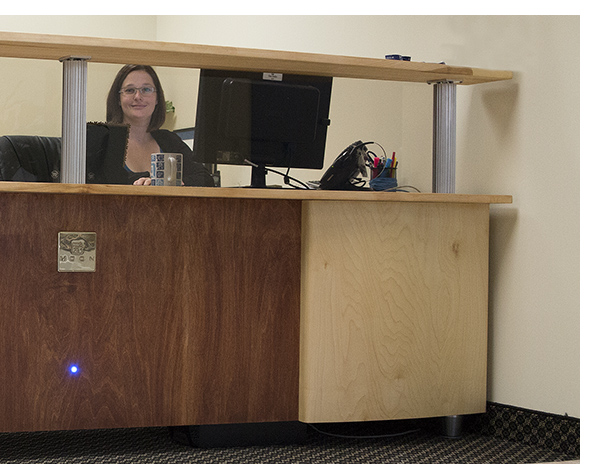 The Difference is in the Details
The vibe at the Simaudio factory is relaxed, right down to the desk in the reception room, which has been custom-machined to look like the face plates on Sim's gear, right down to the blue LED in the center—a nice touch.  Many of the company's employees have been there longer than 15 years, which is another key to product success and low failure rates.
While many of the engineering changes made over the years were to refine sonic performance, others were made in the name of reliability.  The most noticeable of these changes is that Sim now produces its own CD transport for the 650D and 750D DACs. Upon close inspection, it's easy to see that a number of parts inside Simaudio components are completely custom-made. Simaudio's Marketing Manager Lionel Goodfield points out that the output transistors used in the company's power amplifiers are also custom-made, in batches of 100,000, specifically for Simaudio.  "Once here, we sort and match these transistors to an even tighter tolerance for use in our amplifiers," he says.  "It adds a few extra steps, but insures quality and product uniformity."
Power transformers are also custom-made by a small firm nearby, for which Simaudio is the main customer.  "Jean's background was in power supply and transformer design," says Goodfield of Sim's CEO, "so it was easy to design something unique to Simaudio.  Not having to rely on off-the-shelf parts has made it easier for us to achieve the low noise floor of our designs."
By Music Lovers for Music Lovers
As mentioned earlier, there are two separate listening rooms at the Simaudio HQ: one about 20 feet by 30 feet and one about 20 feet by 15 feet, both of which help the staff simulate how Sim's products will be used by customers.  With about a dozen speakers queued up in the entryway from Dynaudio, Thiel, MartinLogan, Wilson and others, it is obvious that the company makes every effort to be sure that its products work well with as many different varieties of speakers as it is practical to keep around.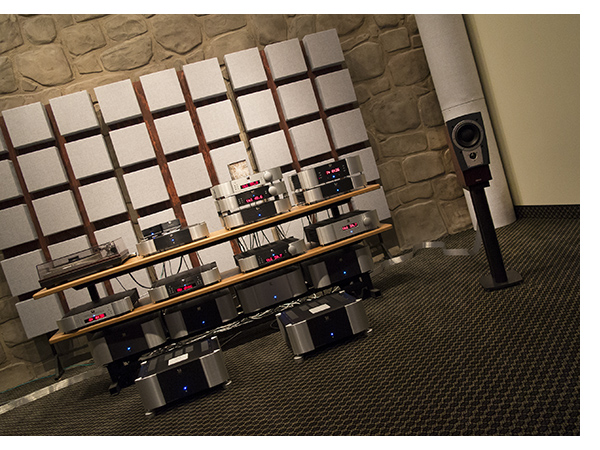 During my visit, the second room was not quite finished, but the main room is most certainly a testament to what great gear can sound like when properly set up.  Here, Sim's latest 850P Dual-Mono Reference Preamplifier, a pair of its 880M Mono Reference Power Amplifiers, the 810LP phonostage and the 750D DAC/CD Transport were driving a pair of Dynaudio Confidence C1 II speakers.  As a C1 owner, I came away with a new appreciation for not only how much the room contributes to the overall sound of a system, but also how much more sound lurks in a pair of great speakers when premium electronics are supporting them.  The equal level of resolution, tonal purity and ease this system provides again underscores how much care with which Sim builds its components.
This attention to detail is perhaps what best defines Simaudio's approach to audio-product manufacturing.  The company's designers, engineers and factory workers make some of the world's finest-sounding gear.  But it is Simaudio's attention to the minutest of details—not only in its manufacturing but also in its pursuit of a level of reliability that keeps its products performing at their best long after the sale—that gives the company's components true heirloom value.  And, after a visit to the factory in Montreal, it is quite apparent that these guys love music, which takes the company's gear beyond manufacturing.