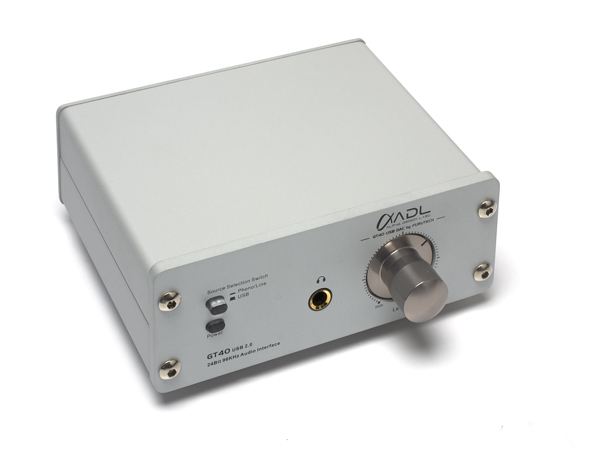 I always enjoy teasing our publisher about the validity of five-figure gear and his recent obsession with the dCS Paganini stack.  Sure, it's great for $60k – it should be for that kind of money.  But what about something for the budding audiophile, or even the veteran audiophile who has to live within a reasonable budget?  As I was pleading my case upon the last visit to the TONE studio, he just smiled and placed the Furutech GT40 in my hand.  "Check this out. It's a phono preamp (MM and MC, no less), an analog-to-digital converter (24 bit/96khz) and a DAC.  Has a pretty good headphone amp, too, and you can use it as a linestage.  How's that for just under $500?"
To be exact, $480. Though it weighs only about a pound, it feels solidly built with a nicely finished case and precisely machined volume control.  Around back, there is a pair of gold-plated RCA jacks that can be switched between MM phono, MC Phono or line level for the single input.  There is also a USB 2.0 input and a socket for the 9V AC wall wart.  That's how they keep it so small – no power supply under the hood.
It really does it all
After putting the GT40 through its paces one function at a time, I found that it performs all of its tasks well and has no weaknesses.  The DAC and phono stage alone are easily worth the asking price.  Breaking this down, what kind of a phono stage would you get for $120?  Or DAC, Headphone Amp or ADC?  The GT40 is a bargain indeed, and after spending about an hour with it, you can see why we awarded it one of our Product of the Year awards in the budget category.
Keeping in the budget-system mode, the GT40 was used in a system comprised of a pair of Vandersteen 1C speakers, Technics SL1200 turntable (with Grado Red MM cart and Denon 103 MC cart) along with a recently refurbished Dynaco Stereo 70 and Dynaco PAS 3 preamplifier.  The GT40 was also used with a handful of aging CD players to see how it performs as an upgrade, as well as my HP Netbook to see well it captures and plays back digital files.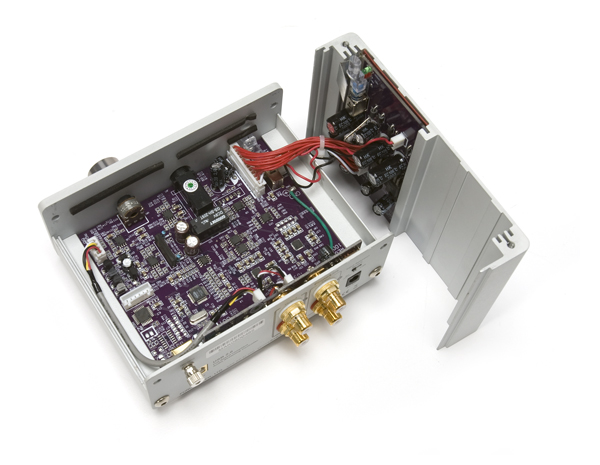 Gives great phono
After reviewing more than my share of inexpensive phono stages this year, I'd easily pay $400-500 just for the GT40, if it would only perform this function.  MM performance is good, but the MC performance is even better. Or perhaps the synergy between it and the Denon 103R cartridge was amazing.  This tiny preamp had great dynamics and drive, and my inner tweakophile kept wondering what the GT 40 would sound like with a massive power supply. As this had to be returned to Furutech, I kept the soldering iron safely locked away.  Playing a few of my favorite Joni Mitchell records, I was highly impressed with the lack of grain that was present.  While the sound wasn't as warm as a tube phono preamplifier, it was definitely not clinical and dry.  Always good news at the lower end of the analog spectrum.  And thanks to no vacuum tubes under the hood, the GT40 is extremely quiet.  Quiet tube anything means a sophisticated power supply, and you can only get so much for five hundred bucks.
Digitastic
The Digital performance, both for capture and playback, was equally impressive.  The GT40 easily had enough resolution on tap to distinguish between my latest treasures from HD Tracks and their 16/44 equivalents.  The coolest thing about the GT40, though, is that you can use it as an analog-to digital-converter, going straight from your turntable into the sound-capture program of your choice.  A free download of Audacity did the job nicely and kept the cost of digitizing vinyl reasonable.  Again, if you're looking for a modestly priced ADC, the GT40 is worth the asking price if you do nothing more than this with it.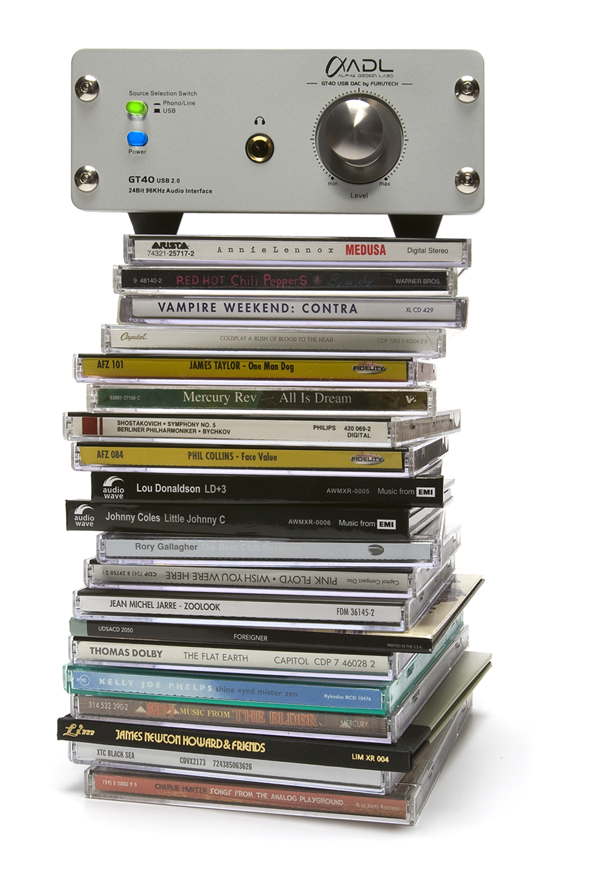 A linestage too?
As much fun as it was trying out the GT40's functions, I think the most fun I had with it was driving my Dynaco Stereo 70 direct.  It had no problem driving a 10-foot pair of DH Labs interconnects from the shelf where my SL-1200 resides, and it was a great conversation starter.  None of my more musically inclined buddies could believe I was running my system with "that little thing."  For an audiophile on a tight budget who would like to use a budget turntable for analog and their laptop (or perhaps a Wadia 170i) as a digital source, the GT40 is tough to beat.
As mentioned at the beginning of the review, there's a headphone amp as well, which leads to another great use for the GT40; it's the perfect desktop component.  Thanks to the small size, there's no desk on which it won't fit, and if you live in cube world, it's easy to slip in your briefcase and take home at the end of the day.  All the nerdtrons at work were very jealous of the GT40/Grado RS-1 combination; I had to bring it home with me at the end of the day or it would have disappeared.
A definite overachiever
The Furutech GT40 could very well be one of the best bargains in high-end audio today.  I heartily suggest buying one ASAP before Furutech decides to raise the price.  If they put it in a bigger box and tripled the price, you'd still be impressed with it.  And those of you with five- and six-figure systems, you need one, too.  You'd be amazed at how handy it is to have a DAC, ADC, phono preamp, headphone amp and linestage all in one tiny box.  Our publisher and I will probably have a wrestling match to decide who gets to keep this one!  – Jerold O'Brien