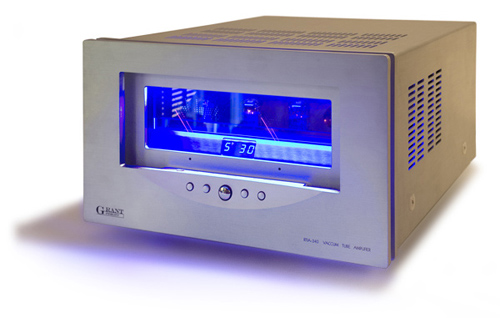 If you like tube amplifiers that hanker back to the glory days of audio with a big, beefy chassis and huge output transformers, the Grant Fidelity Rita-340 is for you. It's so robustly built that even the careless handling of the UPS guys couldn't stop it! The substantial crate arrived, looking like it had been dropped off the top of my garage roof, but after I dusted off the Rita and fired it up it worked perfectly and it has worked flawlessly for the past six months. I think this should settle any build questions you might have about this amplifier; anything that can survive that kind of abuse should be fine in everyday use.
The Rita-340 has a substantial footprint, reminding me a lot of the Audio Research D-79 and D-150 that I used to own in the 80s, so make sure you have enough shelf space. It measures 15.5" wide, 10" tall and is 19" deep, weighing about 115 pounds. Perhaps the bottom shelf on your rack may be the best.
The silver faceplate is massive and it features control buttons on the front with a pair of transparent power meters that feature deep blue lights that let you see the tubes glowing inside. The Rita 340 is also available in all black if you prefer that look. If you subscribe to the "deep listening" crowd that needs all the lights out to get in your audio trance, you can switch the lighting off on the back panel. I loved the contrast of the blue panel and the rich warm glow of the tubes. However, I did find the power meters relatively useless. With no markings to show what they really are indicating, and the small, thin florescent orange pointers, they are virtually impossible to read from more than a few feet away. If I made the style decisions, I'd just leave the see through front panel without the meters.
Setup
Keep in mind that this is an integrated amplifier, so the size isn't so imposing when you realize it's taking up two spaces. There are four high level RCA inputs and one XLR input, should you have a component with balanced outputs to integrate with your system. I took advantage of this to use my Luxman D7 combination player, which features balanced outputs.
The test system consisted of the Luxman player, my Sound HiFi modded Technics SL-1200 with SME 309 arm, Sumiko Blackbird cartridge and Audio Research PH3SE phono stage. All cabling was the latest Furutech Ref III (speaker and interconnects), with Shunyata Python CX power cords and a Shunyata V-Ray power conditioner.
While most of my listening was done with my Harbeth Monitor 40.1's, I did try quite a few different speakers during the listening period. The Rita wouldn't really push my MartinLogan CLX's or Magnepan 1.6's (nor did I expect it to…), but it did a great job with all the more traditional dynamic speakers I used it with. Excellent results were achieved with the Zu Essence, Verity Audio Sarastro II's and the Gamut S-7, as well as a number of mini monitors that have passed through for review.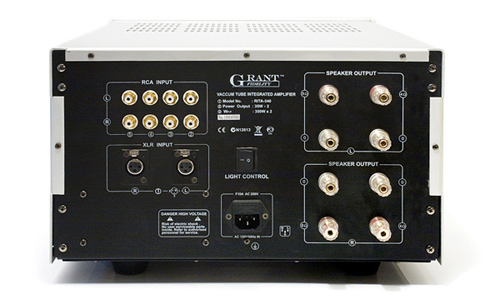 There are two sets of speaker outputs on the rear panel, and while the amplifier is rated to drive speakers from 4-8 ohms, with a tap for 4 and 8 ohms and a common ground. The speakers I tried had varying impedance and I did not notice any issues driving anything.
Overall the Rita-340 is very easy to use, the only quirky thing I found during the review period was the relatively slow ramp up of the volume control, but I'd rather have it go too slow than too fast, which has been the case on a few preamplifiers I've used lately. Fortunately, the stylish remote does have a mute button, so it's all good.
The basics
The good news is that none of this affects the amplifiers performance, which is excellent. After a brief burn in period of about 50 hours, Rita was in full song. Featuring a pair of EL34's driven by a 6SN7 and 6SL7 in each channel, tube rollers will be in heaven. I was very pleased with the stock tubes, but swapping the 6SN7's for a pair of Sylvanias' I had on hand relaxed the overall presentation, but if you are a tube roller, I'm sure you have your own secret combination. For those wanting to take the amplifiers' performance a bit further without a lot of experimentation, you can purchase Shuguang Treasure "Black Bottle" 6SN7's for about $300 a pair and their EL34 tubes for about the same price. Click here to see their variations on the theme:
http://grantfidelity.com/site/catalog/90/shuguang_treasure_series

If you purchase a set from Grant Fidelity at the same time you pick up your amplifier, they will give you 25% off. And thanks to Grant Fidelity's excellent customer service, if you aren't quite ready to swap tubes, as a Rita owner, they will still extend the discount later, when you are ready to make the change. Very cool.
If you are new to tube rolling, I'd highly suggest just trying the 6SN7's. NOS variations of these tubes are indestructible and you can actually change the tonality of the amplifier quite a bit, allowing you to fine tune the sound to your room, taste and speakers. NOS EL34's may prove too spendy, reaching as much as $300 or more each.
While still on the subject of tubes, the Rita-340 features fixed bias on the output tubes, so you will not have to monitor or adjust bias. This will require purchasing a matched quad of output tubes when retubing, which usually adds 10-20% more to the cost, but because the Rita is run so conservatively, I anticipate tube life to be very long, much like my McIntosh MC275.
If this all sounds like too much work, just fire up the Rita and dig the glorious sound.
Big amplifier, big sound
The Rita is an excellent blend between current and old school design. It has the midrange delicacy that drives most people to a tube amplifier in the first place, yet has the extension at both ends of the frequency scale to sound modern. But being an EL34 design, it does possess more warmth than a KT88 design. If you prefer a punchier version, try their Rita-880, which uses KT88 tubes and is only slightly more expensive at $4,200. The 340 was a perfect fit for me, as the EL34 is one of my favorite tubes, and I've used quite a few variations on the theme over the years.
I was most impressed with the quality of the bass and control that the Rita possessed. When used with the $42,000 Verity Sarastro II's that go solidly down to 25hz, it was no problem getting some serious bass grunt with some resolution. Playing my favorite Pink Floyd and Genesis tracks revealed that the Rita could shake the walls quite nicely, but switching to some acoustic bass showed off the more articulate side of the amplifier.
Listening to "Her Room" on Anja Garbarek's Smiling and Waving allowed me to cross the acoustic bass and female vocal requirements off the list handily. This record is a great demo, because it starts with some great plucky bass lines and weaves a great sonic texture of trippy environmental effects with Ms. Garbarek's ethereal voice.
As I mentioned earlier, this amplifier does an excellent job of adding a touch of tubiness without becoming slow and syrupy, but make no mistake; this is a tube amplifier that adds a slight bit of body to the sound. But isn't that why you buy a tube amplifier in the first place? Listening to some of Henry Rollins' spoken word discs was outright scary! It sounded like Henry was right in the room screaming at me through the Harbeths. Johnny Cash's "Delia" from American Recordings and various tracks from Tom Waits Mule Variation were equally haunting.
The presentation never got cloudy, when listening to relatively complex music either. Orchestral music had a very nice sense of spaciousness and placement. The Rita threw a very big and wide soundstage, with a lot of front to back depth as well. While 35 watts can only go so far, the Rita gave its all, even on less efficient speakers and to its credit, clips very softly. 86 db speakers should be no problem if you don't need to achieve concert hall levels and anything above 90 db sensitivity will let you rock the house.
But there's just something special about listening to 60's and 70's rock on a great tube amplifier like the Rita. That extra body just makes those Marshall amplifiers come alive in your living room. Thanks to the airy presentation, I also enjoyed my favorite grunge records from the 80's and early 90's too. Sonic Youth's "My Friend Goo", from Goo is a relatively flat recording, but the Rita did an excellent job of unraveling the texture within. Soundgarden was just as much fun to blast as Led Zeppelin and I was always surprised at just how dynamic the Rita made good live recordings sound.
This sense of dynamics really came in handy when listening to some of Naim Records' latest 24/96 recordings. "Dolphyus Morphyus", the sixth track on Empirical's Out and In, has some great sax solos that will push an amplifier to its limits to keep up. The Rita-340 did a great job and never felt strained in the least, so if you are adding high res files to your music collection, you will have no problems here.
Conclusion
Regardless of your musical taste, the Rita is an excellent amplifier that was always involving and most of all, a lot of fun to listen to. As an integrated, you save on rack space and the fact that you will only have to upgrade one power cord (if you are so inclined) and will not need to agonize over interconnects between amplifier and preamplifier. Not to mention the resulting synergy that comes from having it all in one box.
If you have wanted to get back into tubes or are thinking about trying it for the first time, the Rita-340 should provide years of musical enjoyment thanks to its robust construction and gentle use of its power tubes. The folks at Grant Fidelity have an excellent reputation for customer service, so they can help you with tube rolling and other system questions. We are very happy to give the Rita 340 one of our Exceptional Value Awards for 2009.
Manufacturers Information
The Grant Fidelity Rita – 340 Reference Integrated Tube Amplifier
MSRP: $3,500
http://www.grantfidelity.com
Peripherals
Analog Source: Sound HiFi Modded SL-1200 with Sumiko Blackbird and Audio Research PH3SE
Digital Sources: Luxman Du-7 Combination player, Sooloos Music Server with Neko Audio D-100 DAC
Speakers: GamuT S-7, Harbeth Monitor 40.1, Verity Audio Sarastro II, ZU Essence
Cable: Shunyata Aurora interconnects, Shunyata Orion speaker cable, Shunyata Python CX power cords
Accessories: Shunyata V-Ray power conditioner, Shunyata Dark Field Cable Elevators, GIK sound panels, Furutech DeMag