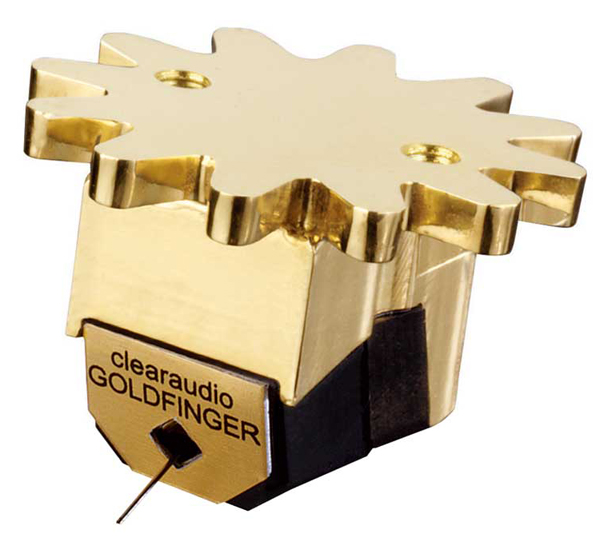 The recently updated version of Clearaudio's Goldfinger cartridge weighs in at 18 grams; a heavyweight by any measure and in part due to the body being made from 16 grams of pure gold.  The coils making up the generator are also wound from 24 karat wire.  This cartridge will require a heavier than standard counterweight, so even if your wallet is up to the task,  be sure your tonearm will be also be up to it.  The big question is what does the GF2 bring to the dance and do you want it as a partner?
If one accepts the principles of audio Darwinism, then Clearaudio cartridges have survived because they have continued to adapt to the higher resolution playback systems that can brutally expose the flaws of moving coils, cantilevers and stylus tips.   In the 1990's, the Clearaudio Insider Wood changed how I listened to vinyl.  It extracted information from the well-traveled grooves of my lps that had been kept waiting in the wings for the proper cues.
When the original Goldfinger was released in 2006,  I took the Clearaudio plunge again with some trepidation. The Goldfinger was heavy and I was always nervous about its vulnerable, exposed canteliver; not to mention the high sticker price (about $8,500 back then).  I lived with the Goldfinger for 3 years.  It rejuvenated my record collection, particularly discs that I have had since the 1950's and 1960's.  When the GF2 was announced, my curiosity was piqued and I was anxious to see how much higher Clearaudio had raised the bar.
Setup
I followed Clearaudio's suggestion and let the GF2 play for about 100 hours with a load of 47k ohms before switching to 200 ohms and eventually settling on 100 ohms. VTA was set to be level, with the body of the cartridge perfectly parallel to the platter.  The cartridge was mounted on a VPI HRX with the 12.7 arm, rim drive, and the SDS speed controller.  Nordost Valhalla interconnects went between my Pass X-ONO phono stage and Pass XP-3 linestage.
From the beginning,  I could hear something special with the cartridge and it improved considerably over time.  After some experimentation, I settled on the factory tracking force setting of 2.8 grams.  The GF2 has an output of .9mv, so it should be very easy to mate with most MC phono preamplifiers.
A definite improvement
Though I could not compare the cartridges side by side, as I had to remove the original Goldfinger and remount the GF2, less than 24 hours had elapsed between auditions.  I felt that after three years of listening to the original on a daily, its sonic signature was well burned into my memory.  What the original did best was bring out the subtle details in my favorite recordings without being harsh and etched; it still had that lovely analog warmth.
The GF2 takes all of these characteristics to the next level with no downside.  Groove noise is lower with the detail and warmth of the original still in place.  However the GF2 peels one more big layer away from the presentation, offering a more holographic soundstage with the images and placement of acoustic instruments having a better and more realistic size relationship than before.
Voice reproduction is the standard that I use for auditioning any component that I am seriously considering.  The GF2 does the best job in exploiting the human quality of vocal recordings that I have ever heard in my system.  On the opening cut of the Tony Bennett and Bill Evans Album (Analogue Productions Original)  "Young and Foolish" has a touch of Tony's vocal rasp that is perfectly reproduced by this cartridge.  The unique qualities of Sheila Jordan's voice (Sheila, Steeplechase Records) are characterized by her wavering around the notes which she eventually hits; another bulls-eye for GF2.
Sonny Boy Williamson's Keep it to Ourselves (Analogue Productions Original) was recorded in a hotel room in Copenhagen. It has an immediacy that few studio recordings can match, including the sound of spittle on the harmonica and the accompanying tap of leather-soled shoes on a wooden floor. The GF2 does an amazing job at retrieving these details as well as the extraneous room noises present.
The GF2 was equally at home with big orchestral recordings.  The opening of the legendary Solti/VPO recording of Wagner's Das Rheingold (Decca) exposes an unearthly progression of low string chords that gradually build to a crescendo before the first Rhinemaiden's voice is heard. This effect is nearly inaudible with lesser cartridges but is rendered beautifully by the GF2.  The original 3-microphone Mercury recordings are another great way to road test the GF2; it and the original model were the first to tame the aggressive Dorati recording of Aaron Coplands's Rodeo on Mercury.
For those of you that delight in microdyamics, Mamba Percussions (Pierre Verany) is one of my touchstone albums for many years. It features unusual South American instruments and a big soundspace.  The GF2 brings these sounds at you with an immediacy that is rhythmically engaging and an in-your-room image that is the essence of "being there."
If you can't find this album (no surprise, it never jumped off the shelves in its hey-day), there's still the old reliable Jazz at the Pawnshop (Proprius). I rarely make it past the first track, just because the performance and musical values of this venerated 1970's set are a cut below.   However, there is something to be said for listening to something repeatedly on many different analog setups that makes it easy to judge a new component.  Putting that aside, you will hear standing bass articulation which was mercifully overpowered by the upfront reed and percussion players when heard through lesser phono transducers.
How does it sound with the new WB pressing of the first Van Halen album?  For that, you will have to wait until our publisher gets his hands on a Goldfinger, as that is not my cup of tea.
Excellence with a few caveats
Even if this cartridge is well within your budget, there are still a few items to consider before you call your favorite analog dealer and order the GF2.  Tonearm matching is critical; not all arms can handle such a heavy cartridge.  The fragile, exposed cantilever demands great care in mounting and stylus cleaning.  Finally, your phono stage must be fairly flexible in loading to acommodate the break in procedure and ultimate loading.  What worked best in my system may need some fine tuning in yours to achieve perfect tonality.
For those of you that find the GF2 intriguing but are not quite ready to spend $10k on a phono cartridge, the Clearaudio Stradivari offers a decent helping of the GF2 sound for $3,500.  I use one with excellent results on my second table. (a VPI Aries with flywheel, HRX Acrylic Platter/Stabilizing Ring, and running into a second Pass X-ONO). For those who have already invested in a Clearaudio cartridge, many retailers offer an upgrade path that makes moving to either of these cartridges that much easier.
In summary, many would not consider a $10k cartridge a "best buy." However, if you audition this cartridge in a properly set up playback system,  be prepared to redefine your priorities.  I suspect you will immediately begin working on a strategy to amass the requisite capital for its purchase.
The Clearaudio Goldfinger v.2
MSRP: $10,000
Musical Surroundings
5662 Shattuck Avenue
Oakland, CA 94609
510-547-5006
www.musicalsurroundings.com
Peripherals
Turntables         VPI HRX w/12.7 Arm/Rim Drive, VPI Aries w/10.5i Arm w/Flywheel, SDS Controllers
Phono Cartridges           Clearaudio Goldfinger v.1, Clearaudio Stradivari
Phono Preamplifiers       Pass X-ONO (2)
Preamplifier         Pass XP-20/Lexicon 12HD-B
Power Amplifier     Pass X-350.5/Pass X-3
Speakers        Martin Logan Summit/Stage/Script-i/Descent-I (2)/Descent (2)
Interconnects         Nordost Odin/Valhalla
Speaker Cable     Nordost Odin
Power Cords/Conditioning Nordost Thor/Nordost Odin/Valhalla
Vibration Control     Black Diamond Racing
Room Treatment    Echo Buster/ Corner busters/Bass Busters/Double Busters