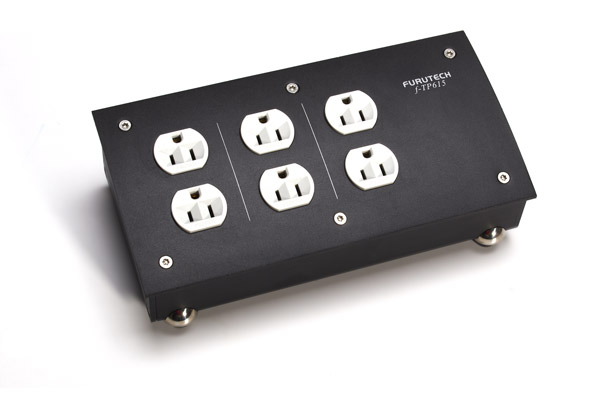 Clean power is always at a premium in a hi-fi system, and Furutech is one of the leaders in the field. Its f-TP615 works overtime in my system, where I never seem to have enough outlets. Performing in concert with Furutech's top PowerFlux power cords, the f-TP615 provides an excellent way to keep gear supplied with the high-quality power it requires to be its best.
If you are a student of the "last wire" school of thought, and claim that the journey of power from the generating station to your system travels through junk wire—and that adding five feet of premium wire and connectors won't change things—I won't try to convert you. However, if you believe, like me, that AC power in the wall is more like a gigantic well, full of murky water into which one taps to power a system, read on. Remember, your hi-fi system essentially modulates the AC power coming into the box with audio signals that go to your speakers. The cleaner the source, the cleaner the result.
While I have tried the f-TP615 in several different systems, all yielding excellent results, it best proves its mettle supplying power to my digital front end, the four-box dCS Paganini stack.
Digital Enhancement
Swapping all four stock power cords with PowerFlux and f-TP615 instantly improves the dCS' performance in two areas: Lowering the noise floor and removing hash/grain from the presentation.  All too often, we mistake the harshness of digital playback for grunge in the AC line.
Spinning David Byrne's live performance with Caetano Veloso at Carnegie Hall illustrates the aforementioned effects. The sparse yet dynamic recording, featuring the two artists playing acoustic guitar, sounds fine when utilizing stock cords. But a quick switch to the Furutech components reveals more air around the guitar strings, a richer tone, and more body to the audience's applause. It doesn't hurt to have the Sonus Faber Aida speakers helping convey the very nuances the Furutech products bring to the dance.
Extended listening makes it easy to get used to the newfound liquidity, and it only takes a quick exchange back to the original setup to hear the soundstage collapse on itself. Everything sounds smaller, less focused, and as if I've moved my system to a smaller room.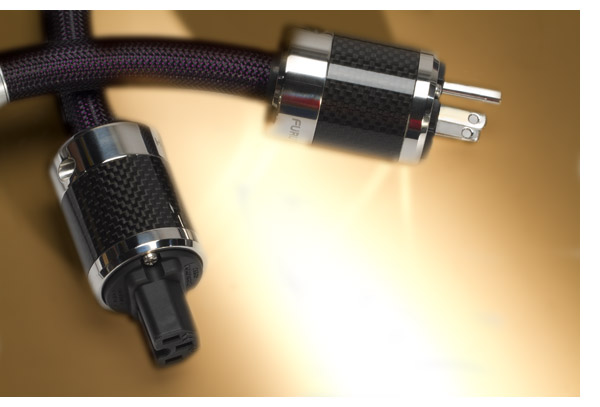 Next Step, Analog
Anxious from noticing the improvements to the digital side of my system, I was curious to see how my analog front end would fare. Combining the distributor and cords with the ARC REF Phono 2SE, Simaudio 810LP, and Pass Labs XP-25 phonostages that supply my four turntables with amplification, I witness the same effect.
Interestingly, the Furutech components net a more pronounced impact on vacuum-tube gear, wiping away more "veil" than with the digital components at my disposal. Considering the miniscule signal voltages at work, this really is money well spent. Auditioning the latest release from Music Matters, Joe Henderson's In and Out, cymbals spring to life with more vigor than before. There's also a definite increase in bass texture.
Such improvements in analog resolution also mean that it's easier to hear the positives of the Furutech DeMag/DeStat combination—two essential accessories in my analog tool kit.
In the Box
The f-TP615 is built to Formula One car standards. All parts and conductors are treated with Furutech's Alpha cryogenic and demagnetizing process.  The outlets and receptacles are industrial works of art, which is why many other manufacturers turn to Furutech for plugs and receptacles. Twelve-gauge Alpha -22 wire is used throughout, and the aluminum chassis is covered in a proprietary coating, then combined with ceramic and nano-carbon damping spikes. Each detail ensures the power flowing to your components is as pure as possible. And it all works brilliantly.
While these Furutech designs qualify as premium power products, they will not turn a $500 CD player into a dCS stack. Exhaustive listening comparisons reveal a combination of the f-TP615s and PowerFlux power cords offers the greatest gains in the lowest level of a system's resolution. Used in concert with top-shelf electronics, they allow components to attain maximum performance. In this context, I enthusiastically recommend the Furutech f-TP615 and array of PowerFlux power cords.
Furutech f-TP615 Power Distributor
MSRP:  $1,650
Alpha PS-950-18 Power Cords
MSRP:  $1,800 ea. (1.8m length)