"It just sounds right." Conrad Johnson's longtime motto is simple and true. After all, the company counts a loyal following and a 30-plus-year history of producing some of the audio industry's top amplifiers and preamplifiers. C-J's ART, ACT 2, and GAT preamplifiers have won almost every award the press bestows, and many of the world's top audio journalists agree that these preamplifiers are the best in class.  Considering how infrequently we all agree on anything, that is high praise indeed.
Of course, the C-J sound has changed a bit over the years. ART preamplifiers have always had a huge, three-dimensional soundstage with boundless weight to the presentation, while the 6H30 tube-based ACT 2 (my personal reference for many years) is slightly more dynamic and arguably more tonally correct. The current GAT offers the best of both worlds. It has the size and weight of the ART with the speed of the ACT 2, and is a hybrid design, using a composite triode gain stage (via one 6922 tube per channel) and a MOSFET buffer stage.
If you've been lucky enough to own or sample the GAT, you know it's a truly spectacular preamplifier, albeit with a hefty $20k pricetag. The big news is that, for those wanting high performance on a lesser budget, the ET3SE offers much of what C-J learned with the GAT. During a recent factory visit, Lew Johnson showed me the internals of the ET3SE and pointed out all the similarities to the main circuit board of the GAT, which he had on-hand for direct comparison.
"As you can see, there is a lot of shared technology here. The ET3SE is sort of a baby GAT," he said, with budding enthusiasm. "Here's what's really special. The phonostage is essentially the TEA-2SE that you just got done reviewing, and it's all on one chassis. And, as you can see, we've incorporated a healthy dose of our CJD Design Teflon capacitors." The main differences between the top-of-the-line GAT and ET3SE? The size of the power supply, the complexity of the stepped attenuator controlling the volume level, and the sophistication of the composite triode stage.
In a sense, the ET3SE offers about a quart and a half of the GAT's sound for less than a quarter of the price. It lists for $4,000 without phonostage and $5,500 with a built-in phonostage. The high-gain version features 54db of gain, and is suggested for cartridges with an output of 1.0mv or less; the low-gain version features 40db of gain and is optimized for cartridges greater than 1.0mv, though most high-output moving coil and moving magnet designs usually fall in the 2.0–5.0mv range, which should be perfect. We reviewed the high-gain model.
It should be noted that non-SE versions are available for $2,500 and $3,350, respectively, but lack the high zoot capacitors. Johnson mentions that while the GAT preamplifier uses 23 massive 2.0uF/350v CJD Design Teflon capacitors (at a retail price of about $250 each), the ET3SE uses a handful of 4.0uF Polypropylene capacitors bypassed by .15uF Teflon capacitors.  This arrangement has the bypass capacitor dominating the sound of the main cap, but "there is no free lunch, the pure Teflon arrangement remains audibly superior."
If past C-J phono and linestages we've heard are any indication, you can expect the non-SE versions to have a somewhat warmer tonal balance with less extension at the frequency extremes; more of the "Classic C-J sound," if you will. Should you purchase a non-SE model, you can always send it back to the factory for the upgrade, but it will end up costing a few hundred bucks more than the cost of a normal SE model. While I'm spending your money, I highly suggest going all the way and purchasing the SE version. You won't regret it.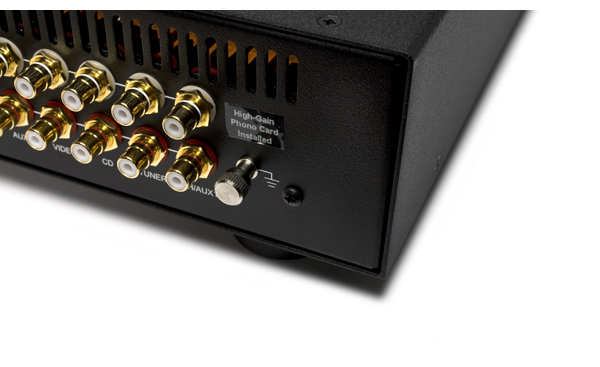 Clean Design
The front panel is free of knobs, utilizes the same round numeric display for volume as past C-J preamplifiers, and comes in any color you like, as long as that happens to be classic C-J champagne anodized aluminum. Like all C-J preamplifiers, the ET3SE is a single-ended design, complete with RCA jacks for inputs and outputs. For 99% of ET3SE owners, this should not present a problem, as the model had no issue driving a 25-foot pair of interconnects without signal degradation. (I've had similar luck with my ACT2.)
On top of the splendid aesthetics, the ET3SE is extremely flexible, boasting five high-level inputs as well as the phonostage. It also has a tape loop, or as C-J likes to call it, an "external processor loop." If you have a tape recorder or outboard equalizer, this is a great way to switch it in and out of the amplification chain when not in use. I employ a Manley Massive Passive studio equalizer when working on restoring my vinyl collection, so this is one of my favorite features. My only complaint? I would love to see a second pair of main outputs for those who use a powered subwoofer.
The only downside to the SE model with all those Teflon capacitors is that it really does take 500 hours to sound its best, just like my ACT 2. But once it's finally broken-in, the ET3SE opens up and offers a surprising amount of performance for a preamplifier in its given price range. At first glimpse, the ET3SE sounds slightly compressed, with a constricted soundstage. It begins to come out of the fog at about 150 hours, with the presentation making a big jump right around the 300-hour mark before showing further improvement between 300 and 500 hours.
Mix and Match
Most of my listening was spent with the recently upgraded MV-50C1, a unit that last summer went back to the C-J factory to have a full complement of CJD Design Teflon capacitors and similar power supply upgrade. While Johnson pointed out that my "new" MV-50 does not possess the last bit of frequency extension offered by its current tube amplifiers, it's still damn good, retaining all the magic that the MV-50 had in its day, with a lot more bass grip and high-end clarity that it did when brand new.
I also made it a point to drive a handful of other amplifiers, both tube and solid-state, all with excellent luck. Nelson Pass' First Watt M3, a single-ended, class-A solid-state design, proved to be an awesome combination with the ET3SE. I've been using C-J vacuum-tube preamplifiers with solid-state power amplifiers to great success since the late 70s when I first mated the C-J PV2 with a Threshold 400A, another of Pass' fine designs. Nothing has changed; it's still a great pairing.
Because the ET3SE is a model of simplicity, it warms up quickly and uses a basic remote to change functions and volume. The attenuator "clicks," just like the one on my ACT2; it's a friendly, familiar sound. The remote is a stripped-down plastic model—cheaper when compared to the billet aluminum remote that higher-end C-J preamplifiers use—but it helps keep the cost more reasonable. If you must have the billet remote, the folks at C-J can sell you one as an accessory.
That Big C-J Sound
Once the break in period was complete and I got down to serious listening, I became amazed at how much this preamplifier is capable of delivering! During casual listening sessions, and when using less than the most pristine software, it was easy to get fooled into thinking I was listening to one of C-J's top preamplifiers.
The size of the soundstage instantly caught my attention. Left to right, images extended beyond the speakers' boundaries, and there was an abundance of front-to-back depth as well. Not as much as with the ACT 2, but much more than I expected. And thanks to that ever so slight warmth to the ET3SE's character, its extra tonal body goes a long way with digital playback, especially on discs that sound less than perfect.
The Motorhead concert set Better Motorhead Than Dead: Live at Hammersmith features a somewhat flat recording of Lemmy Kilmister's voice. But through the ET3SE, his timbre on signature tracks such as "Love Me Like A Reptile" and "Ace of Spades" had extra presence that was both pleasant and welcome. The ET3SE is just one of those preamplifiers that makes your music collection come alive, especially after it gets an hour or two to fully warm up.
Moreover, the preamplifier's hybrid design strikes a perfect balance, offering a punchy sound that will have you clamoring to try and define. Whereas some hybrid designs end up representing a compromise, the C-J blends the best of both worlds—extremely quiet, providing healthy tonal contrast, yet powerful and controlled, with weight and accuracy at both ends of the tonal spectrum.
For example, Trey Gunn's recent I'll Tell What I Saw features a ProTools-heavy mix, and its massive bass riffs can get muddy in a hurry. Yet the ET3SE sailed right through, keeping the bottom solid and on track, while maintaining the integrity of the powerful percussion. I was equally stunned when enjoying a 24/96 high-resolution copy of Talking Heads' Fear of Music, a fairly dense album that exposes the beginnings of bandleader David Byrne's obsession with Brazilian rhythms. Again, the ET3SE did an outstanding job of keeping the pace tight and maintaining the dynamic impact.
Phono Fantastic
For audiophiles that long for the good old days when preamplifiers contained a great phonostage, the ET3SE comes up roses, especially if you don't want a rack full of gear and cables. On analog, I used the Oracle Delphi V/SME 309/Lyra Dorian combination for a majority of my listening. But even when I experimented with cartridges in the $2,500 range, they never made me feel as if the ET3SE's internal phono stage was outclassed.
To get a read on more budget-conscious cartridges, I tried the Rega P3-24 with a Dynavector 17D3, but the relatively low output (.3mv) pushed the noise floor of the ET3SE's phono section. The higher output (.6mv) Lyra Dorian proved a better match. Even the additional .1mv of the Shelter 501II offered superior results when compared to the 17D3, which seems to fare better with phonostages offering at least 60db of gain.
One of the most pleasing aspects of a great internal phonostage is that one need not worry about synergy between phonostage and linestage, or the optimum interconnect cable. Given that the TEA2SE outboard phonostage is $4,000, the ET3SE's level of phono performance is amazing.
Suffice to say, it was easy to get lost listening to records for hours on end with the ETSE3. When used in conjunction with the MV-50, Oracle turntable, and B&W 805Ds that reside in System Three, the C-J caused me to always come away highly impressed at the quality and amount of true high-end sound available at a price that won't force you to make your kids attend community college.
Extra Credit
Those who can't stand to listen to anything in its stock form should consider rolling the tubes in the ET3SE. The phonostage uses three 12AX7s and the linestage one 6922. While I was able to get a significant jump in performance by using the EAT tubes reviewed in this issue, three add $775 to the price of the ET3SE, and they burn away, whether or not you are using the phono input. A more cost-effective upgrade can be had from purchasing one premium 6922 tube for the linestage (again, I suggest the EAT tube). As good as the ET3SE is, it goes to 11 if you swap the stock tube for the EAT.
True Value
I am proud to award the Conrad Johnson ET3SE a 2011 Exceptional Value Award. For many audiophiles, this preamplifier will be all you ever require, offering great sound, top build quality, and immense flexibility for $5,500. I defy anyone to find a more musical combination of preamplifier and phonostage for this price.
The Conrad-Johnson ET3SE Preamplifier
MSRP:  $4,000 without phonostage, $5,500 with
Peripherals
| | |
| --- | --- |
| Digital source | dCS Paganini Stack    Sooloos Music Server |
| Analog source | Oracle Delphi V/SME 309/Lyra Dorian    Rega P3-24/Shelter 501III |
| Power Amplifier | Conrad Johnson MV-50C1    Octave MR130SE |
| Speakers | GamuT S9    B&W 805D    Verity Finn |
| Cable | AudioQuest SKY |
| Power | Running Springs Dmitri and Duke |