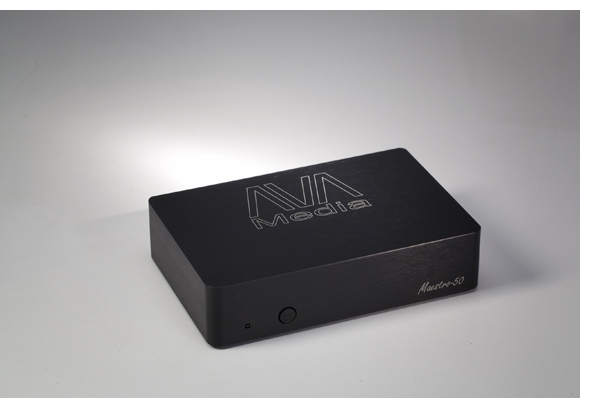 The Maestro-50 digital amplifier from AVA Media is about the size of a hefty paperback novel and is aimed at the computer- and desktop-audio worlds.  This diminutive amplifier takes the approach of keeping the audio signal in the digital domain until the last possible step before it crosses over into analog.
The simple configuration of the $359 Maestro-50 begs the user to power it up first and examine it later.  I begin by connecting the amp to my MacBook using the TOSLINK cable, with a Shunyata Venom 3 power cord delivering the juice and Cardas speaker cables connecting it to a pair of Harbeth Compact 7ES-3s.  The solo piano of a live version of Jamie Cullum's "Wheels" pops forth with all the quickness one would expect from ICE-powered amplification.  Having listened to live music in the lounge where this recording was made, I'm impressed by how the Maestro-50 gets the basics of the room's tonal quality correct right out of the box.
Revisiting this track after a week of burn-in reveals less edginess and a more open high end.  The rolling keystrokes accompanying this catchy tune rapidly move from calm to intense, with Cullum's slightly hoarse vocals now more clearly dominating the track—a definite improvement.
Simple, but Not Too Simple
The Maestro-50 is a basic-looking but handsome piece of equipment, with an enclosure sculpted from aluminum and anodized in a brushed black finish.  The CNC millwork is hand-finished with rounded edges.  The box measures 7 inches wide, 4.6 inches deep and 1.75 inches tall, with the front panel showing only an off-white LED and a small push-button volume knob—the ultimate in simplicity.  The back panel is just the opposite.  AVA was able to maximize this tiny bit of real estate to include a horizontal power-toggle switch, three-prong power-cord receptacle, S/PDIF, TOSLINK, subwoofer RCA out inputs and left and right female banana connections for the speaker outputs.  A USB-to-S/PDIF convertor can be ordered for an additional $62.
The Maestro-50 produces 25 watts per channel into 8 ohms, doubling into 4 ohms, which is plenty of juice to give impressions via the relatively inefficient Harbeths.  I incorporate a pair of ACI Emerald XL speakers (86 dB/watt) for the remaining listening sessions via my desktop system, also with excellent results.
The Maestro-50 is designed and manufactured in the United Kingdom by AVA, which is careful to point out that there is no built-in DAC in the amp's conversion process.  The company use a process similar to that used by Steinway Lyngdorf, NAD and a few others, demodulating the signal right before it goes to the speaker outputs.  A full technical explanation is available at the website of Pure Audio Stream, a division of AVA Media that provides direct supply of AVA Media's digital amps: www.pureaudiostream.com/technology.
The Maestro-50 is all about conveniently accessing music in a manner consistent with 21st-century convenience.  Users with an Apple AirPort Express can merely set up the Maestro-50 as a zone to be accessed with his or her iDevice, or even a Windows machine.  As with all digital amplifiers, electricity usage is minimal, so leaving it powered 24/7 will barely impact your electricity bill.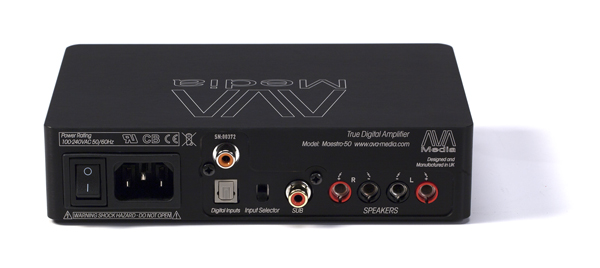 Further Listening
Sampling some Blue Note favorites, I find John Coltrane's epic album Blue Train highly satisfying.  Coltrane's signature sax sound is open, albeit slightly dry, but not enough to be a deal-breaker.  The Maestro-50's quick transient response allows me to appreciate
Coltrane's masterful finger work in the title track.  Lee Morgan's trumpet is deliciously clear, making for foot-tapping fun.
The vocal harmonies of Lady Antebellum's "American Honey" come through smooth and clear, with plenty of country twang.  The only place the Maestro falls short is with rich, resonant and more robust male vocalists like Johnny Cash.  The test speakers at my disposal all had a somewhat thin presentation here.
The amp's lower bass output is respectable, with some punch, but those desiring a more robust bass response would do well to take advantage of the subwoofer output, adding the powered sub of their choice to the mix.  Our publisher reveals that the Maestro-50 does perform well with a more sensitive pair of speakers, like those from Zu Audio or Klipsch, so consider that as another option, should you really like to rock.
Final Score
The Maestro-50's fresh design makes it an intriguing amplifier for the desktop and convenience-driven crowds.  By staying in the digital domain for inputs, it targets users who crave computer-based audio, and its sound quality makes for enjoyable all-day listening.
AVA Media Maestro-50 Digital Amplifier
MSRP: $359