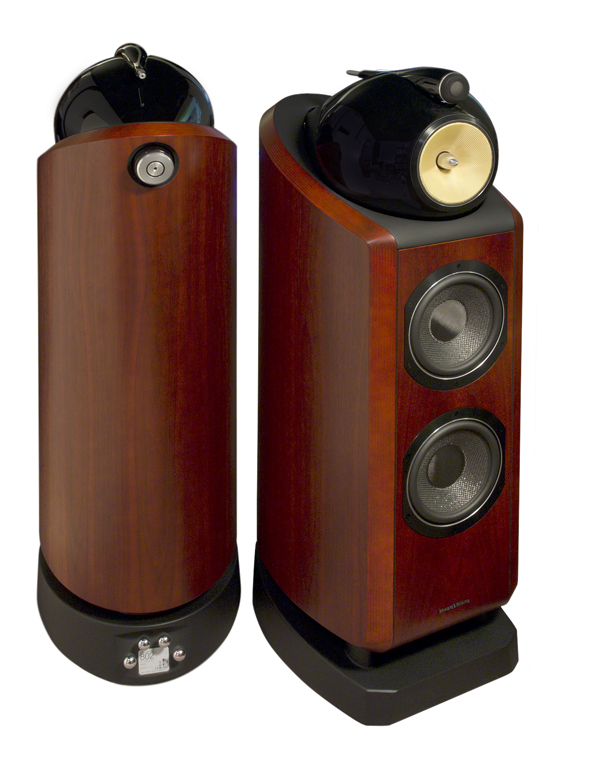 Having owned a pair of B&W 805 Diamond loudspeakers for the past year, I'm tuned into B&W's current sound: Powerful, detailed and accurate. The latest diamond tweeter and crossover design combine to produce a very musical speaker that handles nuance with aplomb, yet also rocks at realistic levels when the demand arises.
And yes, the speakers are drop-dead gorgeous. Available in two wood finishes and piano black, they are visual as well as aural works of art. Gino Vanelli once said, "Black cars look better in the shade." This statement easily applies to speakers dipped in high-gloss black. Much like my neighbor's triple-black Porsche GT3, it looks breathtaking for about five minutes after it exits the car wash.
Much as I love the black finish on my 805 Diamonds, I let out a sigh of relief when I noticed that the 802 Diamonds that arrived for review were marked "Rosenut." Being slightly obsessive compulsive, I knew there would be no way to roll the 802D's around without getting them full of fingerprints. Call me traditional, or perhaps lazy, but just don't call me Shirley—I'm digging the wood finish of the 802 Diamonds. Derived from the original Nautilus speaker system (still hand-built in small quantities), the wood woofer enclosure nicely contrasts the gloss-black tweeter and midrange modules sitting on top of the cabinets.
A Quick Tour
When I visited B&W's UK factory earlier this year, I watched the assembly of the speakers in the company's impressive facility. It employs close to 400 people and takes up almost 60,000 square feet in the seaside town of Worthing. Every aspect of 800 series construction takes place there. The administrative offices are on top of the factory and provide a breathtaking view of the plant, which looks more like an aerospace center than a loudspeaker firm.
Akin to an Eames Lounge Chair, which uses damp wood pressed around a die under pressure to achieve its signature shape, Diamond series cabinets are built from layers of sheets of thin wood, which is visible from the cabinet's edge. Glued together with high-strength adhesive, this sandwich is placed in a curved die and allowed to dry under pressure. Once removed from the die, the rough cabinet back is trimmed to shape and mated to the front face. But, only after the patented Matrix inner enclosure is fitted, giving the 800 series its famed rigidity and eliminating any seam on the curved back of the enclosure.
Meanwhile, mid/tweeter pods are crafted in a clean-room facility on another side of the plant. Craftsmen wear white suits and matching booties, keeping dust to a minimum. This is also where the bare, molded enclosures (made from Marlan resin, claimed to be as rigid as granite) go from primer coat to final finish, and then off to have the drivers installed. Notably, B&W's skilled workers utilize the same tools my good friends at Scottsdale's European Detail Specialists use while buffing multi-million-dollar automobiles for the world-renowned Barrett Jackson Auto Auction.
Speaking of fussy, cabinets are wet-sanded multiple times with abrasives so fine that they almost feel like nothing at all. Then, the cabinets are polished to a mirror-like finish that would make a Dusenberg owner drool. Once everything is completed and inspected, any remaining blemishes—no matter how tiny—are sent back for one last pass. The end result is perfection. Driver production takes place in yet another part of the factory. B&W is one of the few speaker companies that designs and builds all of its own drivers in-house; the engineering offices are down the street in a separate location.
Once the woofer cabinets are joined with the midrange/tweeter pod, drivers and crossover networks are installed, with workers still wearing gloves for most of the process. Each finished speaker is run through a mini anechoic chamber at the end of the assembly line; an operator uses a computerized measurement system to compare each speaker to its master reference. All finished Diamond series speakers must be within .5db of the reference standard or they are sent back for another inspection and rework. During my visit to this part of the factory, the six pairs of 802 Diamonds I observed passed their tests on the first go. A technician with whom I chatted said that because of the exhaustive testing on the individual components leading up to final assembly, "precious few don't make the cut."
Finally, the 800 series speakers are carefully packaged for staging in B&W's immense warehouse, ready for shipment to dealers in 90 countries. The cutting-edge packaging involves substantial engineering. My tour guide smiled and said, "We don't want them harmed after all this work, do we?" B&W includes packaging assembly instructions on the side of the box, but I suggest shooting video while you unpack the speakers. Should you ever decide to move and repack them, you'll be glad you did.
Luxurious Feel
Unpacking the 802 Diamonds gives you ample opportunity to get up-close and personal with the speakers, and appreciate the care that goes into their construction. Woofer grilles are wrapped in foam and attach via magnets, as do the midrange grilles, enclosed in one of the two accessory boxes accompanying the speakers. Along with a thorough instruction manual, you'll also find a microfiber cleaning cloth and pair of jumpers, should you not have speaker cables equipped with bi-wired termination.
I highly recommend always keeping the grille on the diamond tweeter. The diaphragm is vapor-deposited a layer of molecules at a time, and is very unforgiving of fingers and noses. Unlike some speakers' soft-dome tweeters, these will not survive a dent, pulled out with scotch tape or other methods.
They Really Do Roll…
More manufacturers should follow B&W's lead and put casters (or, as they like to say in the UK, a trolley) on the bottom of speakers weighing more than 100 pounds (45kg). It saves wear and tear on those squishy disks in your spinal column and simplifies the set-up process. The wheels made it easy to fine-tune placement for the best balance of imaging and bass response. For final placement, B&W offers a set of traditional spikes and set of hard-rubber feet to insert in place of the casters.
Your floor's surface may determine what method you choose, but the soft feet can also be used to slightly fine-tune the bass response, supplying a bit looser sound than that of the spikes. Your room and ears will be the ultimate judge. While the spikes allow a modest amount of tilt, it shouldn't be necessary, as the primary purpose of Nautilus enclosure provides for proper time alignment of the drivers. Thanks to wide vertical and horizontal dispersion, I gained nothing from tilting the speakers back. However, in typical nervous audiophile fashion, I ensured both speakers were perfectly level.
The smaller speakers in the 800 series have their "flowport"—B&W's patented and trademarked name for its bass port, dimpled like a golf ball to provide more controlled air flow and less "port noise" than a standard port—mounted on the front face. But the 800 and 802 Diamond have their downward-facing ports, making them even easier to place. Indeed, precious little jockeying was required to optimize the 802 Diamonds in my listening room.
…And They Really Rock
A prerequisite for a great studio monitor is the ability to play loud without fatigue. The Diamonds excel in this area. If you love to crank up the volume, the Diamonds do not disappoint. Peter Gabriel's "Lay Your Hands On Me" paints a wide and deep soundstage, combining densely layered vocals with delicate percussion and explosive drums, a challenge for any system. The 802 Diamonds remain firmly anchored, breezing through while maintaining detail in all three dimensions. Mixing it up with a 12" 45RPM single of Van Halen's "I Don't Want To Hear About It Later" has the same effect, keeping the explosiveness of both Van Halen brothers in check, yet appealingly separating the backup vocals of guitarist Eddie Van Halen and bassist Michael Anthony.
I easily noticed the differences between the original LP pressing, 45RPM single, and recent remaster of the first Van Halen album via the track "Little Dreamer." With the Burmester 911 mk. 3 fairly warm to the touch, and my walls thumping, the 802 Diamonds segued into "Ice Cream Man" without missing a beat, capturing the delicacy in David Lee Roth's vocal stylings. My collegiate swim coach used to say, "Finish hard." So the volume control took a healthy clockwise spin as "On Fire" closed out the LP at maximum volume. I see why these speakers are the tools of choice in so many recording studios.
But Above All, They Balance
An early pressing of the Talking Heads' "Heaven" from Fear of Music illustrates the 802 Diamonds' panel-like ability to keep everything in perspective. Tina Weymouth's bass line lingers in the back of the soundstage yet maintains the plucky, bright bass tone for which she is famous. Moving directly to The Yes Album, the difference between Chris Squire's growling Rickenbacker and Weymouth's Hofner presents a study in tonal contrast, while the beats in LL Cool J's "Big Ole Butt" have the necessary weight and power. Few speakers in this price range possess this level of discerning bass response.
As much fun as those 1989 beats are, the 802 Diamonds also do an exceptional job of anchoring in place the percussion on LL Cool J's Walking With a Panther. When blasting hip-hop tracks at club volume, it's easy for the rest of the information on the record to get lost in the powerful bass grooves. However, the 802s retain their composure and wring out detail, even with meters on my prodigious McIntosh MC 1.2kws almost pegged—sending nearly 1200-watt peaks to the 802 Diamonds, which take it in stride without a trace of distortion.
Your favorite vocalist will reveal a marvelous coherence from top to bottom, the transition between woofers, midrange, and diamond tweeter as flawless as one can expect from a three-way cone speaker. For example, the strings on Roberta Flack's "Jesse" are perfectly placed, occupying their own space without overpowering the singer.
Quite Cooperative
With a somewhat high sensitivity of 90db, but more importantly, a decidedly tube-friendly crossover, the 802 Diamonds should present a formidable experience regardless of amplification. Tube amplifiers in the 20-50wpc range have no problems driving these speakers to more than reasonable levels. The highly resolving nature of the B&Ws will uncloak whatever tonal character your amplifier might possess. I tried more than a dozen amp/preamp combinations, each with disparate characteristics.
My two top pairs comprised the all-tube combination of the ARC REF 5 preamplifier paired with the Decware Zen Torii, and the all solid-state Burmester 011/911mk 3. A pair of Classe M300 solid-state monoblocks also provided an excellent match, yielding a simultaneously fast, nimble and weighty presentation. The only amplifier in my stable that didn't achieve symmetry? The Channel Islands D-500II. If you have class D amplification, insist on a test drive, as such amplifiers tend to be more speaker-dependent.
While the 802 Diamonds sound their best with world-class electronics, to their credit, they admirably sync with modest gear, making them easy candidates to stand as anchors of a system that will grow with as your budget allows. The 802 Diamonds proved exciting to hear even when paired with the humble PrimaLuna ProLogue One.
Conclusion
I'm pleased to offer the 802 Diamonds one of our Exceptional Value Awards for 2011.  These are truly a destination speaker at a price well under what one would expect for this kind of performance. I've heard my share of speakers in the $40-60k range that can't compare to the meticulous level of finish this model exhibits, and thanks to a massive worldwide retail network, you're guaranteed great support.
B&W 802 Diamond
MSRP:  $15,000/pair
Peripherals
| | |
| --- | --- |
| Analog Source | AVID Acutus Reference SP    SME V    Koetsu Urushi Blue |
| Digital Source | dCS Paganini stack    Sooloos Control 15 |
| Preamplifier | Audio Research REF 5    McIntosh C500    Burmester 011 |
| Power Amplifier | Audio Research REF 150    Burmester 911 mk. 3    Decware Zen Torii    Conrad Johnson MV-50C1    Classe M300 Monoblocks    McIntosh MC 1.2kw monoblocks |
| Phono Preamplifier | Audio Research REF Phono 2 |
| Cable | Cardas Clear |
| Power | Running Springs Dmitri and Maxim power conditioners |
| Vibration Control | SRA Scuttle rack    SRA Ohio Class XL amplifier platforms |