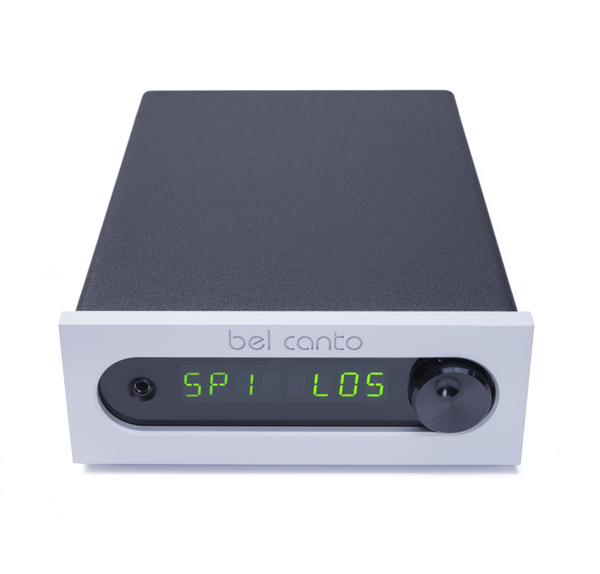 For audio fans who believe sonic reproduction should be heard but not seen, a large-scale component system just isn't practical.  Many component systems require significant space and can be obtrusive in a main living area or in a small room. For those individuals, Bel Canto's e.One series just may be your entrance ticket. The e.One series makes available components of substantial capability but petite form factor.
We had the opportunity to test the C7R. It's a bit challenging to categorize this unit given its versatile combination of features and functionality. While Bel Canto's website labels it a "DAC Integrated Amplifier," the nomenclature proves understated since the unit offers quite a bit more functionality than the name summarizes. If "under-promise and over-deliver" represents the goal of the product name, Bel Canto has set itself up well to exceed user expectations.
Under the big top?
Well, perhaps a better descriptor for the C7R is the "small top." Unboxing, examining, and reading the manual for this Bel Canto leaves a user with a degree of amazement. Like a multitude of circus clowns cascading forth from a Volkswagen Beetle, the capabilities of the C7R just keep emerging. How could such a small box host such an array of functionality?
The C7R measures a placement-friendly 8.5" (216mm) wide, 12" (305mm) deep, and 3.5" (88mm) high. The entire package weighs in at a mere 13 lbs (6.5 kg).  Inside, the Bel Canto's amplifier offers 60 watts at 8 ohms, and double that into 4 ohms.
The C7R's back panel is a marvel of space usage and planning, enabling a generous number of input options. For the digital realm, this Bel Canto packs five digital inputs into the back panel including two SPDIF and two TOSLINK connections supporting 24/192 resolution. Complementing those is a USB input enabling 24/96. All of these signals are converted with its built-in DAC.  An AES/EBU digital input option would be a welcome addition, but it's not available on the C7R. Perhaps there just wasn't space for it!
Analog fans will also appreciate how the Bel Canto delivers. The expected RCA input is flanked by an MM phono input. While an MC input is not included as part of the package, it's still hard to fault the C7R too much considering all the versatility it does offer.  On top of this, somehow, the team at Bel Canto managed to squeeze in an FM tuner with 10 user-chosen presets.
In addition to the rear panel speaker outputs, the Bel Canto features an RCA line output which can be configured to enable home theater bypass capability. As a really nice bonus, C7R includes a quarter-inch headphone output on the front panel.
Three rings? No, just one!
Controls on the unit body are minimalistic. After power is connected, a short boot-up process leaves the C7R ready for action. A single wheel on the right side of the front panel, with a handy indentation for one-finger speed-spinning ease, controls both volume and input selection. An inward push on the wheel center brightens the left-side input selection display, and the subsequent wheel movement glides through the input options making selection a breeze. Another push of the wheel switches to the volume control, and that transition is acknowledged with a brightening of the digital volume readout. For such a small unit I applaud Bel Canto for making the display large enough to read from across the room.
The digital display assigns each input a default abbreviation for easy identification as a user toggles among them, but the C7R does allow the user to create personalized four-letter words – well, perhaps I should say "abbreviations."
The need for a large display becomes clear once the user examines and uses the remote control. Like the back panel of the C7R the remote has a well-executed layout which makes many options adjustable from a favorite listening chair. In addition to volume, mute, input selection, phase selection, and digital source controls, there's an option of FM station scanning and a few extra buttons enabling balance adjustment.
Taming those lions
With so much functionality to choose from, it's easy to assume the setup process for such an animal bears some sharp claws and pointy teeth. Therein lies the irony of the C7R.  The experience is mostly plug-and-play with intuitive labeling on the back panel.
Connecting a USB computer music server, a digital coax input from a CD player, a line-in from a Light Harmonic DaVinci DAC, and a Marantz TT-15 turntable with a Clearaudio Virtuoso MM cartridge, the back gets mighty crowded. With the addition of large, braided Jena Labs Twin 15 speaker cables, the C7R's rear panel transforms in appearance from a few-vined garden to something resembling wild shrubbery.
Impressively, unlike many DACs I've experienced, the Bel Canto's DAC requires no special drivers to install. Once the USB connection is made from the computer to the C7R, Windows 7 and JRiver Media Center recognize it immediately. Once the C7R is selected in JRiver's playback, music starts without delay.
It took some assistance from the user manual to become familiar with all the setup features and to get everything working. All things considered, though, the learning curve never feels steep. The trickiest elements are saving FM radio presets and custom labeling inputs. Once completed, though, the user isn't likely to make too many changes. Consider it a tiny amount of pain resulting in a lot of pleasure.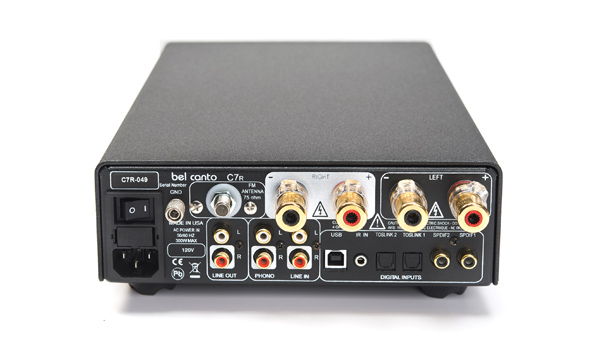 The flying trapeze
Once hooked up and configured the Bel Canto is ready to swing. Starting with the analog output of Light Harmonic DAC connected to the C7R, in my initial impressions of the Bel Canto I noted its smooth, non-fatiguing and refined sonic signature. It would be a mistake to classify it as laid-back, though. The sonic portrayal is one of energy and drive when the music dictates. Even when pushed to maximum volume, C7R shows little strain or stridency.
Pink Martini's song "Una Notte a Napoli" begins minimally with piano and spoken vocals, later exploding in crescendo adding more vocals, harp, horns, guitar and percussion. The Bel Canto allows all instruments to sing out from the mix, while keeping vocals very present and out front. China Forbes's vocals render beautifully, preserving the recording's detail and delicacy.  Compared with my reference, the soundstage width and depth truncated somewhat, and some detail like cymbal decay, or the subtle sound imparted by the recording space, are reduced. But then again the C7R is one-fifth the cost of my amp and preamp combination, demonstrating Bel Canto's extremely good price–performance ratio.
My Piega P-10s are normally fed 500 watts into 4 ohms, so I reduced my expectations of bass punch, heft, and control with the C7R's 120 watts swapped in. Even in this system's context the Bel Canto performs admirably with deep, tuneful, and defined bass. With less power-hungry speakers like NHT Super One bookshelf model on hand the C7R offers quite a bit of punch. Albeit in this case, the Bel Canto reveals all the NHT speakers' shortcomings. Clearly, the C7R can encourage and enable great sound from high quality loudspeakers and deserves to be paired with them.
Using the Bel Canto's built-in DAC, the sound remains quite impressive. While 16/44.1 material piped in from a CD player's coax output portrays some digital glare, better quality digital sources reward the listener. USB sound though the C7R emerges detailed, with a rich and pronounced presence.
When I listen to radio stations at home, it's usually a digital stream from the computer and not a native FM broadcast. So it's a lot of fun to fire up the Bel Canto's tuner and listen to Portland's KGON and KNRK as a radio station was first intended to be heard. With the included antenna, the C7R has no problems getting a solid lock on FM signals and filling the living room with opulent sound.
As Queen's "We Will Rock You" started pouring forth from the radio, I ran for the Sennheiser HD-650s to give the C7R headphone output a test drive. The Bel Canto's sound is very engaging and one I could listen to for many hours with minimal ear fatigue. It's a fantastic bonus to the C7R's great all-around package.
Spinning plates
The MM phono stage is another welcome surprise.  Listening to Eric Clapton Unplugged, or Beck's Sea Change MoFi pressing, the Bel Canto demonstrates its ability to expand the soundstage beyond the speakers. Music retains a non-fatiguing quality with the preservation of detail. The C7R's sonic rendering provides very good bass and highs, and a very satisfying overall musical experience. Green Day's "Holiday" shows that the C7R can get up and go when pushed, transmitting the energy of the performers.
In absolute terms, compared with my reference phono stage, the Bel Canto has a few limitations. The overall sound is slightly veiled, and instruments are not separated as well across the soundstage. It just doesn't sound as close to a live music experience. I need to keep reminding myself that the Bel Canto – of which the phono stage is just one facet – costs $2,995 in total. Especially if you listen to digital sources primarily, the included phono stage is a big bonus for those with a vinyl collection or those about to start one.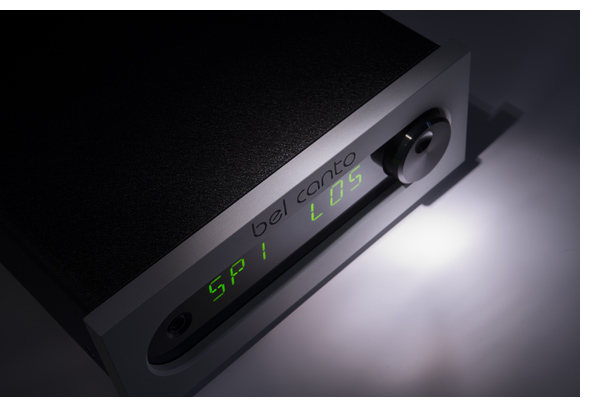 You pay for the whole seat, but need only the edge.
Mated with the right set of speakers and a good source, the Bel Canto is a stellar performer, especially from a price–performance point of view. For $2,995 the C7R gets you a high quality amp, linestage, DAC, FM tuner, MM phonostage, and a headphone amp. It's a phenomenal value. The task of finding all those components, near this quality, for under that price tag would prove exceedingly difficult – if not impossible. On top of that, the C7R wraps everything in an attractive, compact, and user-friendly package. Given all its versatility and fantastic sound, for the price the Bel Canto C7R is easy to recommend.
Bel Canto C7R DAC Integrated Amplifier
MSRP: $2,995
Peripherals
| | |
| --- | --- |
| Speakers | Piega P10    NHT Super One |
| Amplifier | Mark Levinson 335 |
| Preamplifier/Phonostage | Coffman Labs G1-A |
| Analog Source | Marantz TT-15 Turntable with Clearaudio Virtuoso MM Cartridge |
| Digital Sources | HP Desktop computer with Windows 7 and JRiver Media Center 19   Light Harmonic DaVinci DAC    EAD 9000 Professional Mk 3 |
| Cables | Jena Labs Valkyrie and Symphony interconnects    Jena Labs Twin 15 speaker cables    Cardas Clear USB cable |
| Headphones | Sennheiser HD-650 |
| Headphone Amplifiers | ALO Rx Mk 2   Coffman Labs G1-A |
| Power Conditioner | Running Springs Audio Haley    Cardas Golden and RSA Mongoose Power Cords |
| Accessories | Mapleshade SAMSON racks and shelves    ASC TubeTraps    Cathedral Sound room-dampening panels |