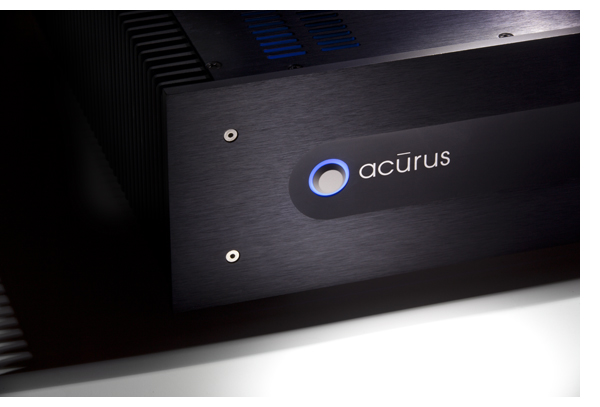 The Aragon and Acurus brands were originally owned by Mondial, founded by Paul Rosenberg and Anthony Federici.
Dan D'Agostino, former CEO and Chief Designer of Krell, was involved in the design of the Aragon 4004 amp.  The high performance, but more reasonably priced Acurus A250 debuted in 1993.  In 2001, Klipsch bought the brands intending to offer custom electronics to match their loudspeakers, but a few years later they shifted their strategy away from electronics, sticking with the core speaker lines and mothballing a great brand.
Ted Moore and Rick Santiago, who had been leading electronic design groups at Klipsch, left the company in late 2008 co-founding Indy Audio Labs, LLC.  They bought both brands from Klipsch and began working with a select group of talented engineers to bring the products back to market.  The goal was to keep the great sound of the originals, while updating the look and adding some innovative new features – Aragon models are forthcoming with the "value branded" Acurus amps now available, leading the way.
Built With Pride
The Acurus name stands for "Accuracy from the U.S.", and Indy Audio Labs is proud that their products are built and assembled in the U.S. The metalwork is done here as well, with much of the chassis work done by a machine shop in Indianapolis that makes precision parts for Indy racecars. The torodial transformers and power supply capacitors are still made by some of Mondial's original suppliers, and even the circuit board assembly and final construction are done by a local company in southern Indiana.
Overall construction is simple and elegant.  The front panel is black, brushed aluminum featuring a single round power button, with a lighted surround ring.  The rest of the casework is simple but elegant with an intriguing rear panel featuring an off white powder coated finish.  This makes it easier to see connections and labels in lower light conditions typically encountered in home theater racks and listening room AV shelving units, along with being highly durable.
The input connectors are high-conductivity, gold-plated, isolated RCA jacks, and are arranged near their corresponding output connections.  The outputs are discrete, 60-amp gold-plated binding posts with anti-touch protective clear housings.  All posts are color-coded with red and black rings for + and – speaker polarity and, each pair is spaced to accommodate dual banana jacks.  Each pair is also angled to make it easy to feed large speaker cables and relieve strain, even in a tight rack unit.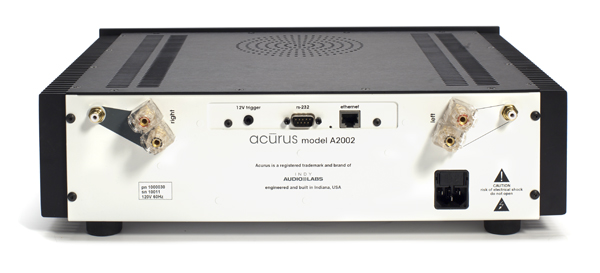 Highly Compatible
Indy Audio wanted these amps to be an ideal choice for those building a serious surround or home theater too, so all models are THX Ultra 2TM certified.  The full range is fitted with a proprietary new "Network Module" that allows the amplifiers to be Ethernet controlled.  The module features a standard Ethernet jack with a "Network Active" LED, a 3.5mm, 12-volt trigger jack along with an RS-232 port.
The A2002 is a 2-channel amp in a 3 RU enclosure and weighs 29 pounds, with 5 and 7 channel versions available in a 5 RU configuration for multichannel applications. It is biased high enough to operated in Class A at low power, shifting into Class AB at higher levels.  It produces 200 watts per channel into an 8-ohm load, with 300 watts per channel available into 4-ohm loads.
When power is connected, the ring around the power switch lights red, indicating "standby mode."  When activated by the power switch or any of the other Network Module inputs, the surround turns blue. The faint click of the power relays is the only sound coming from the A2002; it was free of electrical or mechanical noise.  When powering my MartinLogan Summit speakers, which dip to 1 ohm at high frequencies, the heatsinks never rose above lukewarm – even during long bouts of high decibel listening.
Those intent on monitoring operating temperatures more closely can access the amplifier via the Ethernet connection on the rear panel. Typing the amplifiers IP address into your web browser reveals everything you might want to know about the A2002: temperature and protect status of each channels, mute buttons, enabling Ethernet and serial controls and an "about" section on the amplifiers other parameters.  You can even adjust the brightness of the power button!  While this functionality might seem trivial to the two-channel listener, those with large multichannel, remote applications will find this very handy.
A Change for the Better
The first few days were as much burn in time for my ears, as the amplifier.  Having lived with a vintage, Class A power MOSFET amplifier for some time, the A2002 has a different sonic signature that won me over fairly quickly.
Being a recording and live sound engineer, a home stereo system always leaves me longing somewhat for the sound of live drums, often aided by a giant concert sound system.  The increased clarity and punch of the A2002 eliminated the previous upper bass muddiness I was experiencing, allowing the Summits LF trim controls to be boosted slightly.  Now the kick drums in my system had some serious kick.  Snare and toms both had more impact and definition, with cymbal crashes now lifelike and full of character that was not present – possessing more authority on initial attack and decaying much longer into total silence. Very impressive.
I also am a reverb and effects fanatic.  I like well-produced albums with believable sound spaces.  I was hearing drum sets in their respective spaces, well placed and not jumbled with effects of other instruments and vocals.  One example is the HD Tracks version of Bob James Urban Flamingo.  Tracks like "Niles Ahead" feature a simple arrangement, but incredible side stick snare and just the right room sound on the drum kit.  "Bobary Coast" adds more synth and vocals, but the drum sound is still tight and right up front.  Bass always has to compliment the drum sound, and again on "Niles Ahead", the upright bass that sounded alright before, was now defined, crisp and downright punchy – more like a live performance.
The 96K/24 bit HD version of Spyro Gyra's In Modern Times album offers a cornucopia of great percussion sounds.  "The River Between" has shakers, snaps, triangles, slide, whistles, little bells, ahs, and gahs.  The fantastically recorded flanged fretless bass and sax duet, nylon string acoustic, electric guitar, piano and synths were almost overwhelming by the increased stage width and depth that the A2002 brought forth.
Another go to reference is the unique sound of Michael Franks voice. "Feathers from an Angel's Wing" from the Time Together CD opened up in a way I hadn't heard before.  It was easy to hear fretting on the electric guitar, layers of percussion building throughout the song, a spacious synth pad, and stereo acoustic guitars that were well outside the speakers along with a haunting doubled vocal in the chorus, previously buried in the mix.
I auditioned to many other vocalists, male and female that now sounded much truer to life than before.  The tune that stunned me the most though was the new HD Tracks recording of "Where is the Love" from the Roberta Flack and Donny Hathaway S/T album.  I've been listening to this album since my teen days on cassette in my car and on every combination of gear since then.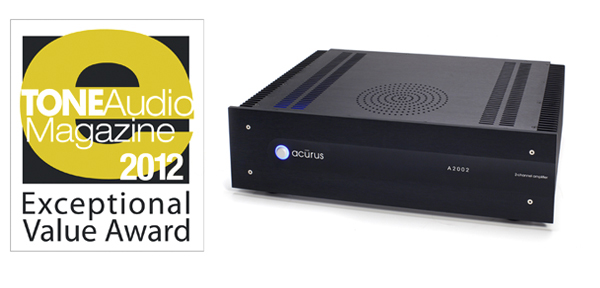 Value Indeed
Indy Audio Labs has indeed held up their end, when they say that Acurus is a "value" brand.  At a mere $2,499, I can't recommend it highly enough to those with a reasonably priced system, where budget still is an object – yet great sound is a priority.  The build is solid, and an exercise in elegant simplicity.  The sound of the A2002 has really put my modest system into a whole new category, making it a lot of fun to listening to both old and new music in my collection all over again.
Additional Listening
Running the A2002 through its paces with a number of different loudspeakers after the photo session proved this amplifier unflappable.  With enough juice to comfortably drive the Magenpan 1.7s, everything else from the Harbeth Compact 7ES-3s to the B&W 802D and the new Sonus Faber Ellipsa SE was a great match.
The A2002 was equally preamplifier friendly, working equally well with all of the tube and solid-state units at my disposal.  This amplifier is incredibly neutral and dynamic, performing much better than I expected for the price asked – just as the original models did in the 80s. Both the Aragon and Acurus amplifiers were often referred to as "the working mans Krell" by enthusiasts.
This adds up to an Exceptional Value Award for 2012, and I'm looking forward to hearing the Aragon amplifiers as soon as they are available. – Jeff Dorgay
The Acurus A2002
MSRP:  $2,495
Manufacturer Info:  www.acurusav.com
Peripherals
Analog Source             Technics SL1200/SME 309 arm and Sumiko Blackbird Cartridge
Digital Source              Benchmark DAC1 USB, with MacBook Pro
Preamplifier                Manley Jumbo Shrimp
Phonostage                  EAR 834
Speakers                      Martin-Logan Summit and PMC db1i
Cable                           Tetra, Shunyata, AudioQuest
Power                          Running Springs Haley