Nine Inch Nails
8/29/09
Aragon Ballroom
Chicago
photos by

NIN website
text by

Bob Gendron
Artist web site: www.nin.com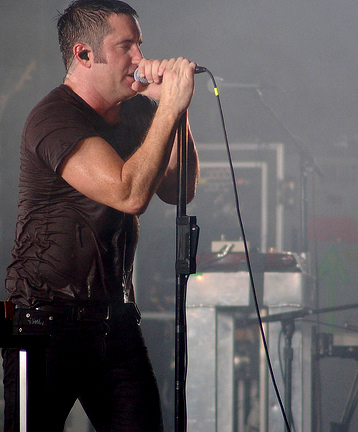 Never say never. Technically, Trent Reznor hasn't uttered that loaded "n" word, but the Nine Inch Nails leader has repetitively claimed that he is waving goodbye to future touring. Fortunately, for select fans in New York, Chicago, Toronto, and Los Angeles, the vocalist already changed his mind by choosing in late July to wrap up what he's deeming the band's final tour with a series of intimate shows and anything-goes sets. Only time will tell whether Nine Inch Nails take the stage again. Yet even if they don't return, the band's second concert of its two-night stand at Chicago's Aragon Ballroom offered plenty to savor.
Over the course of 140 minutes, Reznor and Co. supplied everything a concert of such magnitude should: Deep cuts ("Ruiner," "Right Where It Belongs v2.0"), inspired covers (Gary Numan's "Metal," Joy Division's "Dead Souls"), surprise guests (Bauhaus legend Peter Murphy, making his third consecutive onstage appearance with the group), a healthy dose of favorites ("March of the Pigs," "Wish," "Gave Up"), and a pervading sense of atmosphere. And of course, energy to spare. If not for an 11 p.m. curfew, it seemed as the quartet would've continued playing late into the night. Part of that is due to an earned chemistry.
Nine Inch Nails' current configuration—Robin Finck on guitar, Ilan Rubin on drums/keyboards, Justin Meldal-Johnsen on bass, Reznor on guitar/keyboards/vocals—has grown more assured since its early summer tour. Rubin, for example, didn't blink when Reznor, showcasing a carefree enthusiasm that permeated the performance, fell into his drum set in the middle of "Piggy," causing stage hands to scramble and reassemble the pieces as the song continued its downward spiral. Together, the quartet balanced taut control with flights of reckless abandon, with Finck and Reznor exchanging feverish distortion on a truly searing "Burn" and channeling palpable menace on a massive-sounding cover of Pere Ubu's "Final Solution"—a tune further pushed to dramatic extremes by the leather-clad Murphy who, despite his 52 years and somewhat humorous resemblance to Neil Diamond, remains a master showman capable of shaking his hips and shimmying his shoulders with the conviction of a young clubgoer. As far as influences on Nine Inch Nails' oeuvre, Reznor couldn't have chosen a more apt guest.
Not that the band needed much help. Rather than strictly focus on its aggressive material—a move that undoubtedly would've pleased the moshing faithful—Nine Inch Nails created aural mise en scene via use of dynamic contrasts and material that drew from every facet of its career. And so, the paranoid electronic gristle of "I'm Afraid of Americans" shared space with the robotic soul of "Metal," and the violent sonic throb behind "Mr. Self Destruct"—itself bridged by a foreboding albeit soft break—conjoined the massive doom and gloom evoked by the slithering "Reptile." Realizing the gig's import, Reznor attacked the microphone as a bloodthirsty shark would a floating piece of meat, his jaws chomping at words on "Survivalism" with a rhythm that paralleled the blinding flashes of the strobe lights.
Yet the quartet also found momentary serenity in a series of mellow, classically oriented pieces. Colored by the shadows and bathed with darkness, "La Mer" and "The Frail" functioned as textured mood setters, each leading up to the amelodic withdrawal "I Do Not Want This," on which Reznor beat piano notes until they resembled the striking of a steel anvil. But then it was momentarily back to a quieter realm, with stand-up acoustic basses and twilight synthesizers affording penetrating self-reflection that underscored themes of isolation, displacement, and dread. Such minimalism doubled as a cocoon out of which Nine Inch Nails emerged anything but unscathed, the restrained tones serving to magnify the impact and intensity of the ferocious volleys that followed.
"Nothing can stop me now" hissed Reznor on "Ruiner," his declaration ringing true in a manner that, given the band's passion and the frontman's history of reversing previous decisions, makes it difficult to believe that years down the line, they won't be back for another round. And not soon enough.
Setlist:
Home
The Beginning Of The End
Survivalism
Heresy
March Of The Pigs
Piggy
Metal (Gary Numan cover)
Ruiner
I'm Afraid Of Americans
Burn
Gave Up
La Mer
The Frail
I Do Not Want This
Gone, Still
Right Where It Belongs v2.0
The Way Out Is Through
Wish
Mr. Self Destruct
Suck
Echoplex
The Good Soldier
Dead Souls (Joy Division cover)
Reptile (with Peter Murphy)
Strange Kind Of Love / Bela Lugosi's Dead (Bauhaus covers with Peter Murphy)
Final Solution (Pere Ubu cover with Peter Murphy)
Encore 1:The Hand That Feeds
Head Like A Hole
Encore 2: Hurt