Madeleine Peyroux
March 25, 2009
Shedd Institute for the Arts
Eugene, Oregon
photos by

Jeff Dorgay
text by

Jeff Dorgay
Artist web site: www.madeleinepeyroux.com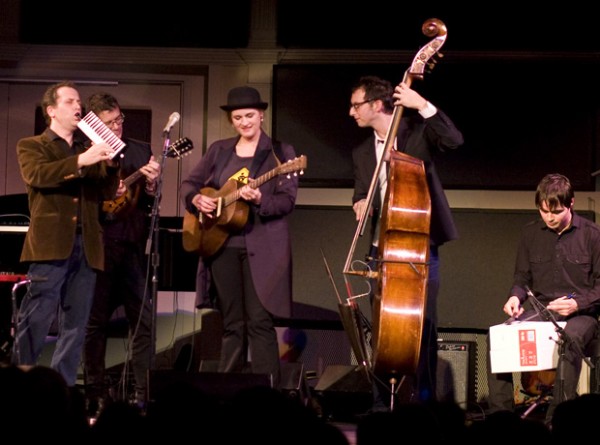 The acoustics of the Shedd Institute for the Arts Theater in Eugene, Oregon was the perfect match for Peyroux' lush voice.  Touring to support her new disc, Bare Bones, Peyroux is also donating $1 from each ticket to the National Coalition Against Domestic Violence.
She started the show with "Dance Me To The End of Love" from her Careless Love album and then moved right into the title track from the new album, mixing up the material from her last three albums throughout the evening.  While the set only lasted 90 minutes, it was the perfect helping – much like a meal served in just the right proportions where after dessert and a cognac, you feel "just right."
If you've only heard Peyroux on disc (or perhaps the amazingly good LP version of Careless Love on 180g. vinyl from Mobile Fidelity), you are in for a real treat; she exhibits a much wider range of vocal ability on the stage and can really belt it out when required.  Unlike other jazz excursions I've heard where the individual players can have a tendency to riff off into infinity, the solos were tight, tasteful and well placed – this was a cracking band!
A gracious host, Peyroux made it a point to thank the audience quite a few times for their enthusiasm and displayed a great sense of humor throughout the performance, commenting on the local crop of organic stimulants to a round of applause.  She then proceeded to introduce the band and ended the set with "Instead" from her new album, quipping "I do know a few happy tunes."
The only guy she left off the list of kudos was her sound engineer, I don't think I've ever heard a live mix this exquisite, striking a perfect balance of sound level and tonal accuracy. If only all live performances could deliver this level of sound quality!  It doesn't get any better than this.
On tour for the better part of the year, this is one show you won't want to miss.  If you like Madeleine Peyroux on record, you will love her in person.