First stop: Portland!
I stopped by at Stereotypes to see Pat working away on a customer's power supply…
I expected him to be in the back room sequestered away, but they had him front and center, with a gigantic work bench set up in the middle of the showroom! Pat had a soldering station set up, a distortion analyzer ready to go and a number of tool boxes as well as piles of capacitors everywhere.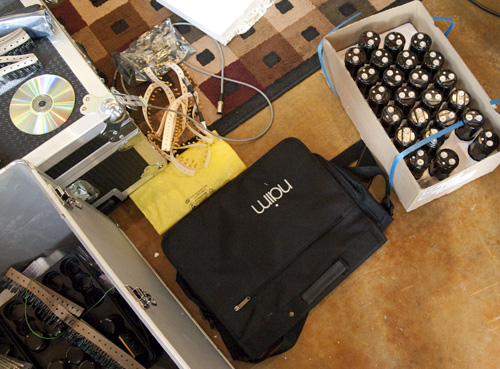 The store has had a great turnout, with a number of people coming by to see the new Naim DAC, and all 22 service spots had been taken. By the time I had reached the store at noon, Pat said he "only had about five more units to go…" Not only is this level of customer support excellent, it also redefines what you might consider "being green". Anytime you can bring something back to spec without throwing it away, that's always a good thing for the environment as well as the customer!