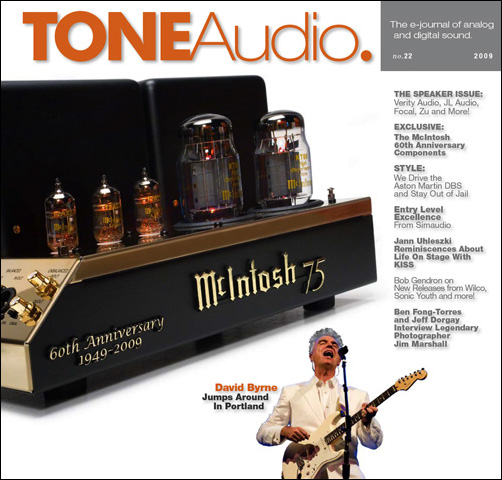 TONEAudio Magazine Issue 22
Cover Story
McIntosh at 60!
Download TONEAudio Issue 22
174 page PDF Standard Resolution 22MB
---
Features
Tribute: Michael Jackson Remembered
By Sally Smith Clemens
Old School: Adcom's GFP-555 Preamplifier
By Mark Marcontonio

Budget Gear: The Moon i-.5 Series
By Mark Marcontonio
The Journeyman Audiophile: Taking
The Technics SL-1200 to the Max.
By Jeff Dorgay
Leica Rolling Stone: The Rocking World of Jim Marshall
By Jeff Dorgay
A 1975 KISS Adventure
I Dreamed I Was On Stage With KISS in My Maidenform Bra
By Jaan Uhelszki
Inside Neil Young's Archives: A Chat With L.A. Johnson
By Bob Gendron
McIntosh at 60! : A Visit to Mac Headquarters and a Chat With
CEO Charlie Randall
By Jeff Dorgay
Tone Style
The Aston Martin DBS w/Bang & Olufsen HiFi System
Yeah, It's That Good
Splash Some Color in Your Living Room
The Art of T.Scott Stromberg
Simpsons Stamps
Fun While it Lasts. DOH!
The HP 110XP Netbook
Leave your MacBook at home
The Rebirth of Marantz
The Reference Series Components are Fantastic
Music
Live Music: The TONEStaff Covers Recent Shows
By Elton John, St. Vincent, The Allman Brothers,
Reeves Gabrels and David Byrne
The Art of Music
Ben Fong-Torres discusses the creation of the Allman Brothers
Famous Live at The Fillmore East Album cover.
By Ben Fong-Torres

Current Releases:
Fresh Releases in the Pop/Rock World
By the TONE Staff
Julian Lage From Guitar Prodigy To A
Smashing Debut
By Jesse Hamlin

Audiophile Pressings Presented by Music Direct
Beck, Carly Simon, Chicago, The Doobie Brothers, Neil Young,
Alice Cooper and more.
Woodstock 40th Anniversary Releases
One more for the road
By Bob Gendron
On Choosing Great Demo Music
How to decide what to play, when
By Jeff Dorgay
Reviews
The Burmester 061 CD Player
Art for the Ears Indeed
By Jeff Dorgay
Previews
Fosgate Signature MM/MC Phono Stage
By Randy Wells

Clearaudio's DaVinci Cartridge
By Jeff Dorgay
The BAT VK-55SE Power Amp
By Jeff Dorgay
The Grant Fidelity RITA-340 Tube Integrated
By Jerold O'Brien

DarTZeel CTH-8550 Integrated
By Jeff Dorgay
Shunyata Aurora Interconnects
By Jeff Dorgay
Reviews
60th Anniversary Classics from McIntosh
By Jeff Dorgay

Sound & Style: The Verity Audio Sarastro II Speakers
By Jeff Dorgay

Sanders Magtech Power Amplifier
By Rich Kent
JL Audio's Fathom F110 Subwoofers
By Jeff Dorgay
The Morel Octave 5.2 Speakers
By Jeff Dorgay
PMC TB-2i Speakers
By Hood McTiernan
Focal's Diablo Utopia Speakers
By Jeff Dorgay and Hood McTiernan
The ZU Essence Speakers: Crank Em Up!
By Jeff Dorgay
Headphone Planet:  Carat Topaz Amp and Polestar USB Cable
By Jerold O'Brien

SLUMMIN'
Nak 550 portable and Pioneer 563 Universal player