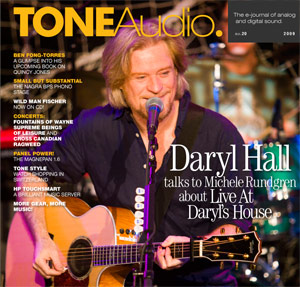 TONEAudio Magazine Issue 20
Cover Story
Michele Rundgren Interviews Daryl Hall
Download TONEAudio Issue 20
144 page PDF Standard Resolution 51MB
---
Features
Quincy Jones: Leave Some Space for God
By Ben Fong-Torres
Old School: We Revisit the Audio Research SP3
By Marc Phillips
Budget Gear: Cambridge Audio's DAC Magic
By Jeff Dorgay
The Vinyl Anachronist: Singing the Orofon Blues
By Marc Phillips
Tone Style
SIHH Watch fair
Ken Kessler Goes Watch Shopping in Switzerland
Canon EOS 5D Mk. II
The Sequel is Better
Elac's Magic Cube
Pop Art Subwoofer for Your Desktop Stereo System
Magna Cart
Just Go Buy One!
The Meridian i80
iPod Dock for Your F80 Table Radio
Dual Level Pro
Level Application for Your iPhone
MartinLogan Purity
MartinLogan's Compact Powered Floorstanders
The Adidas Adizero Adios
The Most Excellent Yellow Shoes You Will Ever Own
Primare DVD-i 10
An All-In-One 2.1 Media System
Rega's Lime Green P3-24 Turntable
And it Comes in Seven Other Awesome Colors, Too!
Music
Live Music: Fountains of Wayne, Cross Canadian Ragweed
and Supreme Beings of Leisure
By The TONE Staff
A Chat With Jon Auer:
Former Posies Guitarist Tells Us About His New Album and
His Approach to Songwriting
By Marc Phillips
The Return of Wild Man Fischer:
Stop Paying Big Bucks on eBay!
By Jeff Dorgay
Current Releases:
Fresh Releases in the Worlds of Pop, Rock and Jazz
By The TONE Staff
Audiophile Recordings:
Foghat, Crosby Stills and Nash, Marvin Gaye, The Supremes,
Stevie Wonder, Frank Zappa and Four SACD Blue Note Releases
Gear Reviews
Mighty Mite
The New Compact BPS Phono Preamplifier From Nagra
By Jeff Dorgay
Magnepan's 1.6
A Panel Favorite
By Jeff Dorgay
The NAT Plasma R Preamplifier
Big Sound, Great Price
By Jeff Dorgay

The New HP Touch Smart Computer
Don't Let it Fool You, It's a Killer Music Server
By The TONE Staff

WLM LaScala Monitors
Understated Beauties
By Marc Phillips

Conrad Johnson's New Sweet Spot
The New Classic Preamplifier and LP66 Power Amplifier
By Marc Phillips and Jeff Dorgay

Product Update:  Rega Elicit
We Test the New Internal MC Phono Stage
By Jeff Dorgay

Grado's New Master 1 Phono Cartridge
Moving Iron Excellence
By Jeff Dorgay

The DeVore Gibbon Nines
They're One Larger
By Marc Phillips and Jeff Dorgay

Headphone Planet
Rocking Out With the New Grado SR-60 "i" Phones
by Jerold O' Brien
Slummin'
We Score a Vintage McIntosh Tuner, Cheap!