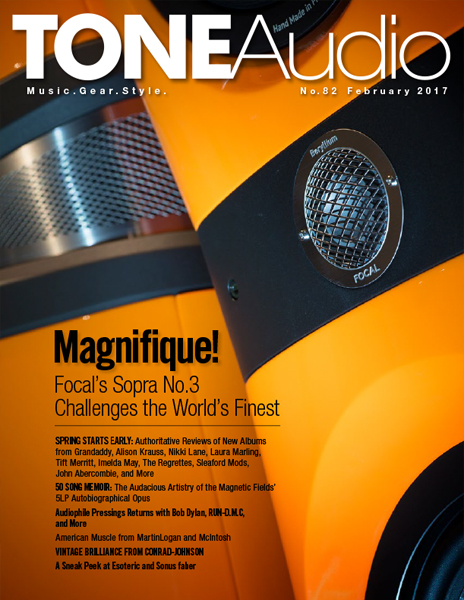 Issue 82
Cover Story
Focal's Splendid Sopra no.3 Speakers!
Download TONEAudio Issue 82
198 page PDF Standard Resolution 21MB
---
Features
Old School:
Conrad-Johnson MV 60SE Power Amplifier
By Jeff Dorgay
995:
Gold Note's Vasari Gold Phono Cartridge
By Jeff Dorgay
Journeyman Audiophile:
G-Lab Block Amplifier
By Jeff Dorgay
TONE Style
WINO: Malbec
Panono 360 degree camera
Epson Home Projector

ChargeTech Classic Laptop Charger

Dyson V6 Vacuum

Art Of Jay Ward

Anker Lighting Cable

New Wave Ornaments

John Varvatos Morrison Sharpe Boots
Music
Spin the Black Circle: Reviews of New Pop/Rock and Country Albums
By Bob Gendron, Todd Martens, and Chrissie Dickinson
Jazz & Blues: John Abercrombie, Tania Chen and More!
By Kevin Whitehead and Jim Macnie
Audiophile Pressings: Kruder & Dorfmeister, Run DMC and more!
Gear Previews
Sonus faber Venere S Speakers
Esoteric F-07 Integrated Amplifier
Conrad – Johnson TEA1S2 Phonostage
Reviews
Viola Labs Sonata Preamp
By Greg Petan
Focal Sopra no.3 Speakers
By Jeff Dorgay
McIntosh MB50 Streamer
By Greg Petan
Technics SL-1200G Turntable
By Jeff Dorgay
Audio Physic Tempo plus Speakers
By Rob Johnson
MartinLogan Expression ESL13A Speakers
By Jeff Dorgay