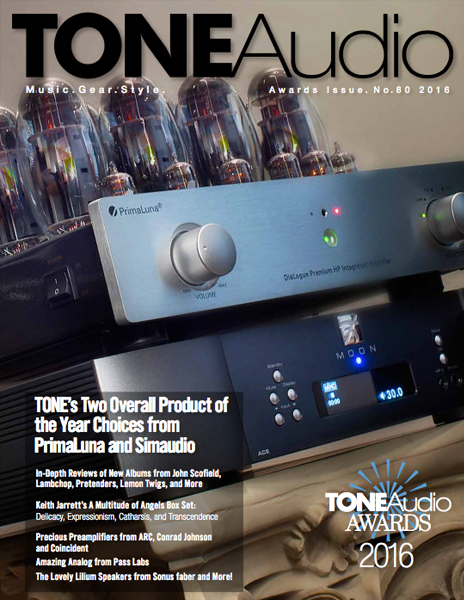 Issue 80
Cover Story
First Ever! Two Products of the Year!
Download TONEAudio Issue 80
218 page PDF Standard Resolution 22MB
---
Features
Old School:
McIntosh MC 225: A Revered Classic
By Jerome Wanono
995:
Record Doctor V Record Cleaner
By Andre Marc
Journeyman Audiophile:
Peachtree Audio's Nova 150:
Everything in one box!
By Rob Johnson
TONE Style
BMW's new i3

Stache' Labbit

LSR Apple Watch Silicon Strap
Cooking With Sammy Hagar
Tile Slim
Versa Watch Winder
Omaker W4 Pocket Speaker
Music
Spin the Black Circle: Reviews of New Pop/Rock and Country Albums
By Bob Gendron, Todd Martens, Chrissie Dickinson, Andrea Domanick and Aaron Cohen
Jazz & Blues: Keith Jarrett, Kris Davis and more!
By Jim Macnie and Kevin Whitehead
Gear Previews
Audio Research GS75i Integrated Amplifier
Graham Audio Chartwell LS3/5 Speakers
Web Reviews
Merrill Audio Jens Phono and Christine Preamplifier
Rega Planar 3 Turntable
Reviews
Sonus faber  Lilium Speakers
By Greg Petan
Coincident Statement Lifestage
By Jeff Dorgay
Conrad-Johnson GAT Series 2 Linestage
By Jeff Dorgay
Pass Xs Phono
By Jeff Dorgay
Audio Research REF 6
By Rob Johnson
Awards!
TONEAudio's Products of the Year
Publisher's Choice Awards
Exceptional Value Awards