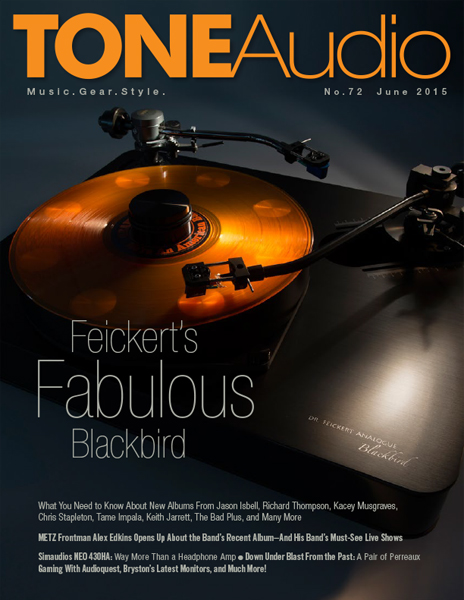 Issue 72
Cover Story
Feickert's Fabulous Blackbird Turntable!
Download TONEAudio Issue 72
220 page PDF Standard Resolution 22MB
---
Features
Old School:
Perreaux SM2 Preamplifier and PMF1150B Amplifier
By Jeff Dorgay
Personal Fidelity:
Woo Audio 234 SET Monoblocks
By Jeff Dorgay
995: Sounds That Won't Break The Bank
VPI Nomad Turntable
By Rob Johnson
TONE Style
AudioQuests NightHawk Headphones:
The Ultimate Gaming Experience
By Jeff Dorgay
The Endeavor Belt
Wax Stacks Cubes
Pet Chatz
HiFi Racks LTD
The Classic VU Meter
The Stereo Mug
SNAPSHOT: Bono of U2 in San Jose by Jerome Brunet
Music
Spin the Black Circle: Reviews of New Pop/Rock and Country Albums
By Bob Gendron, Todd Martens, Chrissie Dickinson, Andrea Domanick and Aaron Cohen
Jazz & Blues: George Freeman & Chico Foreman, The Bad Plus and More!
By Aaron Cohen and Jim Macnie
Audiophile Pressings: Next issue!
Gear Previews
Ortofon Cadenza Black Phono Cartridge
BAT VK-6 and VK-6SE Phonostages
AudioQuest SLiP 14/2 Speaker Cable
Reviews
Naim's Mu-so Tabletop system
By Rob Johnson
The Nagra Jazz Preamplifier
By Jeff Zaret
Bryston Mini-T Loudspeakers
By Andre Marc
Benchmark DAC2 DX
By Rob Johnson
The Feickert Blackbird Turntable
By Jeff Dorgay
Ryan R610 Loudspeakers
By Rob Johnson
From the Web
Dali Epicon 8 Speakers
GamuT RS5 Speakers