posted: June 8, 2017
Purchase
Willem Breuker Kollektief
Out of the Box
BVHaast,
11CD box set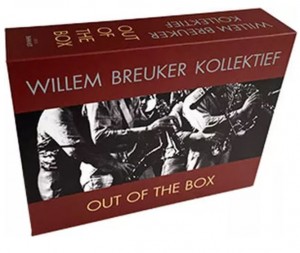 Decades ago, the Dutch got branded as the jokers of international jazz and improvised music. Somehow, Netherlanders could make serious music and keep a little ironic distance from it at the same time—as if any music had a preposterous flipside. No one did more to create and promote such dualism than composer and bandleader Willem Breuker, whose more-or-less 10-piece Kollektief started charming audiences when it hit the global circuit in the mid-1970s. WBK was a tight little big band playing accessible homespun melodies. But it also featured an aggressive side. It clearly came through in the leader's often-ferocious saxophone or bass clarinet solos, which seemed to celebrate and trash squalling free-jazz style at the same time—a tricky balancing act.
Breuker died in 2010 and now, two loyal aides, trombonist Bernard Hunnekink and bass virtuoso Arjen Gorter, have compiled an 11-CD cigar-box-sized sampler complete with a spiral-bound book of commentary, credits and photos. Most of its contents have been out before, but there are three CDs of newly released material, three tracks from a never-reissued American LP, and a 1980 concert previously available on an obscure French release.
The opener, 1983's 10-minute suite "Driebergen-Zeist," is WBK music in microcosm. In the first place, it teems with activity: Breuker liked to keep his players continuously busy. There are catchy riffs and cross-riffs everywhere, for massed saxes versus brass. A self-taught composer and voracious listener, Breuker embraced conspicuous and diverse influences. You can spot a few here, including Kurt Weill's oompah theater songs and Nino Rota's circus marches for Fellini movies. The main melody's jocular air, the comic percussion, the crack timing, and the scripted wrong notes owe a debt to trickster bandleader Spike Jones. There's barbershop harmony from the band's tightly voiced saxophone section, and echoes of the barrel organs that roll through Amsterdam's open-air markets. (Another big influence: Ennio Morricone's gangster-movie scores, with their unstable syncopated basslines.) A few minutes before it's over, you may feel like you've heard it all already—Breuker often let things run a shade too long. He doesn't mind repeating the same effects in different combinations either. This is an anthology you want to sample, set aside, and come back to later.
Out of the Box serves less a "best of" than an overview of the Kollektief's varied programming. The leader would sing a few old sentimental (English or Dutch) tunes in his shower-stall tenor. Add solo violin or a small string section, and the Kollektief becomes a pops orchestra, playing Weill, or a gussied-up "Night and Day," or the complete "Rhapsody in Blue," with the leader's clarinet giving it a klezmer accent. He wrote well for strings. There's a clean solo piece for classical violinist Vera Beths. Breuker liked visual shtick—he might, say, go into the audience to polish shoes—and on the live discs, outbursts of unexplained laughter surface. But the jokes are mostly audible.
On a few tracks from a pre-Kollektief theater band, you can hear his classic sound coming. The keyboardist is Dutch composer Louis Andriessen, whose love of chugging saxophones traces to his Breuker collaborations. The box also includes the Kollektief's complete score to Murnau's silent classic Faust, an excuse to watch that profoundly weird 1926 film, easily found online. Willem's peasant dances there are particularly fine.
The dying Breuker stipulated that the Kollektief could only continue through 2012, and the last two discs come from the group's farewell tour. It helped focus attention on sidefolk who didn't always get their due—like pianist Henk de Jonge, who could rocket from one style to another in a solo like Jaki Byard with Mingus (another big Breuker influence); or Texas tenor and flute player Alex Coke, one of the band's real jazz soloists; or one of Breuker's last hires, Hermine Duerloo, whose limber chromatic harmonica added a fresh ensemble color and, who on alto (like many WBK saxophonists), could play ambiguously serio-comic free-jazz solos like her old boss. There's some beautiful orchestrating by Hunnekink, too.
The players all learned a lot in that band. Now they pass it on.
–Kevin Whitehead