posted: February 13, 2009
Purchase
Your Vegas
A Town and Two Cities
Universal Republic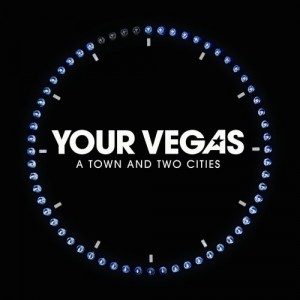 While there are many bands today that evoke a sort of '80s retro sound (The Killers, Muse, Hot Hot Heat), most of their influences come from the pantheon of Goth Rock, most notably The Cure, Bauhaus and Siouxsie and the Banshees. Your Vegas might be the first modern band I've heard that reminds me of the music I was actually listening to through college, so-called "Big Music" from the likes of The Waterboys, Wire, Simple Minds, Big Country and early (I'm talking October) U2. Most of this genre was characterized by what Los Angeles Times music critic Robert Hilburn used to call "guitar heraldry," or giant anthems full of hope and Gibson Explorers.
In other words, this quintet from Leeds hides behind a surprisingly optimistic wall of sound on their debut album. On "Aurora," for instance, singer Coyle Girelli may sound a bit naïve when he claims that the "world is turning just for us," even though these warm feelings are tempered with vodka lemonade and the expectation of disappointment. If there one downside to youth, it is this innocence and melodrama that may make a young man sing out "I'm sorry I said/It's just a feeling in my head" after making references to James Dean and Elma Green.
Despite these simplistic and defiantly hopeful lyrics (at one point Girelli begs a friend to promise "that you'll live to 93"…why not 94?) Your Vegas offers the kind of heart-on-your-sleeve guitar-driven music that takes me back to my college days, when Reagan was early into his presidency, compact discs loomed on the horizon and Marvin Gaye was still alive. After all of the hype surrounding neo-Goth (Love and Rockets is even planning a reunion), I'm all for this type of nostalgia.
–Marc Phillips