posted: February 1, 2012
Van Halen
A Different Kind of Truth
Interscope
2LP or CD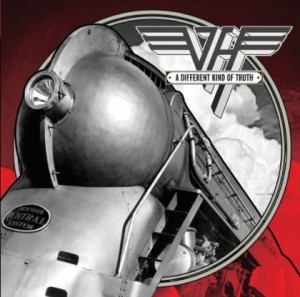 David Lee Roth might have a bright future as the replacement for William Shatner in Priceline commercials. The flamboyant vocalist and natural-born pitchman takes spoken-word turns on several occasions throughout A Different Kind of Truth, going into character with an exaggerated low-register timbre that harkens back to his narrative role on "Panama." Yet whereas Roth sounds credible on the latter, a youthful California-tanned playboy salivating as he ogles a bikini-clad woman during the me-first hedonism of the 80s, he now comes across like an older man reading words off cue cards, uncertain as to whether he should play up the script or attempt to keep a straight face.
It could be worse. Van Halen's first studio album in nearly 15 years—and its first with Roth in almost three decades—could've sunk to the level of Sammy Hagar's "supergroup" Chickenfoot. While the quartet, augmented by Eddie Van Halen's son Wolfgang on bass, should've adhered to the concision exemplified by Women and Children First and Fair Warning, each featuring just nine tracks, there's enough passable fare scattered amidst the 13 songs to prevent mockery and, there are no syrupy ballads. Still, in spite of a few inspirational bursts, the band seems out of ideas and generally, acts as a foil for Eddie's pyrotechnic guitar stunts. The puffed-out-chest exuberance, top-of-the-world confidence, and raw force of its past are gone.
Yet drummer Alex Van Halen's Venice Beach muscleman flex and gut-thumping toughness, Roth's flashy exclamations and self-conscious camp, and Eddie's high-wire fret acrobatics and whammy-bar-bending solos surface in places. When the devices are collectively put in the service of song, as on the catchy glam-pop "Tattoo," carefree strut "Beats Workin'," or prancing "She's the Woman," Van Halen distances its reputation as a hard-rock band that simply reformed for another nostalgia-based cash grab. And it retains the sense to know from what early material it should liberally borrow. After a thudding introduction, "As Is" reveals itself as a doppelganger for "Hot For Teacher," scurrying pace and finger-tapped licks included. The acoustic-into-electric blues signatures and Roth's conversational yippety-yap jive on "Stay Frosty"? Yep, "Ice Cream Man" has returned, cold themes preserved. Roth even tries to reprise his trademark squeal on "Big River," bolstered by old-fashioned give-and-take grist between the Van Halen brothers, even if his results are more Asylum-era Gene Simmons than vintage DLR.
In procuring "new" tunes, Van Halen allegedly pulled from demos and instrumental sketches recorded years ago. For better and worse, there seems to be some truth to the theory. The piecemeal construction of the paint-by-numbers "Blood and Fire" and one-dimensional "China Town" lack cohesiveness and suggest everything is built around pre-existing guitar lines rather than developed melody. A Different Kind of Truth often wants for more of the latter as well as the ample spaciousness and unforced attack present on Van Halen's most aggressive classics. Insufficient, too, is the knife-sharpness and spring-coiled crunch of Eddie's tones, which, at their best, double as switchblades that balance Roth's hand-wagging flair. And while the collective's lyrics have seldom been much more than afterthoughts, cringe-worthy lines abound. Eddie's Racer X-styled flurries, corkscrew turns, and zip-zah-zang arpeggios marginally save a number of plodding songs from imitation status.
But even a mostly reinvigorated virtuoso can't rescue the messy "Honeybabysweetiedoll," Hagar-esque "Outta Space," or pile-driving "Bullethead" from the scrap heap. Hearing Eddie, sans accompaniment, dazzle on a few experimental instrumentals would be preferable to such fodder. At this juncture, the likelihood of the reclusive musician pushing himself to those limits seems remote. Above the dulled, synth-based fluff of later-era Van Hagar albeit absent the boisterous sleaze and hook-drenched swagger of the group's heyday, A Different Kind of Truth constitutes a minor victory, however compromised.
–Bob Gendron