posted: March 30, 2009
Two More Classics From OMG Records
Live In Paris, Look of Love
OMG
180g. LP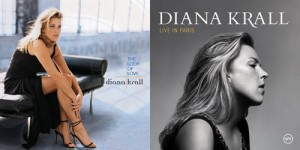 Whether you think of Diana Krall as being part of the modern jazz vanguard or just a highly commercial realization of a well-worn genre, these two albums represent this Canadian jazz pianist and singer at her best. These two albums, released in 2001 and 2002 respectively, were wildly popular and well-received: both won Grammy awards and topped the Billboard Jazz charts.
These reissues from the Original Recording Group take the sound quality of these audiophile staples a step further. Mastered by Bernie Grundman, the ORG pressings excel in their ability to recreate that seductive sound from the late '50s and early '60s. The Look of Love, in particular, reminds me of the MFSL pressings of Frank Sinatra's Nice and Easy and Only the Lonely we reviewed just a few months ago. This recording isn't the last word in detail, but it will take you to another time and place like few modern recordings can. Johnny Mandel's orchestra is lush and sexy; it makes you want to put on a sharp suit and invite all of your friends over for the cocktail party of the year.
Live in Paris takes a more modern approach, with more detail in the recording, yet the audience interaction is placed at a distance, offering a more intimate interface with the band. I do enjoy the illusion of actually sitting in the audience, but I don't want everyone breathing down my neck. This recording offers the perfect balance between the excitement of a live performance and an unfettered view into the music.
Like Rickie Lee Jones' Pop Pop, these 180g LP pressings are also designed to get the most of the groove. Both are 2-LP sets with two or three songs cut into each side. While it may be an inconvenience to get up and changes sides every ten minutes (and even more so when you're lulled by music this gorgeous), the increase in dynamic range is more than worth it. I can't wait to hear more from this exciting new line of reissues.
–Marc Phillips