posted: May 29, 2013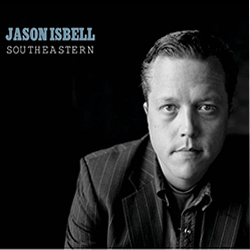 Last year on Twitter, Jason Isbell accused country star Dierks Bentley of stealing his "In a Razor Town" song and co-opting it for "Home."
The fact that the latter single became a number-one hit isn't important. What matters is that it's performed by a bland singer whose pedestrian fare subscribes to Nashville's commercial rules and who responded to Isbell's claims by facetiously Tweeting, "THIS JUST IN: Nashville and LA songwriters running out of ideas…rushing to steal jason [sic] songs!"
Anyone that's listened to so-called country radio in the past decade would likely take issue with Bentley's statement. In Nashville, originality is anathema; formula is sacred. Bentley's comment also rings with ironic truth: Isbell is indeed a fine songwriter. Most tunesmiths would be lucky to crib from him. Since emerging in late 2001 as a member of the Drive-By Truckers, Isbell has made his mark as a distinguished guitarist and wordsmith, turning out bold, introspective tales steeped in the people, places, and habits of the Alabama Bible Belt where he grew up.
Yet, akin to many standout artists, Isbell has paid a considerable price for his craft. He endured a divorce to then-Drive-By Truckers bassist Shonna Tucker that factored into his departure from the group. The 34-year-old also spent a majority of the last 10 years drowning in liquor to the extent he cannot even remember much of his period with the Truckers. A full-blown alcoholic, Isbell would begin drinking early in the morning—provided he even got up.
"Wasn't quite morning, I wasn't quite breathing/My heart way up in my throat," he sings on the life-on-the-road, garage-rocking chronicle "Super 8" from Southeastern. "Girl starts screaming and the maid starts screaming/And it looks like it's all she wrote," he continues, with a sly grin.
Isbell, of course, survived his death-tempting ordeals. He swore off booze in February 2012 amidst a concerted effort to stay clean. He toured with fellow recovering substance abuser Ryan Adams and gained support. He remarried, to another musician, Amanda Shires, whose fiddle joins with Isbell in harmonious union. And in the brilliant Southeastern, he molded the kind of album every musician yearns to make once in his or her lifetime.
Honest, dignified, unguarded, and courageously personal, Southeastern is the repentant and sobering sound of a man's coming to terms with his demons, mistakes, strengths, desires, and needs. It opens a window on the future by looking back at the past and offers an unflinching gut-check of human nature via narratives tied to tragedy, loss, vulnerability, maturation, healing, and responsibility. Throughout, Isbell never reaches for self-pity, weighs down the listener in sadness, or stands on a soapbox to preach. His balanced approach and unshakeable calm are as remarkable as the poetic detail and lyrical descriptiveness.
Billed as a solo album (Isbell's second), Southeastern retains a stripped-down and organic country-rock feel, even when a handful of guests and backing musicians appear. On the gorgeous album-opening "Cover Me Up," Isbell turns in the rawest vocal performance of his career. Framed by an acoustic guitar and minimalist pedal-steel fills, he reflects on hitting rock bottom before finding his once-shattered faith restored in the form of a new companion. The devotional ballad is more that an apt way to commence an intimate record imbued with austere contemplation. It's an anchor, an attention-getting prelude to the sincerity and themes that follow. Falling in love and getting a fresh start at life are paramount among them.
Whether taking stock of how opening himself up to love altered his attitude (the golden-hued "Stockholm," a duet with Kim Richey), mulling moral obligations (the flinty "Yvette," a hard-hitting allegory of familial abuse), or rummaging through the wreckage of failed romances (the crackling "Flying Over Water"), Isbell doesn't sugarcoat sins or pretend he's clear of vices that nearly destroyed him. He lugs his heavy emotional baggage with him while he wonders about right answers, searches for what really defines a man, and worries if past ghosts will continue to haunt him in the future. Occasionally, they do.
On the swaying "Songs That She Sang In the Shower," a pensive Isbell recognizes that wonderful memories attached to a former partner will follow him forever. Outfitted with a tumbling chorus that rains down with damning certainty, the song seizes on the strong connections people have with music—and how melodies can trigger landscapes, feelings, and images more accurately than sight, touch, or smell. Similarly candid, Isbell admits lies, deficiencies, and addictions on the confessional "Different Days." As he ruminates on transformation, muted finger-picked notes ballet about his voice like fireflies dancing in the pale moonlight. "My daddy told me, I believe he told me true that: 'The right thing's always the hardest thing to do,'" he sings.
Isbell keeps such advice close to the heart throughout Southeastern, which could be seen as his commitment to adhere to the principle no matter how steep the cost. For him, integrity comes first. During the heartbreaking "Elephant," the Alabama native paints a surgically accurate picture of a terminally ill cancer patient, the aural effigy playing like a film in the listener's mind. Scenery, environments, and characters come to life as they do in a gripping novel. In under four minutes, he examines the spirit required to battle the disappearance of dignity, explores the spiral of life, underlines comfort wrought by lasting friendship and small distractions, and lays bare the pain of loneliness.
"Traveling Alone" unfolds with comparable poignancy. Its acoustic dust-broom sweep and sweet violin lines waltz hand-in-hand, each married to the singer's calm recollections. A wake-up call and invitation, the song is one man's steadfast promise to rebuild his soul and take a mate along for what's left of the ride. Not that the journey is ever easy or without doubts.
"There is a man who walks beside me/He is who I used to be," Isbell sings in a tobacco-stained acapella voice on the opening to the mighty "Live Oak." "And I wonder if she sees him and confuses him with me." Ostensibly, the frontier-style song tells the story of a reformed criminal pondering how his lover views him. But really, the tale serves as a transparent metaphor for Isbell's own life—and for anyone that's ever harbored the concerns, insecurities, and anxieties that coexist with relationships and transformation. By speaking for himself, Isbell speaks for us all.
–Bob Gendron