posted: November 22, 2010

Tom Petty ORG
Damn the Torpedoes, Deluxe Edition
Original Recordings Group
2-180g. LP and digital download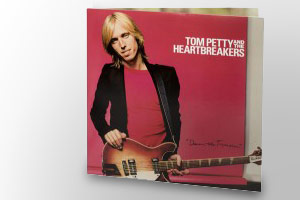 Tom Petty's breakthrough record is back and sounding better than ever. The only burning question that remains is how you want your high-resolution served. Analog fans will be thrilled from the first track of ORG's exquisite pressing. The label has knocked it out of the park (again) with Chris Bellman mastering from the original analog master tapes. The accompanying 24/96 digital files are just as good.
Even though these LPs spin at 33 1/3RPM, they sound fantastic—proving that a great-sounding record can be produced on one slab of vinyl, if done with care. Seven of the nine tracks on the extra LP are previously unreleased, including "Nowhere," recently found by Petty engineer Ryan Ulate, who performs engineering duties on most of the bonus material.
Most notably, Damn the Torpedoes reveals new dimensions on ORG's vinyl set. Where the original LP sounds relatively flat and compressed, this pressing spreads the Heartbreakers out across your room, with every instrument having its own distinct space. Drums are fleshed out quite a bit more, with better textures and a large dose of decay absent on the original. Regardless of what version you choose, the second you cue up "Refugee," you'll hear an extra bass grunt that gives the record a weightier presentation.
If you're not an analog enthusiast, the 24/96 files lose precious little, if any, of the LP magic. Whereas the vinyl boasts a slight edge in midrange warmth, if you have a great digital front end, you'll be hard pressed to tell the difference. And, depending on your system's overall tonal balance, you may even prefer the digital edition.
Interestingly, Mobile Fidelity's 24K Gold CD, released in the 90s, still holds up well, with the slight advantage going to the 24/96 files in terms of overall clarity. Considering that a sealed MoFi copy regularly sells for between $125-150 (and features no bonus tracks), getting two LPs and the high-res files is definitely the best value.
It's always exciting to hear a rock record sound this good. With so many faux-audiophile labels springing up, the masters still are still at the head of the class.
Click here to purchase the HD Tracks 24/96 files
–Jeff Dorgay