posted: September 21, 2011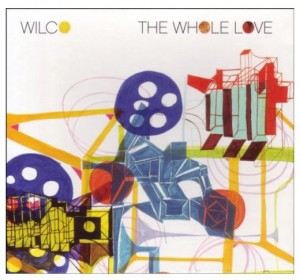 Wilco's The Whole Love begins with a crush of digital thunder. It's the sound, perhaps, of computer-hard drives malfunctioning. Or maybe it's the band imagining some sort of electronic warfare. The specifics aren't quite discernable, but it's gripping nonetheless. Don't look to leader Jeff Tweedy for guidance, either. "I can be so far away from my wasteland…Ambulance," he sings, an artist tortured by his own mind. Hi-tech warbles lead to a funky, effects-drenched bass, and plaintive vocals give way to an eruption of scorching guitars, instruments trailed by a rhythm so rushed it nearly runs itself over. Wilco calls this song—this exercise is in computer-enhanced rock n' roll carnage—"Art of Almost," and it sounds unlike anything the band has ever recorded.
Well done, Wilco, well done.
Not since the extended melodic deconstruction of "I Am Trying to Break Your Heart," which heralds the beginning of 2001's Yankee Hotel Foxtrot, has Wilco launched an album with an opening track this far out of the realm of listener expectations. Wilco, now in its 17th year, long ago trained fans to anticipate the unexpected. Yet something happened on 2009's Wilco (The Album). While there was no shortage of finely crafted songs, rock n' roll comfort seemed to outnumber the surprises.
Rare was it that such sharp musicianship, such a competent knack for a melody, would feel so normal. Ever since the Chicago band unleashed 1996's sophomore Being There, which jettisoned the backyard country of feel of the debut AM, for spacious roots-rock atmospheres, it felt as if a gauntlet was being thrown at the feet of its fans. No two albums, the Tweedy-led outfit seemed to be saying, would ever sound the same. And thus it was so.
Lineups changed, sometimes drastically, but the mission didn't. There was gallantly harmonious orchestral pop (1999's Summerteeth), exquisitely detailed art-rock minimalism (Yankee Hotel Foxtrot), aggressively claustrophobic guitars (2004's A Ghost is Born), and soul-enhanced folk-rock (Sky Blue Sky). On Wilco (The Album), the band neatly, and confidently, touches on all of the above, with the sole exception being the panic-stricken "Bull Black Nova."
The Whole Love, however, is full of the exceptions. Some, of course, are stronger than others. Sadly, the entire album doesn't have the cut-and-paste intensity of "Art of Almost." Yet there's a studio-driven sheen that makes this, from start to finish, the freshest Wilco work since A Ghost is Born. Much credit must be given to multi-instrumentalist Pat Sansone, who Tweedy enlisted for a greater production role.
Sansone adorns many tracks with a symphonic lushness, and helps liven up even Wilco's more traditional moments. Seesawing violins and drummer Glenn Kotche's constantly in-motion clickity-clack rhythm add a softness to the starkness of "Black Moon," while "Sunloath" tiptoes to a finale drenched in 60s psychedelics. "I don't want to lose this fight," Tweedy sings with his comforting rasp, and the chorus-less song rescues its lyricist in the final moments with swooning harmonies and crystallizing guitars, finishing with a kaleidoscope of instrumental colors.
Those who have seen Wilco live in recent years know that the current six-piece incarnation—the only Wilco lineup to have lasted for three full albums—has the ability to put on an expansive, blistering rock n' roll show packed with highs and lows. The Whole Love seems to recognize such a feat, as often here, Tweedy is not the focal point. He's brash and energized on "I Might," sure, but that song belongs to bassist John Stirratt and keyboardist Mikael Jorgensen.  Never has Wilco sounded this groovy, as Stirratt's fuzzy bass leads the song with an R&B shimmy. Jorgensen, meanwhile, channels 60s rockers the Zombies and plays give-and-take with Tweedy.
Ace guitarist Nels Cline gets plenty of moments to roam, and turns the solitary sentiment of "Born Alone" into a statement of defiance. He also contrasts giant bar-band riffs with sleek, artsy fills on the delightfully reckless "Standing O." "I mope and I cry and attack," Tweedy sings on the latter, a moment that captures the emotional schizophrenia of much of the lyrics. "Capitol City," for instance, seems like a giant mind-game. Musically, the old-fashioned jaunty pop stroll is Wilco at its silliest, while lyrically, it's an embrace that tries to keep its distance. As Tweedy sings later on the album, "As intimate as a kiss over the phone."
The "Art of Almost" creates nearly impossible expectations for Wilco's eighth album, yet The Whole Love comes close to delivering on them. "Dawned on Me" may be a tad slight, and "Rising Red Lung" is all darkness amidst an album that's spry and bright. Yet the record is a daring statement, even coming to a close with 12 minutes of acoustic exploration. "One Sunday Morning (Song for Jane Smiley's Boyfriend)" unfolds with slight melodic tweaks and shading throughout, underscoring once again that Wilco, nearly 20 years into its career, still has plenty left to investigate.
–Todd Martens