posted: May 6, 2013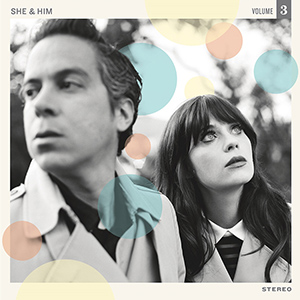 One of the more unforgettable rock 'n' roll scenes in film comes during the 1980s sci-fi romance Back to the Future.
In the final act, Michael J. Fox's Marty McFly grabs a guitar at a 1955 high-school dance and anchors a capable rhythm & blues band through the scorcher "Johnny B. Goode" and doo-wop slow-dance "Earth Angel (Will You Be Mine)." One of the messages, intentional or not, is that it's better to define the best songs of another era as timeless rather than classics. Another message: Boy, wouldn't it have been fun to have played rock 'n' roll during its innocent beginnings?
She & Him, the moniker for the vintage musical plaything of indie-rock guitar wiz M. Ward and happy-go-lucky geek idol Zooey Deschanel, seems to permanently exist in that Back to the Future scene. They are modern-day artists with good taste and a best-of-intentions desire to bask in the past.
The duo's formula is well in place here on the duo's fourth proper album (three volumes plus a Christmas collection), and not too much has changed on this stroll down pop's memory lane. Deschanel's lyrical trifles are on the level of profound poolside gossip ("I never wanted your love but I needed it," she ever-so-lightly sings early on). Styles aren't so much as explored as pleasantly alluded to. "I've Got Your Number, Son" has flashes of grand, Beach Boys-inspired overtures and harmonies, while the Motown-inflected "Together" sports a plucky guitar groove and lively sax.
Since the release of 2008's Volume One, Deschanel has—thanks to Fox sitcom "New Girl"— become someone whose personal life is debated in the TMZ comment section. But whether in her acting or singing, she remains an understated star. A squint of her eyes stands in for emotion on television, and on record, she's mastered an increasingly rare art of tender shading and conversational crooning. She's a jazzy ingénue on the blue piano ballad "London" and a girl-group cheerleader on the upbeat and gooey "Somebody Sweet to Talk To."
While Deschanel has grown as vocalist, she remains a patient singer who finds comfort in the melodies rather than taking charge of them. Rather than attempting to craft a pure facsimile , she approaches varying styles as if she's trying on different hats on a movie set. She and Ward have fun with the flirty, tempo-shifting, showtune-ready suite of "Snow Queen," the goofy Elvis-in-Hawaii-feel of "Shadow of Love," the Bacharachian "Something's Haunting You," and the swift, unadorned, top-down cruise of a cover of Blondie's "Sunday Girl." It may not be as fun as a trip back in time via a Delorean, but for She & Him, toying with the past hasn't yet gotten old.
–todd martens