posted: March 10, 2009
The Latest From Jon Auer
Songs From the Year of Our Demise
Pattern
CD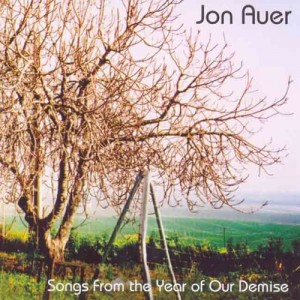 Jon Auer has been trying to complete his first full-length solo album for the last five years. But he'd been in an unusually fertile period of his career, during which he released albums with his own band (The Posies) and a resurrection of a legendary one (Big Star). Auer was finally able to take a breath, face some major issues in his personal life, and complete this very personal and haunting collection of songs. On paper, these ruminations on alcoholism, troubled childhoods and disintegrating relationships may sound like tough going, but Auer's pop sensibilities provide a finely crafted counterpoint to the sadness and regret he expresses.
The opener, "Six Feet Under," boasts the chorus, "It's okay, it's all right/We can dig our graves tonight" against bells and angelic backing vocals. Ostensibly the story of the end of a long relationship, these lines can be bent into gentle irony (a la Morrissey) or an innocent declaration of surrender. Written without Auer's prior knowledge of the TV show with the same name, this song almost made it onto the soundtrack until the series' creator, Alan Ball, balked at the coincidence.
It's also a joy to sit back and listen to Auer's guitar work. Always an understated yet effective musician, he concentrates more on melody than pyrotechnics and knows the importance of texture and flow. He does let loose with a scorching solo on "My Sweet Unknown," the album's hardest rocking track, employing a long, agitated style similar to David Gilmour and Kurt Cobain. His straightforward yet gentle voice perseveres through each of these 15 songs, making this a coherent and engaging collection. Auer brings real maturity to his confessions, setting him apart from his younger colleagues, including those who already claim him as a major influence.
–Marc Phillips