posted: May 22, 2013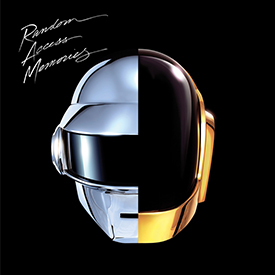 On "Beyond," a weightless number that arrives just past the midpoint of Daft Punk's long-in-the-works new album, Random Access Memories, the French electronic duo lays out the blueprint for the perfect song.
"(It) speaks of places never seen/It holds a promise long forgotten," the tandem sings, sounding something like sleep-deprived androids. "It is the birthplace of your dreams."
Fittingly, the pair spends much of its first studio album since 2005′s Human After All—excluding the soundtrack for Tron: Legacy—revisiting the various sounds and styles that informed its earliest musical excursions. It's an unexpected move, to say the least. In recent years, Electronic Dance Music (or EDM, as it's commonly referred to in the press) has seemingly taken over popular culture, with single-name DJs like Skrillex, Baauer, and Bassnectar dominating summer festival lineups and providing the soundtrack for countless film trailers, television advertisements, and Internet video memes. (Everyone from King James and the rest of the Miami Heat to local, mid-America high-school students recorded Versions of Baauer's inescapable "Harlem Shake").
Rather than surfing a cresting wave they helped form with influential albums like Homework and Discovery, however, Guy-Manuel de Homem-Christo and Thomas Bangalter—the humanoids collectively known as Daft Punk—have gone out of their way to bash the current EDM craze in interviews. "The problem with the way to make music today, these are turnkey systems; they come with preset banks and sounds," they told Billboard magazine. "They're not inviting you to challenge the systems themselves, or giving you the ability to showcase your personality, individuality."
With Random Access Memories, the duo, which still dons robot masks for photo shoots and performances, actually attempt to place some distance between themselves and modern technology. The album is recorded in analog, and a small army of live musicians—including disco legends Giorgio Moroder and Nile Rodgers, producer/rapper/singer Pharrell Williams and indie rockers like Panda Bear of Animal Collective—supplant the usual array of samplers, synthesizers, and computers.
So while past efforts tended to sound vaguely futuristic, RAM is actually backward-looking, embracing a comparatively handmade aesthetic that aspires more to the bombastic, over-the-top feel of late 70s prog-rock, R&B, and disco. When the drums kick in on "Contact," for example, there's no doubting human hands are manning the kit, and the results are glorious. Such ambition is evident everywhere from the album's extensive runtime (at 75 minutes, the record occasionally feels a tad overstuffed) to its sumptuous sound, which flirts with everything from disco and house to Technicolor Broadway schmaltz.
Pharrell Williams and guitarist Nile Rodgers drive a trio of tunes, including lead single "Get Lucky," which neatly replicates the disco-funk of Rodgers' band Chic. "Lose Yourself to Dance," a second cut featuring the pair, does exactly that, riding Rodgers' impossibly fluid guitar line for six hypnotic minutes of dance-floor-bumping bliss.
Elsewhere, Daft Punk attempts to stimulate the brain as well as the body. "Giorgio by Moroder" might sound like the name of a high-end fragrance line, but it's actually a nine-minute ode to 73-year-old synth pioneer Giorgio Moroder, who kicks off the track by chatting up his role in shaping what he refers to as "the sound of the future." "Within" journeys into the mind rather than venturing off into the cosmos, coming on like a musical adaptation of Being John Malkovich. "There's a world within me that I cannot explain," sings the duo atop downcast piano. "Please tell me who I am."
References to memory, time, emotion, transience, and love are scattered throughout the album, which shares at least some thematic elements in common with the 1986 film Short Circuit, where experimental robot Number 5 is struck by lightning and gradually adopts a number of human traits. "Touch," a hammy albeit oddly affecting number featuring a vocal assist from Paul Williams, the unashamedly cheesy songwriter behind tunes like the Carpenters' "We've Only Just Begun," opens with a voice intoning "I remember touch" like an android slowly regaining spatial awareness. "You've almost convinced me I'm real," continues Williams as the track builds to a grandiose close that includes everything from orchestral strings to a full-on children's choir. "I need something more."
At times, the duo overreaches, and it can be difficult to slog through tracks like "The Game of Love," a wispy soft-rock ballad that sounds as though it were composed by a heartbroken computer. The yacht-rocking "Fragments of Time," in turn, could pass for a feather-haired Hall & Oates throwaway.
Nonetheless, RAM remains a fascinating and entertaining listen, balancing breezy party tracks with more high-concept moments that reveal endearing quirks more gradually. Indeed, by looking to past sounds, styles, and influences—the birthplace of their musical dreams, as it were—Daft Punk emerges with an album that sounds both familiar and entirely new, and it'll be endlessly enjoyable to look on as the group's EDM contemporaries struggle to keep pace in the coming months.
–Andy Downing