posted: November 22, 2011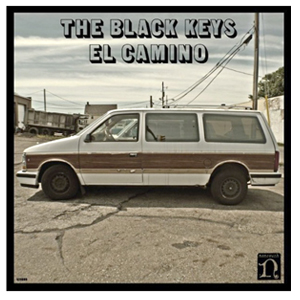 The Black Keys might be the only recession-proof thing Akron, Ohio has produced in recent decades. Even as the former rubber capitol—at one point in its history home to four major tire companies—struggles to reinvent itself, the blues-rock duo has continued its rise virtually unabated.
Since The Big Come Up first surfaced back in 2002, the group's music has practically become ubiquitous in popular culture, with songs appearing in an endless stream of films and television commercials—a development singer-guitarist Dan Auerbach and drummer Patrick Carney joked about on an episode of "The Colbert Report," engaging in a "sell-out-off" with Vampire Weekend frontman Ezra Koenig that ended in a humorous, Warriors-style brawl. More recently, critical success followed. This past year, the duo even netted a trio of Grammys for its 2010 album Brothers.
The record's success must have been a nice bit of validation for the pair, who spent a chunk of its creation struggling with internal tensions stemming from Auerbach's decision to release a solo album in 2009 as well as a range of personal issues—including the fallout from Carney's divorce, which took one final ugly turn when his ex-wife published a lengthy article about the dissolution of their relationship on the popular Web site, Salon, earlier this year. Then there was the duo's enviable (if risky) decision to go it alone, producing the album themselves rather than re-teaming with Brian "Danger Mouse" Burton, who helmed 2008′s Attack & Release.
If the in-demand producer had any hard feelings about the slight, they've clearly long since evaporated. He rejoins the fold for El Camino, a sturdy, riff-heavy effort that simultaneously sharpens and expands on the Keys' musical palette. Opening song and lead single "Lonely Boy" sets the tone, piling on a thundering drums, a lean and propulsive guitar line, and Auerbach's damaged-soul vocals. "You pulled my heart out," he sings, "And I don't mind bleeding." Perhaps unsurprisingly, it actually sounds like he minds very much.
It's a recurrent theme for Auerbach. While happily married with a daughter of his own, the singer, who currently makes his home in Nashville, can't quite shake his she-done-me-wrong woes, singing: "You took advantage of the one who showed you love"; "Everybody knows that a broken heart is blind"; "All this love of mine/And all my precious time/You waste it cause you don't know what you want." Perhaps it's a vestige of his well-documented blues obsession, which culminated in a teenage pilgrimage to Junior's Place, the Chulahoma, Mississippi juke joint run by late bluesman Junior Kimbrough—a spur-of-the moment trek that has since become an integral part of the band's early mythology.
Of course, each successive album finds the pair drifting further from such primal, bash-it-out blues roots. El Camino hits on musical touchstones as varied as T. Rex (the glammy, organ-fueled stomp of "Gold on the Ceiling"), Michael Jackson (the icy, disco strut of "Sister" bears at least a passing resemblance to "Billie Jean"), and the Clash (the reggae-rock bounce of "Hell of a Season"). This idea that the Black Keys are, at least in some sense, burying the past carries over into the artwork for the "Lonely Boy" single—a photograph taken in Akron of a bulldozer stationed on a barren patch of concrete where the factory that housed recording sessions for 2004′s Rubber Factory once stood.
In recent years, the Keys have started taking extra musicians out on the road, fleshing out their live sound with the addition of keyboard and bass. Fittingly, El Camino—as muscular as the roar emitted by its namesake auto's engine—sounds more like a full-on band effort than the product of two dudes bashing away in a garage. Vintage strains of keyboard weave through much of the album, and a female vocalist adds a soulful punch to several songs, including "Gold on the Ceiling," an insanely catchy number destined to end up in at least a handful of Hollywood films and network programs.
On Attack & Release, Danger Mouse and the Keys toyed with tempo, recording two versions of "Remember When," including a folksy, bluegrass-tinged take and a comparatively balls-out rocker. It's a trick they resuscitate better effect here on "Little Black Submarines," which opens amidst casual Sunday-morning acoustic picking before jumping into fifth gear, Auerbach laying down a cranky guitar riff that sounds like a heavily distorted take on Tom Petty and the Heartbreakers' "Mary Jane's Last Dance" blasted through blown-out speakers.
Clocking in right around 40 minutes, El Camino never risks overstaying its welcome, a point Auerbach seems to hit on with the album-closing "Mind Eraser," repeating, "Oh, don't let it be over." Sure, he's likely singing about yet another relationship gone to pot—in his mind, the dude must be the emotionally battered Charlie Brown of rock stars—but it's a safe assumption many listeners will feel similar pangs as the final seconds of this exceptional record tick down. A suggestion? Simply hit play again and crank the volume till the walls rattle.
–Andy Downing