posted: September 1, 2011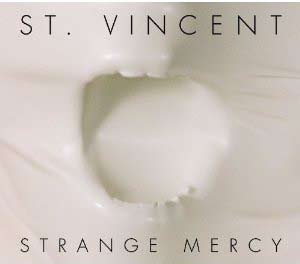 A glimpse into the mind of Annie Clark can be had with relative ease. Scan the titles of her latest effort, Strange Mercy, her third, and the word "Cheerleader" is one that stands out—not for its images of youthful enthusiasm but for the terms that surround it. The song that precedes "Cheerleader"? That one is called "Cruel." And the one after? That one is labeled "Surgeon." It doesn't take much detective work to discern that Clark's "Cheerleader" probably isn't going to be of the rah-rah kind.
To enter a world conjured by Clark, who record sunder the St. Vincent moniker, is often to find an aural landscape where the familiar becomes foreign. As evidenced by the numerous Disney flourishes that dot her work, she has the talent to compose an orchestral score as soft as a stuffed Winnie the Pooh. Yet she also possesses the destructive tendencies of the fiercest of hard-rock guitarists. Her 2008 album Actor is a collection of minisymphonies, with dark fairy-tale imagery jarring with more computer-constructed classical tendencies. Strange Mercy, however, sees Clark in something of a tug-of-war. The orchestrations are noless ornate, but there's less of an effort to disguise their synthetic nature. Yet rather than feel more programmed, the album seems slightly stripped down—an anxiously tentative attempt to peel back the surface.
"I don't know what good it serves, pouring my personal dirt," Clark sings on "Cheerleader," a hands-in-the-air declaration before she does it anyway, knocking away any electronic hiss with riffs that hit the surface like one meteor after another. The feel isn't completely confessional, as shady police officers occupy the murky digital beats of the title track. Still, "Neutered Fruit" feels brutally honest for Clark. "Did you ever really care for me?" she asks, the song unfolding like a time-lapsed trip through a lifetime of sounds as childlike choirs and Prince-like jazzy excursions eventually fold in on themselves.
When she wants, the diminutive artist can sing with a disarming grace. But more often than not, Clark doesn't see the need to waste her time onsuch trivialities as sweetness. How else to explain the vocal overlays that turn the warm into something caustic on the album-opening "Chloe in the Afternoon," or the ghastly howls that disrupt the nursery-rhyme coyness of the verses on "Hysterical Strength"?
At times, Clark's atmospheric experimentations can get the better of her, as Strange Mercy lags slightly in the middle. It's not a quibble so much as an acknowledgement that the exuberant intensity of "Cruel" and jangly psychedelics of "NorthernLights" are early emotional highs. But this is still weirdness that's engaging throughout. Toward album'send, Clark laments that she's not invited to the party she can hear through the wall, momentarily forgetting that it's the outsiders who are often more alluring.
–Todd Martens