posted: March 13, 2012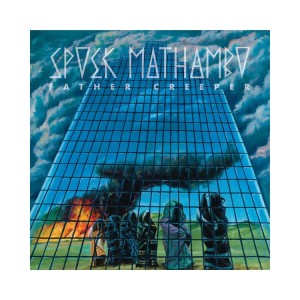 "Bad news is good for business," spits South African rapper/singer/DJ Spoek Mathambo, who was born Nthato Mokgata, on "Let Them Talk." Judging by the 11 diverse cuts populating Mathambo's sophomore album, Father Creeper, business must be booming.
"Put Some Red On It," for one, plays like a counterpoint to Beyonce's "Single Ladies (Put a Ring On It)," seeing as it documents the violence and bloody human toll of the gold and diamond trades. Atop a sparse, gilded beat that could pass for a Neptunes production, Mathambo spins fevered hallucinations of kicking it with warlords in Sierra Leone, snorting gun powder, and the gaping wounds inflicted on those who step out of line.
Elsewhere, Mathambo sings of bullets falling like raindrops from the sky (the minimalist, creepy "Dog to Bone"), bemoans the calloused lives of blue-collar workers forced to work until they drop (the buzzing, synth-driven "We Can Work), and turns out cryptic tunes that read like shattered prayers ("I hope I don't die 'fore I get old," he chants on the frenetic "Venison Fingers"). On "Stuck Together," a guitar-driven jam that makes it clear grunge has finally made its way to Johannesburg, Mathambo repeats what might be the least sexy come-on ever recorded, singing, "We'll have our tombstones rub up against one another."
Musically, much of Father Creeper sounds somehow both handmade and futuristic—like a rocket ship constructed from spare parts in the garage of a backyard scientist. Throughout, Mathambo crafts a veritable mosaic of found sounds, piling on 8-bit videogame bloops and beeps, jagged shards of synth noise, throbbing dubstep basslines, oceanic power chords, and terse Soweto guitar lines. "Let Them Talk" opens as a spiky R&B jam and closes in a torrent of spacey guitars that imagines what it might have sounded like had Explosions in the Sky been reared in South Africa rather than Texas. Other cuts are far uneasier. Mathambo assembles the title track from so many skittish moving parts that you almost sense it would dart away if someone reached out to touch it.
Indeed, the ever-restless Mathambo only finds a measure of peace on the album-closing one-two punch of "Grave (Intro)" and "Grave," his voice drifting in as if he's delivering his words from somewhere in the afterlife. Arriving on the heels of the chaos preceding it, the suggestion is clear: For many, peace comes only in death. For the rest of us, Mathambo constructs the dark, intensely weird soundtrack to our increasingly unsteady times. Best buckle up.
–Andy Downing