posted: November 11, 2011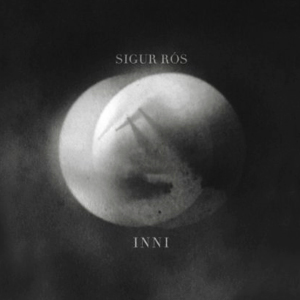 Allow, please, for a left-field link to Sigur Rós, the Icelandic rock band that celebrates the slow-build and mysterious. Listening to this double-disc live effort, a recording tactic employed by film composer Hans Zimmer—a cinematic cheerleader of all things loud and blatant—springs to mind.
Granted, this is the first and likely last time Zimmer and Sigur Rós will be mentioned in tandem. Sigur Rós, after all, writes songs that take their time, pieces that continually ebb rather than ever reach a destination. Yet it was Zimmer who took his booming score for Inception and blasted it over the speakers of the Warner Bros. lot. With mics set up around the studio, it was the echoing, dense-with-atmosphere compositions that Zimmer used in the film.
Likewise, Sigur Rós onstage is a slightly different beast than in the studio, as live, the sounds of a bowed guitar feel like communications with a satellite, and accordions and strings are mystical connections to the past. To be sure, the distinctions between recorded Sigur Rós and live Sigur Rós aren't terribly drastic. But what is pristine and elegant on album has much more buoyancy on Inni, as if this is music made to traverse the night sky. In fact, for those unfamiliar with Sigur Rós, Inni is a rather good place to start. And that's notable, as most live albums tend to be for-fans-only souvenirs.
Inni is different. Jónsi Birgisson's falsetto, which sings lyrics in the band's largely made-up language, is more clearly allowed to drift amidst the classically inspired rock n' roll orchestrations. Where songs begin and end is sometimes only made known by occasional interruptions of crowd noise. The dream-like constructions are equally abrasiveness and pillow-soft. "Ný batterí," for instance, begins with crystallizing electronics that seem to be destroying a solar system before soon settling into a mourning lullaby. Meanwhile, "Við spilum endalaust" opens with old-world church sounds and ascends into a glorious guitar-and-cymbal symphony.
This is music that hints at possibilities, and it's made by a group more interested in explorations than any end goal. The previously unreleased "Lúppulagið" hints at what Sigur Rós still has to offer. Instruments squirm and squeak, moving like some heretofore-unknown alien creatures. Elastic synths and an affectionate piano dot the mix, but it's the ambiguous life beneath that grabs one's attention. If not quite a transport to another world, it is the kind of music, perhaps, that should score films. —Todd Martens
–Todd Martens