posted: February 14, 2009
She & Him – Volume One
Volume One
Merge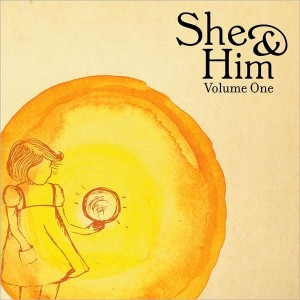 The pairing of singer-songwriter-producer M. Ward and actress Zooey Deschanel is more than a lark, it's a genuine revelation.  Acting as sort of an anti-Winehouse, Deschanel is able to evoke the sound of the '60s with her clear and surprisingly lovely voice, bringing out the sunny innocence of the times without having to wink to her audience and slip to the dark side.  While other singers seem to believe that being retro means sipping endless cocktails, chain-smoking Chesterfields and going a little heavy with the eye liner, Deschanel (with the gentle guidance of Ward) puts forth the kind of girl-next-door charm that's at home on the beach, or even a cattle ranch.
Zooey wrote all but two of the songs in this collection (unless you count the uncredited version of "Swing Low, Sweet Chariot," a hidden track at the end), but you'd swear she unearthed some lost collection of songs from 40 years ago.  In "Change Is Hard," she feels blue after crossing paths with the new girlfriend of a lost love, singing "So don't brag/Keep it to yourself/I did him wrong."  On "Why Do You Let Me Stay Here?" she tries to attract a new love by complaining "Why don't you come and play here?/I'm just sitting on the shelf."
Deschanel and Ward also cover a couple of classics, first providing a slow, brooding and sexy version of "You Really Got a Hold On Me" (probably the closest the album comes to downright lust), and a deep honky-tonk version of the Beatles' "I Should Have Known Better."  Ward scores points by accurately rendering a sound that does make you question whether you're really listening to something new, or if this is really someone's lost master tapes that were accidentally misplaced by some unscrupulous recording engineer. The title of this refreshing LP indicates that more is to come…and I'll be looking forward to Volume Two.
–Marc Phillips