posted: February 8, 2012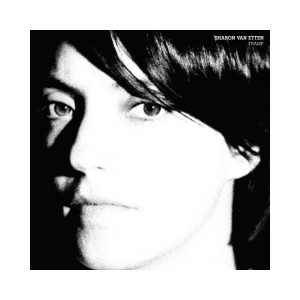 Sharon Van Etten provides many reasons why you wouldn't want to be her—or at least, in her first-person narrator's position—on the engrossing Tramp. The indie-rock songstress, whose excellent sophomore album, 2010's Epic, deals with loss and break-up in unsparing fashion, continues to extract anguish, anger, affection, and doubt from romantic mise-en-scenes. She sings of wanting scars to heal, taking risks, remaining confused, trying in vain, and entering into situations she realizes will end in tears.
Van Etten, however, never asks for pity or begs for pathos. Indeed, it's due to her refusal to remain on the sidelines, and flashing of a tough-skinned persona and bold intrepidness to love, that she gives listeners motives to pause, reflect, and ponder the scenarios that play out in her songs—painful or not. In an age of fleeting commitment and shielded identity, Van Etten comes across as one of her generation's mavericks for possessing the courage to fail, fortitude to project feelings, and sense to try it all over again. Of course, it's entirely possible that every one of the twelve tunes on Tramp is purely fiction, or simply inspired by acquaintances and friends.
Yet the Brooklyn-based vocalist/guitarist makes each song intimately personal in a manner that, at the very minimum, contributes to the illusion that all of them are introspective narratives. It's a trick parlayed by much of the best pop and rock fare, and assisted by the fact that Van Etten's measured timbre largely remains balanced between extremes of heartache, rage, and happiness. Swathed in gentle reverb, her singing occupies a divide between whispered murmur and full-throated confession, the last words of a verse often trailing off into an aurora borealis haze. Hers is a reluctant albeit necessary vulnerability, her observations and insights doubling as reactions and verdicts, soul-searching results indicative of difficult investigations.
While Van Etten's periscopic details and metaphoric allusions don't come as a surprise, her newfound comfort with grander arrangements and larger-scale production makes Tramp a cohesively interactive and intertwined album. Everything from isolated traits such as the wet sound of a snare-drum head to pervasive ambient cues cocoons her voice (and stories) in environments sympathetic to alluring melodies and deceivingly complex instrumentation. On the vengeful "Serpents," a spooked three-minute episode during which Van Etten brilliantly accuses a wrongdoer of sucking on dreams as she hisses and strikes back by declaring she'll fall asleep with someone else instead, a steady series of pounding percussion and chiming guitar chords build, in essence welcoming the sudden bursts of agitated catharsis.
Primarily, Van Etten settles for less direct expressions and cleverly percipient remarks. A light tambourine rattles amidst the mellow sensuality of "Give Out" on which the singer cites a man as the cause of her moving to a city and, in the same sentence, credits him as the reason she'll have to depart. An organ introduction poises "All I Can" for its development into a quiet anthem, Van Etten's optimistic voice unspooling like a ribbon on a wheel. Ambient flutter and wow shape "Joke or a Lie," words spilling off the tip of Van Etten's tongue on a composition that solicits myriad interpretations. Is it a confession? A goodbye? A retort? All three? Reflecting the indeterminate nature of love itself, the New Jersey native treats emotional clusterfucks with degrees of obscurity, properties conveyed not only via doubting phrases but in the wispy manner her delicate voice transitions into a high-pitched coo, a naked falsetto at once sighing of relief and peaceably admitting fragility. Not that Van Etten doesn't know what she wants—or deserves.
"I think I need more than the flowers and letters, man," she states on the piano-driven chamber pop of "Ask," searching for lastingness to cure the ache as the memories, admissions, and situations she summons pour salt in her wounds. On the very next song, "I'm Wrong," she buries herself with contradiction, thinking warped mind games and sweet little lies might lead to resolution even though it's quite clear she genuinely doesn't believe reconciliation will occur. It's hard to fault her logic or desire. And her route to contentment is a helluva lot cheaper than that of visiting a shrink.
–Bob Gendron