posted: May 25, 2014
Sharon Van Etten Are We There
Are We There
Jagjaguwar
LP or CD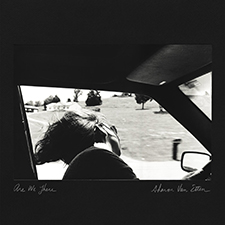 Sharon Van Etten recently covered Bruce Springsteen's "Drive All Night" for the A.V. Club's "Pioneering" video series, performing it solo at the Stone Pony in Asbury Park.
While countless artists have paid homage to the Boss, Van Etten's choice to interpret the penultimate cut from The River both deviates from the norm (it's a deep track) and speaks volumes about the burgeoning singer-songwriter's own music.
At its core, the epic ballad serves as a devotional pledge from the protagonist to his lover, who the narrator attempts to win back after a split. Dig beneath the surface, however, the song addresses the lengths people will go for someone they cherish while simultaneously laying bare the weaknesses, regrets, and desperation that surface in such instances. Similar themes occur throughout Are We There, Van Etten's superb fourth album. Accented by orchestral devices, ornate horns, and atmospheric elements ranging from humming Hammond organs to minimalist textures, the self-produced set witnesses the 33-year-old New Jersey native expanding with fuller arrangements and sounding even more self-assured and balanced than she did on 2012's excellent Tramp.
Akin to those in many of Springsteen's narratives, characters in Van Etten's tunes contend with anticipation, troubles, strife, and uncertainties. But, they're also frequently buoyed by hopeful undercurrents and the possibility of resolve. Even as the prospect of walking away often appears to be the better option, their want to stay and see flawed relationships through gives Van Etten's songs—and their scenarios—an undeniably human touch and graceful reach.
The vocalist has always traded in heartbreak, yet her lyrical insistence on taking chances and being alive no matter the consequence has only increased. At the same time, Van Etten's anger and accusatory tones continue to decline. She remains capable of unleashing lacerating emotions and calling out offenders with exacting detail, but she's also found a deep-seated stability and insight that arrive only after a person exits their 20s. The signer on Are We There is extremely confident, self-aware, direct, and intimate. Even during moments when confusion and indecision reign, her commanding vocals and shrewd phrasing eliminate doubt.
Above all, Van Etten's first-person heroines know themselves and, in most cases, where they stand. "Maybe something will change?" she posits on the ponderous "Nothing Will Change," already knowing the answer to her question as echoing harmonies surround her falsetto coo. In a world filled with cynicism and hesitation, Van Etten clings to an unspoken faith that suggests goodness ultimately wins out over agony. Amidst the disappointment on the solemnly spare "I Love You But I'm Lost," her gospel-soaked declarations encourage reconciliation and growth. On the thumping chamber-rock drama "You Know Me Well," she fights against personal darkness and decay with a passionate cry seemingly pulled from the depths of her soul. In Van Etten's vignettes, turmoil, sacrifice, and love often become synonymous.
She breaks her legs, cuts her tongue, burns her skin, and stabs her eyes in metaphorical fashion on the towering "Your Love Is Killing Me," projecting a self-consciousness that turns her from victim into someone in control. "Afraid of Nothing" comes on like the sun breaking through low-lying clouds, Van Etten laying down terms and acknowledging nothing worthwhile is gained waiting on the sidelines—risk and suffering be damned. She documents what can happen when such ventures breed fear and tentativeness on "I Know," a gorgeous solo piano-vocal piece that presents her as a singer with few contemporary peers.
"Hold on/All I ever wanted was you," she confesses, her breathy timbre swooping down on each word as if to extinguish lingering ambiguity and wrap her partner up with the warm embrace sincerity brings. Van Etten realizes such happy endings may be the stuff of fantasy, but she's smart enough to understand that in order to attain dreams, chances need to be taken and protections must be surrendered. Listening to her voice—in both in its more insistent, liquid, huskier iteration on guitar-based fare and more patient, sensual form in which syllables float like weightless symphonies on lullabies—is all one needs to do to know whether or not the rewards outweigh the risk.
–Bob Gendron