posted: September 10, 2010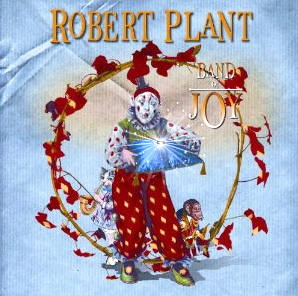 "Put me to sleep so easily or keep me out all night," Robert Plant softly exhales on "The Only Sound That Matters," the lyric serving as a fitting metaphor for the dichotomy on the legendary singer's new Band of Joy. Named after one of his earliest groups, the past- and present-blurring record entertains Plant's desire to revisit his past and primarily interpret other writers' material—just as he did when starting out in the mid-60s.
As for the actual band responsible for the joy, it's loaded, with former longtime Emmylou Harris lead guitarist and solo artist Buddy Miller, multi-instrumentalist Darrell Scott, bassist Byron House, and percussionist Marco Giovino cultivating colorful acoustic and electric swatches. Co-producing with Miller, Plant washes the 12-song set in rich, salty baths of texture, timbre, tone, and atmosphere. Sonics, feel, and space play as much a part of the experience as the arrangements. And while the psychedelia-treated roots material here is more thrilling than the cosmic country and gypsy soul that peppered 2007's Raising Sand—Plant's intriguing albeit drowsy, polished collaboration with Alison Krauss—he could still afford to step out of the box with more curiosity and courage.
That's exactly what he does on the two standout tracks, "Silver Rider" and "Monkey," each originally recorded by the husband-and-wife indie band Low. Dark, moody, murky, and mysterious, the renditions are pregnant with danger and suspense. On both, guest vocalist Patty Griffin doesn't harmonize with Plant (as Krauss did) but instead functions as a looming shadow that creeps across the horizon. The mystic songs take us into a rural Midwestern landscape at dusk, where otherwise innocent images of farms, hills, and backroads give way to potential bloodshed and desolation. Miller and company add to this ethereal vibe, their notes soaked in shivering reverb on "Silver Rider" and pent-up with muffled violence on the surreal "Monkey." David Lynch, your next soundtrack is ready.
Plant's reverent, patient-to-midtempo treatments of folk-rock (Richard Thompson's "House of Cards"), traditional country ("Satan Your Kingdom Must Come Down"), and throwback pop ("You Can't Buy Me Love," which shares plenty in common with several blues-based originals on Tom Petty's recent Mojo) are respectable if standard affairs, distinguished only by the familiarity of that voice. Plant's singing remains a trumpet knowing of secret chords, capable of delicate finesse and unexpected bursts of brassiness. But there's little here that listeners haven't heard Plant tackle before. Absent is the imaginative manner in which he challenged himself by exploring African music, desert modalism, and Malian rock on 2005's extraordinary Mighty Rearranger. Yes, Plant sounds more authentic than most contemporary artists in capturing the essence of mountain bluegrass during "Cindy, I'll Marry You Someday" (shades of Led Zeppelin III) and shapes Los Lobos' "Angel Dance" into a nimble rumba courtesy of a prancing, Middle Eastern-inspired mandolin line. Similarly, he's utterly convincing stepping into the role of a love-struck crooner on the sweet, swooning "Falling In Love Again," a country-soul torch delight that could come right out of 1963.
Band of Joy possesses expert musicianship and scintillating sonics that frame each song with stripped-down scenery and vintage, organic vibes. One only wishes Plant brought the same sense of adventurousness and intrigue to more of the songs. There's already enough music out there to lull listeners to bed. Besides, Plant's always been better when he stays out all night.
–Bob Gendron