posted: September 8, 2009
Recent box sets to enjoy….
Various
4 CD Box Set
Rod Stewart: The Rod Stewart Sessions 1971-1998.
Rhino (4CD box set)
For better and worse, the trajectory of Rod Stewart's career is accurately traced on The Rod Stewart Sessions 1971-1998, a four-disc box set that collects 63 previously unreleased outtakes, alternate versions, and rehearsals that span nearly three decades. While casual listeners will want to stick with familiar studio versions, fans of the singer's looser, unpolished—and eminently superb—songs should delight in the stripped-down arrangements and oft-naked takes offered here. Stretching from 1971 through 1982, the first two discs are nearly infallible, containing early renditions of rock classics such as "You Wear It Well" and "Seems Like a Long Time," each featuring Faces mates Ronnie Wood on guitar and Ian McLagan on piano. Stewart's voice simmers, as it's etched with an emotional grit he abandoned later in his career. Alas, the 80s is where he begins to lose the plot. Discs three and four are largely inconsistent, as the songwriting erodes and Stewart becomes obsessed with flashy hit-making. Granted, edgier renditions of "Show Me" and "I Wanna Stay Home" reveal that Stewart hadn't completely abandoned his roots. Yet a pronounced split between eras remains. Nevertheless, the box comes closer than anything else to salvaging some of Stewart's late-period credibility. Kudos to Rhino for the usually dependable sonics and inclusion of illuminating liner notes. More than a curiosity item, The Rod Stewart Sessions is almost enough to make one forget about those dreadful Great American Songbook albums. Almost.
Big Star: Keep an Eye on the Sky.
Rhino (4CD box set)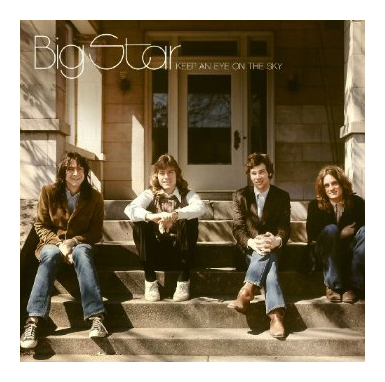 The only question surrounding Keep an Eye on the Sky, a four-disc box celebrating the music of the relatively short-lived Big Star, isn't whether or not it's great. That's a given. Rather, the issue why it took so long for the set to materialize. More than three decades after it split, the penultimate power-pop band finally gets its due via a sparkling collection that assembles 55 previously unreleased cuts (in the form of live tracks, alternate takes, unused mixes, demos, and rarities) and 43 songs from the cult-favorite group's three studio albums—as well as solo efforts from key members Alex Chilton and Chris Bell. There are enough soft harmonies, bounteous hooks, psychedelic touches, and cascading melodies here to last a lifetime—or so it seems. Part of Big Star's appeal is how a group with such immaculate skills and sweet sounds remained obscure, even in its hometown of Memphis. It ultimately took mainstream success by the likes of Tom Petty, Cheap Trick, and the Replacements to push Big Star's legend, and never has it loomed larger than it does on this fantastic treasure trove. No matter the song—"Back of a Car," "When My Baby's Beside Me," "Manana"—contagious energy abounds, along with an unflinching desire to sing along. The vault material lends an even greater perspective; a complete concert recorded in 1973 at Lafayette's Music Room proves the band knew its way around the stage as well as the studio. Essays by Bob Mehr and Robert Gordon abet extensive track-by-track notes by producer Alex Palao in painting a detailed picture of the group's history that will both appease longtime followers and put fortunate newcomers on solid ground. Essential.
The Stone Roses: The Stone Roses.
Legacy (CD, 2CD + DVD "Legacy Edition," LP "Gatefold Vinyl Edition," and 3CD/3LP/DVD/book "Collector's Edition")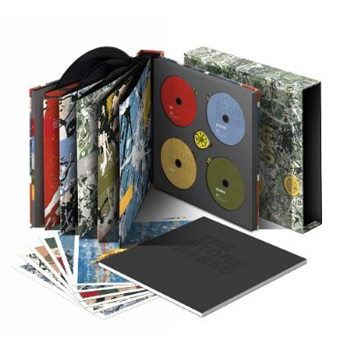 Anointed "the greatest album of all time" by British publication New Music Express, the Stone Roses' self-titled 1989 debut has been given a hero's treatment in the form of four different packages, all of which contain a remaster the original UK album and most of which come with bonus material. Leaders of the so-called Madchester scene, the band merged guitar-driven pop and shifty dance beats in an era when the two styles stood miles apart. Atmospheric washes, swimmy bass lines, restrained vocals, attitudinal stances, layered guitar echoes, and ocean-sized hooks round out a set that's aged well and served as a blueprint for subsequent Britpop developments. Ian Brown sings in a breathy tone that's somewhere between bratty and precious on the landmark "I Wanna Be Adored," negotiating a terrain that tunes such as the phase-shifting "She Bangs the Drums," nimble "Waterfall," and cocky "I Am the Resurrection" gladly pursue. Druggy, detached, and deliberate, the Stone Roses latch onto a cool that initially emanated from New York's art-house parties and update it for a rave culture. As a whole, the album remains mandatory listening. As for the bonus material? Not as much. Several highlights are scattered amidst the scads of rarities, particularly Disc 2's B-sides and non-album A-sides. A collection of "Lost Demos" is for diehards only, yet the DVD of a now-legendary Blackpool Empress Ballroom gig warrants repeat viewings. Credit Legacy for making available options to suit everyone's taste.
–Bob Gendron