posted: May 13, 2013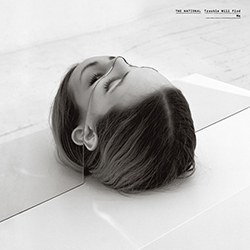 "I have only two emotions," singer Matt Berninger observes early on the National's sixth studio album.
They are extremities, he warns: "careful fear and dead devotion." He delivers the line with his detached, broken baritone in much the same way as he has over the Brooklyn-based band's prior five albums—with bloodshot fragility that may or may not be on the brink of paranoia.
Unhealthy obsessions and oceanic levels of mistrust are where the National have emotionally resided for much of their recent efforts, and 2010's High Violet fine-tuned the tension-packed guitar torment into an atmospheric formula. The hooks are buried in the tease, as the tortured, stretched chords never quite provided the release of an explosion. The latter doesn't come on Trouble Will Find Me, either. But what becomes apparent is that nearly an hour of Berninger teetering between highs and lows—his bandmates working overtime to explore all the colors and shades in the key of sulk —proves an alternately impressive and exhausting listen.
"When I walk into a room, I do not light it up," Berninger sings on "Demons," a rare moment of comedic understatement on an album where much of the relationship drama has the listener wanting to stop the music and scream "run!" "Remember," Berninger says on "I Need My Girl," "when you lost your shit and drove the car into the garden?" Or, his own red-flag declaration on "Slipped" that he "was a television version of a person with a broken heart."
Trouble Will Find Me is musical theater that explores characters that are losing their minds. And Berninger's stand-and-take-notice voice  is gripping through each of these 13 carefully crafted songs, whose layers and dusky dimensions are rarely revealed on first listen. Be it acoustic laments ("I Should Live in Salt") or crash-and-burn anthems ("Sea of Love"), these are deft pieces of songcraft that award close listening. Vide, the unexpected piano strikes on the former and ghostly backing vocals and reverberating guitars that arrive in the final act of the latter. Subtly abounds.
"Pink Rabbits" is a sort-of old-fashioned ballad that sees Berninger slipping into Leonard Cohen mode, but the anchor of the song (and album) is drummer Bryan Devendorf, who graces the anxiety with rhythmic heartbeats that eerily anticipate any changes in pace of the vocalist. A cauldron of strings and damning bass booms make "Fireproof" feel hellish. "Hard to Find" closes the album with a tearjerker, its higher-pitched guitar notes providing at long last a starry twinkle. Don't mistake it for optimism. The album is a mood piece, one in which it's reasonable to worry for those to which it brings comfort.
–Todd Martens